Because no one reads the newspaper, and SportsCenter's anchors are too perky for this early in the morning, Deadspin combs the best of the broadsheets and the blogosphere to bring you everything you need to know to start your day.
•Michael Vick will be eligible to play as early as week three. So that means Donovan McNabb only has to hold off a few weeks on getting injured. CAN HE DO IT? It's the plotline of the year, as far as I'm concerned.
•Pedro Martinez: "Leave Mr. Lincecum to me. *Laughs evilly* " Martinez, who hasn't won a Cy Young in nine years, outduels Tim Lincecum, who hasn't won a Cy Young in eight months.
•What's it like fasting for Ramadan when you're a pro tennis player? Pretty much what you'd expect: hard. But c'mon. Sneak a Powerbar. Queens is the land God forgot.
•Jon Garland is masterful against his former team. Not a surprise; statistically, it's much easier to pitch against the Diamondbacks than it is to pitch against any non-Diamondback teams.
G/O Media may get a commission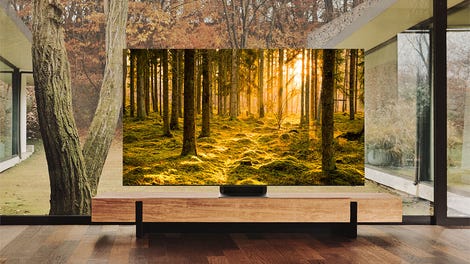 Up to 40% off
Samsung Smart TVs
•Carl Edwards fractured his foot, but he still expects to race on Sunday? Not a sport.
•Because I'm a proud(?) alum, Temple manages to lose to Villanova, who hadn't beat a D1 team in six years, since they beat...Temple. And the inaugural Mayor's Cup goes to a school that isn't even in the same city.
•Punter over at With Leather dug up this gem of a video. Don't skip around, just watch from beginning to end. The tension is exquisite.