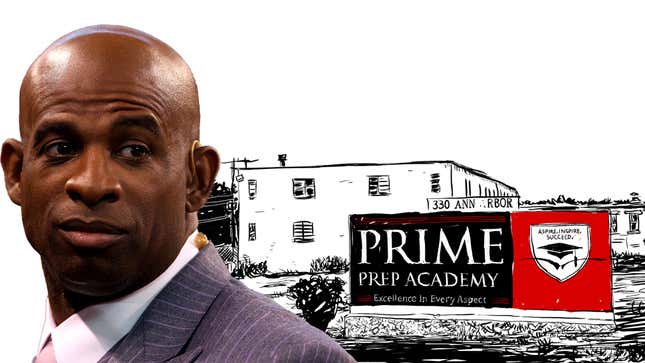 Deion Sanders knows better than most that there's power in a nickname. When he was still just a skinny cornerback at Florida State University, he dubbed himself "Prime Time" and birthed an alter ego that would earn him fame, riches, and a place in the pantheon of the 20th century's greatest athletes, not to mention greatest egos. Yet for Sanders today, nicknames are more a matter of convenience than a conscious act of branding.
Ohtani has the WBC, but will Mike Trout ever lead the Angels to a championship? | Agree to Disagree
"Blind Side," yells the Hall of Famer. "You're up!"
It's another sweltering June morning on the artificial turf of Texas A&M-Commerce's football field. The campus, an hour north of Dallas, is home this week to a summer camp Sanders has run for the previous seven years—a precursor to the embattled charter school he opened recently, which has earned him some of the harshest headlines in a career full of them.
In only the last few months, that school, called, appropriately, Prime Prep Academy, has endured one series of embarrassments after another. Sanders has been fired as head football coach not once but twice. He's been accused of choking two fellow employees. Students have walked out in protest in the middle of class. Hundreds of laptops have disappeared overnight, most likely stolen. His elementary school—Prime Prep is K-12—was recently named by non-profit Children at Risk as the worst academic institution in North Texas, finishing dead last in a ranking of more than 1,000 schools. And not long ago, the local press got hold of a secretly recorded audio tape in which Sanders could be heard telling his administrators that he not only wanted a significant pay raise, but a new job title, too: "HNIC," short for "Head Nigger in Charge."
For those who had grown up knowing Neon Deion, Sanders's glitzy, high-stepping self-created image, the sudden downfall of Prime Prep seemed to represent everything bad that the once-great athlete had stood for. Call it the curse of the vanity project: When you record a rap album with a song called "Must Be the Money," people tend to be quick to question your motivations.
Sanders stands with his feet planted wide, a whistle gritted between his teeth and his hands gripping a tackling dummy. Despite a few white whiskers, the 47-year-old still looks a lot like the younger man who became the first athlete to ever play in both a World Series and Super Bowl. Facing him in a three-point stance is the boy everyone calls Blind Side, for obvious—read: girth-related—reasons. Sanders knows his real name (it's Nate), but with 100 youngsters running around in identical black-and-red, Under Armour-provided helmets, he also knows the value of a memorable moniker. Sanders blows his whistle. Blind Side runs into the dummy with his head so low it looks like he's hunting for four-leaf clovers.
"You can't do that, Blind Side!" says Sanders, the whistle now replaced by a concerned scowl. "You do that and you'll hurt your neck. You hurt your neck and you can't eat."
Understanding what motivates young men like Blind Side—in his case, a Honeybun and permission to do the nae nae, a popular dance move—has been a priority for Sanders for the last decade, ever since he retired for a second time after a short stint with the Baltimore Ravens. For all his post-playing-career ubiquity—he's an NFL Network host; star of a reality show and a drama-filled divorce; and the fairy on those DirectTV commercials—Sanders spends a lot of his time on fields like this one, coaching kids like Blind Side. "I could be anywhere in the world," he says. "But I'm here. Right where I want to be."
---
Those, dear reader, were to be the opening paragraphs of a 2,000 word piece I was commissioned to write for a Big Magazine that, for reasons that will soon become obvious, will not be named. Last June, this Big Magazine flew me to Dallas to interview Deion (we're going to call him that from now on, because why waste such a beautiful name in favor of its infinitely more boring neighbor?) and try to make sense of the chaos that was unleashed when he decided to start his own school. At least that was the idea. But you and I both know that the ultimate result was going to be a lot less interesting. Great writers can make something of 2,000 words, but there just aren't that many great writers. Instead you were going to read something that went like this: Deion is a good guy who got used by two people who aren't. Deion is trying to help kids. Specifically, Deion is trying to help kids like Blind Side.
Because writers, readers, Big Magazines, and, hell, even sites like Deadspin often want their stories to double back to where they started, this one was going to end with Blind Side doing something right, nae nae'ing to his heart's delight, and then Deion giving him a bear hug in the middle of that sweltering football field while whispering into the kid's helmet's earhole, "I'm proud of you. You can have that Honeybun now." It was going to end this way because that sequence of events actually happened, but also because getting readers to root for a kid who got his nickname because he's twice the size of anyone else his age is paint-by-numbers journalism, and it seemed like that's what this Big Magazine wanted. That ending, then, was going to make us all feel a little better about Deion, and maybe ourselves too, while wrapping a tidy little bow on the story. That was the plan, at least.
Then, as happens often, the Big Magazine changed the plan. Or, to put it more bluntly, it stopped responding to my e-mails and decided it would rather not reimburse me for the time and money I'd spent, let alone pay me anything for the trouble. (The lesson, as always: Go do something else with your lives, kids.) This is a meta thing to say, and sounds like a plea for pity, but I promise it's not. Because once the Big Magazine stopped responding, I realized it might be a good thing that they would never publish the embarrassingly credulous piece I'd written. (Maybe we should give the Big Magazine some credit and assume they realized this, too.) And as time went on, and things got worse for both Deion and Prime Prep, that merely good thing turned into a blessing. I also realized there were other places that cared less about tidy narratives, and wouldn't mind a story about how bewildering it can be to spend 36 hours with a man who appears to believe, sincerely, that God meant for you to fly down to Dallas to talk with him about con men, cults, and the right and wrong way to live your life on TV.
---
I arrive on a Thursday, and the first sign of Deion isn't in the form of the man himself, but of his son. It's midday, which means the campers are cooling off inside the university's empty classrooms, going through what amounts to an impromptu summer school. Deion isn't in the room; Shilo, 14, the oldest of three children from his second marriage to the former model Pilar Sanders, is, though just barely. In a classroom of 30 boys, Shilo, the handsome spitting image of his father, has found the seat furthest from his teammates.
"I'll give $100 to the first person who can tell me what S.W.O.T. stands for," says Reginald Calhoun, the coach at the front of the room.
The cash reward represents confidence that none of the boys seated in front of him actually know what the acronym means. Calhoun is willing to gamble his money because as hard as he might try to get through to them, and as hard as they try to listen, they are still teenage boys being asked to do something vaguely school-like at a time their brains and every functioning hormone in their bodies have told them is not for school.
"Strengths, weaknesses, opportunities, and threats," he says, after a few lame attempts by the boys to earn the cash.
Calhoun and the class are already on to a new subject, but Shilo isn't quite ready to leave the old one. "What was 'T'?" he asks innocently. "Threats," say a quarter of the classroom. "What was 'T'?" he asks again, this time a little less innocently. "Threats," repeat half of the classroom. "What was 'T'?" he asks, now clearly lacking any innocence at all. "I'm gonna kill you if you ask again," says one of his classmates. " That's a threat."
"Then I'm not going to throw you the ball," says Shilo, smiling.
Every class has its clown. That Shilo is also a quarterback, the son of the famous man who makes this whole week possible, and, according to his Instagram feed, an aspiring music producer, helps explain some of the attention-seeking. That he's a teenager explains it a little more. But it also helps to know that young as he is, Shilo has spent a decent amount of his life performing, just as he is today.
You might not know it— the ratings would suggest you don't—but Deion is a fixture of reality TV. Currently there's Deion's Family Playbook, on Oprah's OWN Network. That show revolves around Prime Prep, his school, and life at the home he shares with his girlfriend, the actress Tracey Edmonds, his five kids, and a half-dozen other children he's either taken in or helps raise. Before that there was Deion & Pilar: Prime Time Love, which ran for just one season on the Oxygen Network and captured some scripted version of Deion's life prior to what would become one of the more contentious celebrity divorces of the past decade.
If you want to, you can go online right now and watch a much younger Shilo, along with his brother and sister, play out a classic moment from childhood. The scene is this. Pilar has asked Deion to teach the kids about their private parts. Deion brings the kids into Shilo's bedroom with the intention of reading them a book that will help him explain the delicate subject, stops, then decides he'd rather just dispense some funny fatherly advice instead. It's Sitcom 101, Dad as well-meaning but hopeless goof. Then, when you think the scene is over, Shilo, smiling as usual, sneaks off with the naughty book while dad isn't looking and hides it in his room so he can read it later. That scamp!
Although it wouldn't be right to say that Deion doesn't ever talk to the press, in the two years since his charter school opened and opened himself to a new line of criticism, he hasn't sat down at length with anyone. When I ask him later why he agreed to talk to me, he answers this way: "I prayed on it." Deion's prayer was apparently answered in the affirmative, which meant I was allowed to ask him questions. Yet even before I spoke with him, an hour watching his son in class was a perfect prelude to our short time together. The way the weekend would begin was also the way it would end, with me not sure exactly what was real and what was a performance.
In his 1999 memoir, Power, Money, & Sex, Deion dated the adoption of his alter ego Prime Time to a senior year revelation at Florida State, when he sat down with a list of league salaries and realized that cornerbacks were some of the lowest-paid players in the NFL. "At that moment I decided I had to come up with an image," he wrote. The image paid off. A few years after being drafted Deion was the highest-paid defensive player in the NFL. That image also bled into the sport he played almost as a hobby. No professional athletes are more sensitive to perceived disrespect than baseball players; it's almost incredible to imagine now that Deion used to draw dollar signs in the dirt before at-bats.
That Deion might be questioned about his intentions now, when he is theoretically doing the most altruistic work of his life, is a reflection of the fact that he spent the previous two decades crafting an image of a man unwilling to do any work that wasn't in his own self-interest. That distrust now extends to his work with kids, even his own. Shilo probably didn't steal that book about naughty parts because he was curious. (If he did, he has the best comedic timing of any child in television history.) Most likely he did it because Deion, the TV producer in his bedroom, or some combination of the two decided it was the perfect way to end the scene. When someone is always watching, and when you've invited those people to watch, how can anyone know that what you're doing is sincere or part of an act?
---
As Deion tells it, the seed for Prime Prep was planted in a place familiar to dads all across the country: in the stands, quietly grumbling about the quality of the men coaching his kid's football team. Says Deion: "It was so horrific I couldn't take it anymore." So he asked if he could become a coach. When the league said no, Deion fielded his own team, offering open tryouts at the Cotton Bowl and expecting a few hundred kids to show up. Instead, he says, he got 1,200. "It was like oh my GAWD. They came from everywhere." Deion only had enough staff for two squads, which meant turning away 1,000 hopefuls. When he got them together that summer, he realized there was only so much time in the day for football, and began hiring tutors to fill the gaps. Then, when the school year started again, Deion noticed a trend. Mothers of those kids started calling Deion and telling them their son's grades were slipping.
To Deion, this added up to something simple. No football and no structure meant no more improvement in the classroom. Seth Wickersham of ESPN the Magazine shadowed him on a typical day during this time and watched as he drove from school to school counseling young men, buying them new coats, and generally trying to mentor half of Dallas, not to mention a number of pro and college players like Noel Devine and Dez Bryant, which drew the ire of the NCAA. It was an extension of the work Deion says he did while still a Cowboy in the '90s, when, he says, he used to go to high schools on his off days. ("I said give me a class with all the influencers. That doesn't necessarily mean the bad kids. Give me the mixture. I would take them to the zoo. I would take them to my crib. To the Cowboys games. I would give them everything, man, just to open their vision because some of those kids had never crossed 635.") Deion soon realized that driving to a bunch of different schools made a lot less sense than starting his own.
Everything that could be said about the absurdity of high school sports in Texas already has been. It's a cesspool, and Dallas is no exception. For years, the people responsible for policing the city's athletics turned a blind eye to obvious recruiting violations. Then, last March, a talented 18-year-old basketball player named Troy Causey was beaten to death on the sidewalk in front of his home. A few nights after his murder, Causey's grief-stricken mother told a TV reporter that her son lived where he did because he'd been recruited to play ball. His murder, in other words, wouldn't have happened were it not for an illegal intervention from men who knew better. Now a kid was dead and blind eyes would no longer do. Within three months, 15 coaches and administrators were fired, and the boy allegedly responsible for Causey's death was behind bars.
Whether you believe Deion started Prime Prep intending to clean up the muck around him or merely wanted to be next in line to wade in it is a matter of opinion. But what's definitely true is that when he first came to the men in charge of determining who could and couldn't play high school athletics in Dallas, men who knew he'd be angling alongside them for the affections of a small crop of top athletes in the area, those men did not look kindly upon the fact that they were now competing with a very wealthy Hall of Famer. As the head of a charter school, Deion was allowed to accept kids from anywhere. In response, he says, coaches began lying, telling their kids they'd be ineligible if they transferred. When that didn't work, Deion says, the district shut out Prime Prep by suspending it from athletics for its first year. From Deion's perspective, the accusation from his fellow coaches were clear: Because he was not just a name but an icon—Neon Deion! Number 21!—the playing field wasn't level.
In response, Deion and Prime Prep barnstormed. He called his old coach Barry Switzer begging to find games in neighboring Oklahoma. He took the kids as far afield as Florida in hopes of a chance to play. That first year, Prime Prep won only one game. To Deion, the results were proof that there was no merit to the accusations that he'd immediately, illegally recruit a juggernaut. Not long after, Troy Causey was dead, and many of the men he thought had purposefully denied Prime Prep an opportunity to compete were gone.
"All those people that wronged us in the beginning," he says, "were doing exactly what they accused me of."
On this he's right. The system was—is—corrupt and full of hypocrites. Deion prevailed, many of the men on the board which made the decision lost their jobs, including the city's athletic director, and Prime Prep started winning on the field and on the court. It's only once you step away from athletics and into Prime Prep's second mission, to educate its kids, that things get murkier. Everything that's been reported is true. Prime Prep, by all available measures, is a terrible school and it's about to get worse. Sitting on this bench in the dwindling summer twilight, Deion doesn't know he's only weeks away from having the state revoke his school's charter. Before starting Prime Prep, Deion visited the IMG Academy, the crown jewel of the country's academic-athletic powerhouses. (And priced as such, at nearly $70,000 a year.) He still has hopes to be the IMG of Dallas, if not its successor as America's elite prep academy, and still boasts like it's going to happen. But when asked to explain why such a large gap exists between his hopes and reality, he needs only two letters: "D.L., man."
---
If you're telegenic, black, and get called an education expert on CNN, people tend to seek you out at parties. Dr. Steve Perry knows this first-hand. Perry is principal of Capital Preparatory Magnet School in Hartford, Conn., and runs in the sort of circles that lead to shared stages with Oprah and invites to all the major events on the black celebrity calendar. The BET Awards. The Essence festival. Perry goes and glad-hands and eventually, he says, gets cornered by some famous black man who whispers five magic words: I want to give back. You'd think Perry would be pleased, but that's not his first reaction. First, he warns them. "In every American city," he says, "I've seen an athlete or entertainer venture into the non-profit world and just get raped. Typically it's them, the front men, who end up screwed and nobody knows why. But in reality it's the guys behind the scenes who mess it up. Where there's money, there are parasites."
That money is coming from the government, and oversight of where it goes and how it's used is minimal. And Perry is right when he claims cash attracts representatives of the worst constituencies in American life. The hedge fund manager who says charter schools are the "most appealing sector" of his billion-dollar portfolio. The exiled Turkish imam who runs the largest network of charters in America, and whose offices were recently raided by the FBI after his company was caught handing out a series of lucrative no-bid construction contracts. Of the six states that ban for-profit charters, three are the best performing in the country; Texas, by contrast, has the highest percentage of for-profit charter schools in the nation, and, maybe unsurprisingly, some of the worst-performing too.
For a way to take the measure of the problem, consider this: Prime Prep is but one of 663 schools listed on the website of Charter School Scandals, which tracks exactly what its name implies. And though he doesn't like to dwell on it, Deion's Prime Prep is Exhibit A for why charters sometimes end up veering so far off course.
The problems began immediately, with the application. It wasn't just that it was larded with meaningless buzzwords, like the claim that thanks to a world-class education Prime Prep students would eventually "become self-actualized." Or that those buzzwords were most likely plagiarized from the website of another Dallas school. The real problem was that Prime Prep was conceived on a series of lies. Its application assured members of the Texas Education Board that, thanks to Deion's celebrity, the school already had nearly $200,000 in donation money promised from a litany of corporations, including Wal-Mart, Home Depot, and the NFL Network, Deion's employer. As the Texas Observer discovered, however, those companies weren't even aware of Deion's attempts at starting a school, let alone their apparent willingness to write him checks. No matter to the board members. One of them described the Prime Prep presentation as "flawless." Another went on to become principal for the school's Dallas campus. After voting to approve the charter, some members even asked Deion to pose for pictures and sign autographs. He obliged.
The plagiarism, the lies about donations, the subsequent downfall of the school—Deion lays all of it at the feet of D.L., by which he means Pastor Damien LaMarc Wallace, whom he describes as his own particular parasite. (Just so you know up front, you won't be hearing from Wallace in this story. He did not respond to multiple requests for comment; instead, his attorney told me that though his client had a wealth of information contradicting the narrative of DL-as-the-enemy, and though everyone from The New York Times to ESPN had allegedly begged him to reveal this bounty, Wallace would be taking the high road and keeping his mouth shut. His attorney also said that the most I would get from his client was a terse statement via e-mail. That statement never arrived.)
All Dr. Steve Perry says he knows is that four years ago, after wrapping up a segment on Steve Harvey's radio show, someone handed him a phone and told him that Deion Sanders, his childhood idol, was on the other end of the line. "He said he wanted to start a school," Perry says. "I said, 'Who are you working with?' He goes, 'There's this brother, he's from the hood. He understands.' It was the same song and dance that every single professional athlete tells me before they enter into this world. It's literally as if we're all reading from the same script. I said to him, 'Bro, you gotta be really careful. It isn't as easy as it looks.'" Perry was right.
Over the course of the next four years, Perry and Deion would talk on the phone every few months. At first things were fine, he says. Then the tone of their phone calls began to change. Perry says Deion started telling him that the administrators at the school weren't letting him look at the books. One day Perry got a call from a friend in the media who told him that Deion was "about to get jammed up." This friend mentioned the possibility of jail time. "I said, 'That's fucking crazy,'" says Perry. Then Perry called Deion, told him to get a copy of the school's finances and send it to him, and realized it wasn't so crazy after all.
Because Wallace is not talking and because he hasn't been charged with a crime, what you're about to read next amounts to the contentions of two men, Perry and Deion. Here's what they say. When Perry finally got the books, he says, he realized that Prime Prep was spending five times what most schools do on administrators. He realized that Wallace's wife was the one cutting the checks. That there were hall monitors being paid $60,000 a year to shoo kids back into classrooms, when they bothered to show up at all. That Wallace was paying himself double that, as much as almost any other administrator in Texas. And that there were people on the payroll who may or may not have actually existed, like a potentially phantom employee who lived in Arkansas and yet somehow pulled down six figures "working" at a school hours away in Texas.
From this foundation, Deion says, he did his own digging. He contends now that Wallace was using the school as a piggybank to pay off old debts. The people he hired were friends to whom he owed money. On top of that, Deion says, Wallace was also finding ways to line his own pockets beyond his inflated salary. Deion says he soon began talking to some of Prime Prep's contractors, people Wallace had hired. The head of one company, the one that provided school lunches, told him, he says, that Wallace only hired him after they both agreed Wallace would get 50 cents for every dollar in the contract. In a word, fraud. "These people weren't just getting kickbacks," says Deion, "they were getting field goals." Cafeteria food also plays a central role in the primary reason why the state of Texas is now threatening to shut down Prime Prep: No one can seem to account for $45,000 in meals allegedly served to students.
This is the context that Deion says is missing from all the recent stories that paint him as the greedy one. Wallace resigned in November of 2013, and if you want a sense of his own self-regard, consider this: In his resignation letter, Wallace's reasoning for why he left was that he wanted to "give more of myself to my family" and provide for Dallas in other ways, like through his ministry. With that, the man who allegedly—very, very allegedly—used money earmarked for educating kids to pay off his old debts cast his departure as an act of selflessness.
Before Wallace left, though, someone—Deion contends it was him—leaked that tape of a meeting where Deion, with Wallace present, told the room he wanted a raise and that infamous new job title, "Head Nigger in Charge." At the time it looked like Neon looking out for Neon. From Deion's perspective, however, there was a better explanation. Charter schools don't get money for athletics; Deion says he was paying assistant coaches out of his own pocket. That extra money he wanted, he says now, was to go to the coaches and not him. And the job title was just an angry reaction to him finding out, for what he says was the first time, that the man he'd chosen as his partner in the most important project of his life was actually, he alleges, a con artist.
"Here's the trump card," says Deion. "What's the benefit of me driving an hour every day into the inner city to do something wrong?" Along with running his camp, this week Deion is also looking for a new house, one that would take him from the mansion in the wonderfully named town of Prosper where he's lived for the past 15 years and bring him and his family closer to the school to which he now devotes the bulk of his time. "I could just stay on my side of town and do something wrong and save a lot of money."
On this, he's right. If you believe him—a big "if"—he doesn't actually make money off the deal, and if it were merely an ego stroke, the initial revocation of his charter would probably have meant the end of Prime Prep. Deion has vowed to fight on. The most plausible theory critics can offer is that Prime Prep was Deion's attempt to create a professional athlete assembly line that would one day deliver prized prospects to the agents and clothing manufacturers of his choosing. As the assembly line's foreman, this theory goes, Deion would profit handsomely, both in terms of money and in the scarce resources he seems to crave more than any others: recognition and regard.
Emmanuel Mudiay, a possible number one pick in this year's NBA draft, is grist for this particular mill. Mudiay played at Prime Prep and ended his high school career as one of the nation's top recruits. He was planning to attend Southern Methodist University until the day he decided instead to accept a $1.2 million contract to play for a club in China. (Along with a sponsorship from Under Armour—also Deion's sponsor.) Mudiay's official reason for the change of heart was that the money would allow his Congolese-immigrant family to pull themselves out of poverty even sooner. Rumors suggested, however, that Prime Prep's academic troubles meant Mudiay was afraid he wouldn't be eligible to play college ball. Today, Mudiay is nursing a sprained ankle and prepping for the draft. And just to prove that there are almost never any winners when it comes to amateur sports, SMU is the target of an ongoing NCAA investigation. The school has also recently announced that one of its top assistants, and the man responsible for recruiting Mudiay, was taking a leave of absence for what it described as "personal reasons." All of this should tell you something about the viability of the prospect-manufacturing racket.
It's at least possible, given all this, that the situation Deion finds himself in with Prime Prep is an honest case of do-gooding done wrong—the same scenario Deion's friend Perry says he's seen play out with other black athletes in every major American city. Deion goes a step further, saying he knows what would happen if he were trying to do the same thing, intervening in the lives of inner-city kids, but happened to have a different skin color. "They'd be feeding me grapes," he says.
But here's the thing: Deion should have known better. He should have known better years earlier. Before Prime Prep even opened, the Dallas Observer did some digging and discovered that Wallace had previously used and abused Deion's name in a failed attempt to launch a recruiting handbook that ended in a flurry of lawsuits. What's worse, before classes had even begun the Observer had discovered that Wallace was being paid rent money for the building that would house Prime Prep even though he didn't own the building. (That same word again: fraud.) Yet when the Observer's reporters approached Deion about the allegations against his partner, he brushed them off with a patronizing "God bless you," his euphemism for "fuck off." (Deion is proud of the fact that he doesn't cuss. Even though when he uses phrases like "bulljunk" it inevitably leads people to think of the words he isn't saying.) It's enough to make you see Deion's claim of racism for what it really is: a lame attempt to change the subject; a way to portray himself as a victim of someone else's deceit; and yet another excuse for the dysfunction that seems to trail him wherever he goes.
Deion waves off these oversights as the result of a positive character flaw, the job interview equivalent of saying your worst feature is that you're a perfectionist. ("I will forgive you nine times," he says, "but on the tenth we're done.") Perry remains unequivocal that his childhood idol is still the right man for the job. "If there is anyone on Earth who should be working with kids, it's him," he says. "He could be one of those guys who goes around and does corporate functions, slapping hands with CEOs. He could be O.J. Simpson. He's done just the opposite. He does more work with kids than most educators who are paid to do it."
Yet excessive forgiveness isn't enough of an explanation for why Deion missed the chaos going on around him. To those who actually worked at the school, it was obvious something was wrong. How could a guy who saw the field so well as a player claim to have missed what was happening right in front of him? To this he offers yet another name: Pilar.
---
Deion, done coaching for the day, sits in a wooden flip-down seat in the front row of one of Texas A&M Commerce's auditoriums. Per usual, there's a swirl of motion around him. A gaggle of production people from his reality show are scrambling to get the lighting just right before 100 sweaty campers walk in, take their seats, and listen to a short inspirational speech from the man sitting just to Deion's left.
That man, Omar Jahwar, is another unofficial member of Team Deion. With French cuffs rolled up to reveal a bird-of-paradise pattern on the inside of his sleeves, Pastor Omar, as he likes to be called, exudes the vibe of a man on permanent vacation. This makes it all the more surprising when he explains what he does for a living: He counsels the most violent inmates inside Texas's most violent prisons.
Deion and I are talking about how he could have missed what was going on at Prime Prep, but, for obvious reasons, he doesn't seem to want to fully engage. He brushes me off with a short response. "I was distracted," he says. This comment elicits a cheshire cat grin from Pastor Omar. "I've done counseling with every gang you can imagine," he says. "Bloods. Crips. Latin Kings. Texas Syndicate. I've never met a more dishonest or dangerous person in my life."
The person Pastor Omar is referring to is Pilar, Deion's second ex-wife, who comes in here because she is, by this explanation, the distraction that caused him to miss what was happening at Prime Prep. Deion says (maybe it might be best to say "exaggerates") that he was in a courtroom nearly every day for two years battling for custody of his and Pilar's three children and over the relative strength of their pre-nup. Once again, like Wallace, Deion's other foil, we won't be hearing from Pilar, so this will remain a one-sided affair. (Attempts to reach her were unsuccessful. Same goes for the attempts to reach her through her attorney, for reasons that will soon be clear.) What can be affirmed is that in every case where there was an independent arbiter forced to suss out who was right and who was wrong, the win went to Deion. But these victories didn't come until after he suffered bruises both figurative (Pilar appearing on Good Morning America with her attorney and calling Sanders a bad father) and literal (in 2012, she was cited for misdemeanor "assault family violence" after a fight in the couple's mansion, a scrap which Deion live-tweeted).
Pilar Sanders was her name then. Today it's Pilar Sanders Love El Dey Allodial Moorish American. And if you suspect there's a story behind those additions, you'd be correct.
Right now in America there are, by the Southern Poverty Law Center's reckoning, around a hundred thousand people who identify themselves as something called sovereign citizens. Sovereigns come in many shapes and forms, but the one thing that seems to unite them all is a desire to avoid any laws that they don't like. For some sovereigns this means annoying but ultimately harmless acts like filing endless, gibberish-laden paperwork to protest something as simple as a parking ticket. For others it means much more—after a series of murders and armed confrontations over the past five years, some now consider sovereigns one of the more dangerous threats to law enforcement in the country. Sovereigns have their origins in anti-Semitic and racist teachings that say God intended America only for white men. This is why it's so strange that their movement now includes a group of exclusively African-American men and women who call themselves Moorish Nationals.
Moorish Nationals are followers of a religious sect that got its start in 1920s Chicago, when a man who renamed himself Noble Drew Ali started the Moorish Science Temple of America as a way of elevating the black underclass. Ali reportedly wanted his followers to see themselves as immigrants with just as much stake in the American experiment as Italian- or Irish-Americans. But somehow, over the course of the last century, his idea of inclusion mutated into something like its opposite.
Over time, some Moorish Nationals took their own beliefs and combined them with those of the sovereigns. Following this strange, ideological arranged marriage, a handful of Moorish Nationals made news for doing very sovereign-like things, like breaking into foreclosed mansions and claiming them for their own. The acts have gotten so brazen that original Moorish Nationals, who still believe in Ali's teachings and reject the message of the sovereigns, are now having to expend some untold amount of energy to convince people that they aren't the same Moorish Nationals who have twisted their religious beliefs into an excuse for trespassing, among other crimes. At some point, and we don't know when exactly, Pilar became one of these: the latter, newer, and (let's just say it) crazier Moorish Nationals.
Deion and Pastor Omar are leaning back in their chairs and talking about her when I blurt out something about how this all reminds me of Wesley Snipes, who ended up in prison over tax issues after making strange claims about how he wasn't actually a citizen of the United States. Suddenly the two of them snap to attention and go rigid in their chairs. They turn around to face me, their eyes wide. "You don't know what you just said," says Deion. Pastor Omar explains: "That's the guy she was dating before him! That's probably where she got the idea!"
Pilar's embrace of the religious and political fringe is anything but funny. A few months after this day in June she'll be asked to appear in court for consistently violating the terms of her divorce agreement. She'll be accused of keeping her kids for weeks longer than had been agreed-upon, and for ignoring Deion's attempts to get them back. She'll represent herself, lose, and be ordered to spend a week in the county lock-up. And when the bailiff goes to take her into custody, she'll yell out defiantly, "I am not a part of the United States corporation." It's sad, especially considering the couple has three children together.
At this moment, however, Deion and Pastor Omar are laughing. They've finally made the connection to the man Pilar dated before him and the fate she's found herself in now. They seem happy to have made some sense of what apparently had made none before, and the laughter sounds more relieved than vengeful.
Then, right before the kids shuffle in, Pastor Omar tells a story about what life was like during the divorce. He had been responsible for their counseling, he says, back when they were still trying to make things work. That, Pastor Omar says, is when they discovered the thing that makes him more terrified of Pilar than he is of those violent gang members. Deion claims that during the divorce he realized Pilar had taken out two separate insurance policies against his life, both of which would have paid her handsomely had he died. Pastor Omar leans back in his chair, does his cheshire cat thing again and relays the advice he gave his friend when they first made this discovery: "If she cooks, don't eat nothin'."
---
It's the last afternoon of camp and my final few minutes with Deion. Blind Side has nae nae'ed and been promised his Honeybun. The last line of the Big Magazine piece is all but written.
Deion and I have spent hours alone, just the two of us, talking. We've talked in my rental car, which I've used to chauffeur him from one part of campus to another. We've talked in the grungy dorm room he's sharing with Shilo, with its dusty box fan and discarded sticks of deodorant, a charmingly gross museum still-life of seven days of unchecked manhood. We've talked so much that we've run out of things to talk about. The only thing left to do is to shake his hand and drive away. But when I walk up to him on that sweltering field he lets it be known that we're not quite done. "The guys," he says, "want to get a shot."
The guys are the camera crew from OWN, and this has been an ongoing discussion. Deion wants me on-camera, and the reason why isn't entirely clear. At one point he tells me it'll be good for my career. At another point he says it'll be good for the kids, another chance to broaden their vision. Here on the field, he offers yet another reason. "We want to make sure we get you on TV," he tells me, "so that you can't make stuff up about us." He's joking … I think. (A few months later, when a reporter from The New York Times approaches Deion for an interview, the superstar will produce his own tape recorder, so maybe he isn't joking after all.) Then Deion offers a fourth reason. "I just want to show you that this stuff isn't staged."
What's real and what isn't real has been a constant thread in our conversations. Deion has told me that his girlfriend, Tracey, has friends in Hollywood on reality shows who will set up lunch dates for the express purpose of having them be filmed so that a fake plot point can be furthered in a show pretending to be genuine. He has told me he thinks this is ridiculous. Yet now he wants to talk to me, a guy with whom he's exhausted all potential conversation, for the benefit of the cameras.
I have good reason to say no. His producers have been telling me all day that I need to sign a non-disclosure agreement before I can be filmed. I've used this as a convenient reason why I can't be on-camera. How can I sign something that says I'll agree not to report on what I've seen, when the whole reason I'm here is to do just that? I don't sign. But then, contrary to their previous stance, the producers swear that won't be an issue and ask me to stand still so that they can fit me with a microphone. I tell myself that I'm only acquiescing because I don't want them to throw me out of the auditorium, which seemed like a possibility. In reality, it's just a lot easier to say, "Okay" when someone's hand is already snaking a cord up the bare skin of your back.
That's how I come to Deion on the field, with the intention of handing him my mic and saying goodbye. But he's ready for this. There are already two cameramen with their lenses pointed at us. Someone important looking, probably the director, hovers in the background. "Let's walk," says Deion. So we walk. "Ask me some questions," he says. I am out of questions, so I grasp and come up empty. "What time are you leaving tonight?" This goes on for a few seconds. We walk and talk about the most banal subjects possible before the director steps in. "Could you ask him when this all started?" he says.
The guy who swears everyone has the wrong impression of him based on the image they get from TV; who dreamed up that image and was then responsible for its maintenance for decades; and who swears his show is different because it isn't staged now has a proxy asking me to return to my mark and tighten up my questions so that they can advance the plot. Of his show. Which isn't staged.
When I first got to Dallas, Deion's case for why the failures of Prime Prep weren't actually his fault were simple. It was the same case that was going to be reflected, without skepticism, in the Big Magazine piece: He was a do-gooder done wrong. That case, though, depended on Prime Prep's ability to shake off its troubles once the people supposedly holding him back were finally gone from his school and his life. And in the six months since, the exact opposite has happened.
First Deion's hand-picked replacement for Wallace resigned. Then teachers went weeks without getting paid and longer without health insurance. Enrollment plummeted, and with it the school's budget, which left it in the hole to the tune of hundreds of thousands of dollars. One morning the first employee to arrive at Prime Prep was greeted by the sight of a padlock chaining the school's two doors together. Rent was overdue and its landlords apparently wanted to send a message.
Finally, two weeks ago, came the end. A few days before the state was set to vote on its future, Prime Prep pulled the plug itself. Or at least it tried to. In keeping with the school's tradition of dysfunction, its board called a meeting intending to give up its charter. All the school needed to make the vote official were three board members. Instead, knowing that no one would show up, Prime Prep cancelled the meeting, gave up its charter anyway, and a few days later learned that the state wasn't even allowing it to finish out the school year. All that's left of Prime Prep today are a handful of lawsuits, a big debt to the IRS, and a possible FBI investigation over the fate of the school's stolen laptops.
Deion's dream of helming the country's biggest academic and athletic powerhouse is over. The debate over whether he's more persona than person continues.
Back on the field in June, though, Deion was still in control. The narrative was still his to define, he was telling me what to do, and I, for whatever reason, was letting him.
Deion and I take a few steps backwards, pause, and start again. "When did this whole thing start?" I ask, just like I was told. The director jumps in again, immediately. "Can you make sure to say the name of the camp? 'TRUTH'? When did TRUTH start?" (OWN presumably has a videotaped record of what he actually said; this is just the recollection I was able to scribble down after getting back to my rental car.) We take a few steps backwards, pause, and start again. "So when did this whole TRUTH camp start?" I ask, finally nailing my line. Deion and I walk and talk again for a few more steps before someone jumps in with a conclusive, "We got it."
The director has his shot and the crew is already moving on to the next one. Deion gives me a bro bump and turns to leave, walking back on to the field, to the kids, and to Blind Side. Right where he wants to be.
---
Caleb Hannan is a freelance reporter in Denver.
Illustration by Jim Cooke, photo via Getty