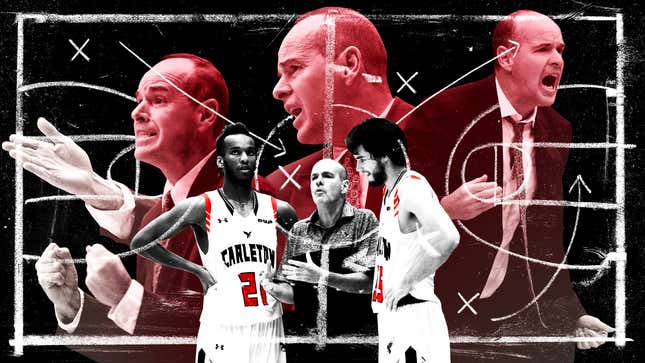 Dave Smart is not just any college basketball coach. Smart is a defensive guru, a legend in the sport, to whom Division I's top coaches regularly make pilgrimages to learn at his feet. The only reason you haven't heard of him is that those pilgrimages are to the outskirts of Ottawa, where Smart runs what might be North America's most dominant college hoops program.
Smart is in his 19th season as head coach at Carleton University, a mid-sized public university that competes in U Sports, the primary governing body for collegiate athletics in Canada, and he almost never loses. During the past two decades under Smart, the Carleton Ravens have won more than 550 games, notched a winning percentage of .922, and in the process, accumulated 13 national titles. Not only has Carleton habitually torn through conference play within Ontario University Athletics—the squad hasn't lost a conference game since February 2016—but the Ravens annually romp through DI competition during its summer exhibition slate (besting teams like Wisconsin in 2014, Baylor in 2015, Wichita State in 2016, and South Dakota State, Cincinnati, and Ole Miss this past August).
This past August, there was some thought Carleton might even play Duke, a national title favorite that was set to embark on its first ever exhibition slate in Canada. Though the Blue Devils are stocked with potential one-and-dones like R.J. Barrett and Zion Williamson, Duke appeared to skirt the game—the ACC squad ultimately declined to come to Ottawa and instead scheduled Ryerson, the University of Toronto, and McGill, squads Carleton routinely beats, a move which caused Smart to claim that the Ravens' success has unnerved his counterparts south of the border. "We really wanted to play them," Smart said at the time. "I've been told coaches are dodging us."
Smart even volunteered to bring the Ravens to where Duke was already playing. "I asked if we could go to Montreal or Toronto to play them but there was no call back," Smart told reporters.
"Dave is one of the smartest basketball coaches I've ever met," says Villanova's Jay Wright. That sort of respect echoes throughout coaching circles, where Smart's stature is that of a Krzyzewski or a Wooden. Among the high school prospects that Smart annually evaluates, though, Carleton might as well be a cipher. From five-star recruits to late bloomers, almost no prep player buys Smart's pitch—and he's fine with that. He's there to just let them know if DI ultimately doesn't fulfill the dream they envisioned as teenagers, Carleton—a program that habitually competes for national titles whose players almost always graduate to professional careers in the top leagues of Spain, Germany, and Italy (among others)—is waiting.
"I never get any of those kids out of high schools," Smart says. "They're in an environment where everyone around them is saying 'Division I, Division I.' But I get to know what they are looking for, and I have long realized that the DI route isn't going to get them where they need to be.
"So even while I'll lose every one of them on the initial recruitment, at least they hear me out, so when they are looking to transfer, they remember and are ready to listen and take a chance."
Like Munis Tutu, who considered Carleton following a disappointing stint as Loyola-Marymount. "I didn't get the opportunity I was told that I was going to receive," says the guard, who averaged nearly nine points per game off the bench this past season, his first as a Raven. Coming out of Indiana's La Lumiere School, he was infatuated with the "hype of Division I." Sure, he had heard about Carleton, but since he had several DI offers, he didn't seriously consider the Canadian program. Even when he decided to transfer, he thought again about bypassing Carleton, but his final decision was a stroke of pragmatism: "I didn't want to transfer to another DI school and be stuck in a similar situation."
Tutu is one of four current Ravens—including Eddie Ekiyor (Xavier), Isiah Osborne (UTEP), and Emmanuel Owootoah (Fresno State)—who began their college careers stateside before transferring to the Canadian powerhouse. Other than Osborne, who enrolled at Carleton this summer, the others contributed to the Ravens in 2018, a season that was arguably the most interesting of Smart's tenure. A team that the coach claims was "not a good basketball team" went undefeated (20-0) in the regular season before losing in the Final 8 (U Sports' equivalent of the NCAA Tournament) semifinals. "We found ways to win games last year, and our guys weren't serious enough because they also thought they'd win," Smart says. "It's a level of arrogance that's unacceptable, but we're also really young—we were a year away."
To understand how Smart and Carleton became so successful that an undefeated regular season and "final four" appearance were considered a disappointment, it helps to first understand the structure of U Sports. Players are allotted five years of eligibility, and since players within the 56-member U Sport rarely turn pro before graduation, there are few surprises that can derail a program, allowing teams to focus solely on player development. There are no restrictions for when teams are allowed to practice, and at Carleton, that means scrimmaging and working out in two-hour stints that begin the week after the national tournament and continue year-round, adding a new dimension to what typically constitutes skill development. "That was a shock when I first arrived," says Tutu. "I wasn't used to that type of training."
"Dave's coaching style is super intense but it's also individually directed," explains Jay Triano, former head coach of the Phoenix Suns, who has known Smart for the past two decades. "He has a unique talent of being authoritative but also getting across to his players that he knows what is best for them and how they can progress."
According to former guard Kaza Keane, now with the Raptors' D-League affiliate, that sort of attention to detail is why he transferred to Carleton for his final season of eligibility. Smart heavily recruited him out of high school, an offer Keane spurned at first, playing at Illinois State and then Cleveland State before returning to his native Canada. "I was blown away by how hard the guys were working when I went on my first visit," he says. "I had to take an ice bath afterwards."
"I was at a crossroads where I could sink or swim," Keane says of arriving at Carleton. "I hadn't succeeded in Division I like I thought I would. Dave knows how to help you push past the limits you set on yourself. Before I got to Carleton, I thought I worked hard, but I was barely scratching the surface. Dave makes a player understand how to always do the right thing on the basketball court in any given moment.
"I don't understand why he doesn't get any recognition—he's the best college coach in North America."
Which is why Smart's decision to step away from Carleton during the summer of 2015 was so shocking. After winning five straight national titles, the unthinkable had happened: Smart had grown weary of the game. While he continued to help in practice and consult with the interim coaching staff, led by his nephew Rob Smart (who, as a player, was a member of the Ravens' inaugural title winning team in 2003), he was completely absent on the sidelines. "I was finding it increasingly tough to be away from my kids," explains Smart, whose two sons were then under the age of 10. "I hated being away every other weekend. I just wanted to be with my kids."
While Carleton continued to dominate in his absence, including a 32-point rout in the 2016 national title game, Smart reset for a year. He needed it; Smart hadn't taken a break since he first started coaching after graduating from Ontario's Queen's University in 1994. At first, he coached four teams at a time—"there was an eight-year period where I coached 365 games in a year," he says of the stint, which varied from coaching high school teams to 11-year-olds—and that amount of practicing and on-court experiences afforded Smart ample chances to experiment. Even after he was named head coach at Carleton he continued to tinker, coaching three other squads, including two high school teams, in his early days as a Raven.
"It didn't matter if we got hammered. No one was getting fired, so I could just try stuff," he recalls. "By the time I got to Carleton, I had coached at least 8,000 games and held about 1,400 practices, so I had a pretty good idea of what generally works and what doesn't work."
In particular, Smart sought to build a top-notch defense, one that functioned on instinct and muscle memory rather than through a coach's instruction, and it's that defense which has fueled the Ravens' sustained success.
"Their defensive system is the most unique I've seen," says Wright. "I've tried to steal it, just based on watching film, but I couldn't do it, so I asked Dave to come and explain it in depth to our staff." What began as a schematic melding of forcing ballhandlers to both the middle and baseline of the court transformed into a free-flowing amorphous-like defense that seeks—and largely succeeds—to deny open looks. Rather than a constant stream of information, the Ravens use one-word commands to instruct the man on the ball, a basketball shorthand that enables defenders to anticipate rather than react. "When we played them, we couldn't score," says Wright. "Those four players are all communicating what an opponent is going to do next. It's very complex."
During the Ravens' four-game exhibition slate this summer which featured two 2018 NCAA tournament teams, opponents scored an astounding .82 points per possession. That included a 62-point win over South Dakota State, a team that nearly registered a March Madness upset against Ohio State. "Carleton is a machine," says SDSU assistant coach Eric Henderson. "They make the offense do what the defense wants, and the unison with which they play is something that is more impressive in person that it is on tape—all five guys moving more times correctly at the same time than incorrectly. The discipline, freedom, and versatility they have guarding certain actions is unique."
Other Division I coaches have attempted to glean aspects of Carleton's defensive brilliance. According to Smart, John Beilein (Michigan), Mick Cronin (Cincinnati), Bill Coen (Northeastern), and Paul Weir (New Mexico) have all trekked to the Raven's Nest, the squad's 1,300-seat multi-use gym, in recent years. "More and more NCAA guys will talk to me about our defense, and continue to talk to me about it, and then do their own thing with it," he says.
What's truly remarkable is that despite the success and the various accolades, Smart, whose salary is not far over $100,000 a year, has remained content operating far from the limelight. Sure, he says he's been tempted by Division I offers, and maintains he came close to accepting one several years ago, but he is well aware of the legacy he has built in Canadian hoops, one that only continues to flourish. Plus, this year's squad might be the best he's ever coached at Carleton: "We only lost one guy from an already young team a year ago, and we're 16 deep at the moment. Our team is pretty motivated." This year's Ravens are off to an 8-0 start, with an average margin of victory of 38 points.
Which partially explains why Smart was so irked by Duke's supposed snub. In spite of his insistences that he doesn't seek out notoriety—"I am comfortable without any attention, and I don't even think we deserve the positive press we get," he told me—playing a Blue Devils squad that is already pegged as a national title favorite is a form of competitive validation, a rebuke to those who fail to acknowledge that the winningest college basketball team of the 21st century is far from Durham, Lexington, or whichever locale ESPN highlights season-to-season.
And should that acclaim never emerge, Smart is content to continue expanding Carleton's legend up here, as a team that annually beats up on some of the best and brightest Division I squads each August and then goes unbeaten over the course of 30-plus games: "We're trying to be in a position where we win every year for the next 10 years," he says, "not just next year."
---
Matt Giles is a writer for Longreads, and he also freelances for several other publications, including the New York Times, New York magazine, the Washington Post, Bleacher Report, and FiveThirtyEight.