ESPN's Mike Fish punctures the final holes into Lenny Dykstra's supposed financial genius with swift, purposeful blows. Hopefully, this is the last we'll hear about Dykstra for a long, long time.
The benefit of the doubt everyone from Bernard Goldberg to The New Yorker gave Dykstra last year about his investments, Fish shows all the evidence that completely undermines those stories with disturbing facts. One of the most disturbing: Dykstra recently used his mother's credit card to charge $23,000 to order to charter a plane ride back to his home in California from Cleveland. She has not been paid back. Nor have his brothers, many of his business partners, and plenty of other people who became seduced by Dykstra's supposed business acumen. Although it's not quite Madoffian, Dykstra's financial recklessness is lengthy and deliberate, dating back to his car wash days.
Some of the carnage:
• "Just in the past two years, Dykstra has been the subject of at least 24 legal actions, including 18 since November. Three suits hit the courts on Jan. 29. He's been sued by publishers and print companies, by three different groups of pilots and by a Maryland-based financial and litigation consulting firm that offered expert testimony on his behalf in an earlier lawsuit. He's even been sued by a die-hard Mets fan who was the best man at his wedding 20-some years ago, though that New York investor claims there is no bad blood."
• "Dr. Festus Dada, a Nigerian-born gastric bypass specialist, who filed a fraud/breach of contract suit and alleges Dykstra kept a $500,000 deposit after a deal fell apart to purchase a Southern California car wash and retail center then owned by Dykstra. Dada walked away from the transaction, claiming in the suit that Dykstra had made significant changes to the final escrow agreement, including the insertion of a five-year contract for Dykstra's old Phillies teammate, Pete Incaviglia, to serve as general manager under the new ownership."
• "Two Players Club vice presidents filed claims for unpaid wages after they quit in January. The Minneapolis-based firm hired to design his Players Club Web site alleges Dykstra stiffed it on a $1 million contract, and then bounced two separate $125,000 checks."
G/O Media may get a commission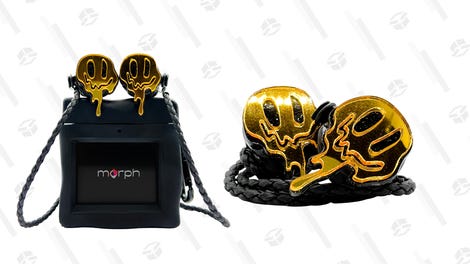 morph audio
Morph Earphones
• "Dykstra borrowed $250,000 from New York literary agent David Vigliano last May with an agreement to repay him $300,000 in November — a robust 40 percent annual percentage rate. Vigliano filed suit after Dykstra didn't come up with the money."
• "The high-powered global law firm K&L Gates, which waged many of the legal skirmishes on Dykstra's behalf, withdrew its representation late last year because it was "not paid current," according to his former lead counsel, David Schack."
• "The Gretzky estate that Dykstra bought for $18.5 million — he planned to flip it for a sweet profit before the housing market belly flopped — now sits vacant and is listed at $16.5 million. According to public records, four notes and deeds of trust are held against the property, totaling more than $13 million. One of the note holders, Index Investors LLC, filed a default notice in March, alleging Dykstra was behind on his payments in the amount of $422,436."
That's not all. Fish isn't charitable at all with Dykstra's unpolished demeanor — the dude-isms, the farts, the loopy mannerisms — and keeps them in the proper context at all times.
What's sad is that I know people who have their money tied up in Dykstra's "Nails On The Numbers" financial scheme. The newsletter costs $1,000 a year and is something that Dykstra has handed off to many of his magazine employees in lieu of actual payment for work. One person — a well known newspaperman — swears up and down that he's made money from Lenny's options picking. But this person has also been enmeshed in all of the magazine chaos that Kevin Coughlin highlighted in the GQ article last month. I asked this individual if that article was accurate and he said, if anything, it didn't come close to revealing some of the bizarre things Dykstra pulled with The Player's Club: non-payment, constant dropping of racial epithets, overpaid employees, underpaid employees, and an utter lack of any sort of editorial vision or oversight. It's a disaster of epic proportions and is hurting a lot of people Dykystra's used everyone in his family to funnel money and, according to my friend, paid him for one story out of the checking account from his son, Cutter Dykstra. Here is a copy of one of the recent "Nails On The Numbers" newsletters. This is what you get:
Go make money, dudes!
Bottom line is — Lenny Dykstra is a reprehensible human being. He lives, as Fish says, in a fantasy world. And he's been very successful at deluding people into thinking that they too will become millionaires if they stick by him. Some people have made money, but many have not and have not been paid and have lost precious time working for that stupid magazine to take off . Hopefully, for the rest of his life, people will finally realize that Dykstra is every bit the fraud he's always appeared to be.
UPDATE: A finance expert dissects "Nails On the Numbers"
FYI - I find it either hard to believe your buddy has made money with Lenny or was just straight lucky. Anyone who has more than a basic understanding of options quickly realizes that Lenny's strategy is inherently flawed. In many ways his strategy is similar to Blackjack's Martingale betting system. The result is you rack up a large number of winners (e.g 99 times out out 100). The problem is that the one lose quite often wipes out the winnings of all your other trades. Look in the scorecard that Lenny posted and you will see that the Amdoc's loss nearly does that. Lenny even tried to pull some bullshit with that as shown here:
Other problems that occur is he doesn't mark his portfolio - so even through he realized $56,000 in wins, he could be sitting on $200,000 of unrealized losses, but he would still claim he is making money. He even says it is not a loss until you take it. (Under that theory, he hasn't lost anything on Wayne's house). He also doesn't actually trade his recommendations. That creates an interesting scenario where Lenny could "own" 250 option contracts in his newsletter and there might only be 1000 in existence. When one contract sells at his price he counts all he owns as sold. Great in theory, but in reality it doesn't work as you probably wouldn't be able to get that large of a trade executed at your price (without slippage).