With Sepp Blatter (a pretty funny name in its own right) on his way out, the FIFA presidency is wide open. The rogues' gallery of candidates are already positioning themselves—human rights groups accuse one potential frontrunner, Sheikh Salman bin Ebrahim al-Khalifa of Bahrain, of literally snitching on athletes who took part in pro-democracy demonstrations in the Arab Spring, leading them to be rounded up and tortured. It's one of those laugh-to-keep-from-crying elections.
Thankfully, we are immature enough to find pleasure in the candidates' very names:
We were thinking those sound like fighters from Mike Tyson's Punch-Out!! or characters from the Star Wars prequels. Or maybe Bond villains. But this is perfect:
G/O Media may get a commission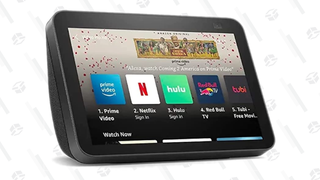 I dare you to tell the real names from any given Name of the Year bracket. Or from the fake ones:
It's fun! Come up with your own FIFA presidential candidate names below.