As fits a government that could already boast a head of the Department of Energy who wants to do away with the Department of Energy and a secretary of education who favors homeschooling over public schools, a guy renowned for desecrating park lands will now be running the National Park Service. P. Daniel Smith, who once helped Washington Redskins owner Dan Snyder get a better view of the Potomac River, reportedly will be named as the acting director of the National Park Service.

"It's crazy. His reputation will never recover from the Snyder experience, because he basically sold out the primary mission of the agency," says Rob Danno, a ranger with the National Park Service whose career at the agency was temporarily derailed for bringing Snyder's illicit clear-cutting escapades to the attention of federal investigators. "This was nothing to do with something that would be good for the land. This was always about the view for this billionaire."
In January 2006, the inspector general of the Department of the Interior issued a document called "Investigative Report On Allegations that the National Park Service Improperly Allowed Daniel Snyder to Cut Trees on Government Land." It tracked how and why Snyder had gained permission a couple of years earlier to defoliate 1.3 acres of the C&O Canal National Historical Park, which happened to be located right behind his Potomac, Md., mansion. The investigation determined that NPS "failed to follow any of its established policies and procedures" before giving Snyder the go-ahead to hire crews with chainsaws to rid the public property of around 130 trees that stood between 30 and 40 feet tall. Smith was cited in the report as Snyder's primary enabler.
At the time of the cutting, Smith was serving as special assistant to NPS director Fran Mainella. The IG report said that for three years beginning in 2001, Snyder held meetings at his home with Smith and other NPS brass at which he begged, bargained and even offered what looked to some like a bribe—a proposed $25,000 cash donation to fund C&O Canal causes—before getting permission from the agency to get rid of the trees. (They were located between the river and the new ballroom Snyder had just added to the estate, which he'd purchased from Queen Noor of Jordan.) The go-ahead came despite the protests of career NPS staffers, including the agency's chief horticulturist, who had warned that Snyder's tree-cutting would "increase the potential for erosion" and cause other ecological damage to the riverside federal land.
"Our investigation determined that P. Daniel Smith ... unduly influenced the decision to grant Snyder permission to cut the vegetation on the easement by inserting himself into the process through personal communications with Mr. Snyder, his representatives, and C&O NHP officials," read the report.
G/O Media may get a commission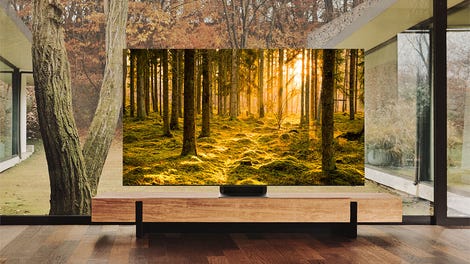 Up to 40% off
Samsung Smart TVs
The report said Smith told investigators on two occasions that he only began advocating on Snyder's behalf "at the request of" Mainella after the Park Service's then-boss was lobbied by Snyder and the owner's associates "at a Redskins-Giants football game." Mainella, who was also tarred by the IG report, told investigators that she couldn't remember whether she'd ever attended a Redskins-Giants game, but was sure that Smith's assertions that he was acting on her orders "were not true," and that he had gotten involved in the Snyder tree-cutting project on his own. The IG referred its findings to the Fraud and Public Corruption Unit of the U.S. attorney's office in D.C., but no charges were ever brought against Smith or any NPS officials in the case.
Smith accepted an official reprimand from NPS, and took heat off Mainella after the report was published by telling The Washington Post that his boss "was not involved in the trees." Smith was reassigned from the director's office to a job at the Colonial National Historical Park. ("He backtracked and tried to protect [Mainella], then was immediately rewarded with a plum assignment," Danno says. "He was only the fall guy because they got caught.") Smith retired from the agency in 2014.
Snyder, meanwhile, ultimately paid a reported $37,000 in fines to local environmental regulators, and agreed to replant the trees he chopped down.
Danno paid the biggest price, apparently just for telling people what happened. Highers-up at NPS conducted what certainly looked like a lengthy reprisal campaign against the 30-year veteran of the agency that included stripping him of his chief ranger rank and reassigning him to a job issuing picnic permits at a park in Northern Virginia, a menial task for such an experienced employee, and one that forced a two-hour commute from his West Virginia home. He was brought up on federal charges of stealing U.S. government property for keeping a drill and other work tools with him off-hours, a common practice among rangers who travel from park to park. (A jury in U.S. District Court for the Northern District of West Virginia in Martinsburg acquitted Danno in 2009 after a brief deliberation.)
Danno rode out the onslaught, however, and though he says that in his mind there are far bigger villains than Snyder in the tree-cutting saga—"All he did was ask, and then not take 'No!' for an answer," Danno says—he admits that the public perception that he'd taken on the owner and won helped him in the long run. In 2012, he self-published a book about the saga, Worth Fighting For: A Park Rangers Unexpected Battle Against Federal Bureaucrats and Washington Redskins Owner Dan Snyder As Snyder's reputation as a bully became part of the national conversation, Danno's own star rose again within the agency.
"The case had given me credibility with matters of ethics, to speak to larger corruption issues within the National Park Service," he says. "Instead of being a pariah within the agency, I was looked at as some hero. I had made my decisions [to be a whistleblower] without my family or looking at the long view. I see now I put the family at such incredible financial risk, and I had never considered I'd be at the risk of losing my freedom. If my case had involved, say, Dan Snyder's neighbor, somebody nobody knew, nobody would have cared about me. But Dan Snyder is the favorite guy to hate inside the Beltway, and largely across the nation, so it turned out okay for me."

He says that when he went to the NPS bosses saying he wanted to be compensated for the damage he'd suffered just for being a whistleblower, they agreed. "I came up with a two-page list of demands that I thought was outrageous," he says, "but they agreed to every single one of them."
As a result of his 2013 settlement with the agency, Danno was reinstated as a chief ranger and spent the last two years of his career on what he called his "dream assignment," as a backcountry ranger at Yellowstone and Glacier National Parks.
He retired in 2015 and now works as a deputy sheriff in Bonner County, Idaho. When his settlement with NPS was first reported, Danno told The Washington Post, "I hope the National Park Service uses my experience as an opportunity to improve leadership."
He now says the recruiting of Smith to not only return to the agency, but to run it, has crushed that hope. "As I suspected, the NPS never conducted a 'lessons learned' from my case," Danno says.
Environmental advocates seem befudded by the NPS rehiring its disgraced former staffer—an episode called "Mr. Smith comes back to Washington" by Hedrick Belin, head of Potomac Conservancy, a D.C.-area tree-hugger outpost. Danno says the Smith situation is so bizarre that it's sure to foster conspiracy theories among park-service watchers.
"Here we've got the guy who met personally with Snyder, who is maybe the biggest donor to Trump inside the Beltway," he said. "And here's this case where Smith and Snyder were pummeled! And here they pull this guy out of retirement to run [NPS]. Can that be coincidence? I don't know if we'll ever find out."
Well, there is a chance that Snyder could use some help from friends inside the agency soon. He's let it be known he's looking for a site for his team's next stadium. The property that Snyder likely covets most is the site where the Skins' former home, RFK Stadium, sits for now. That plot of land is controlled by ... the National Park Service. 
According to staffers at a few D.C.-area NPS watchdog groups contacted by Deadspin, at last check Snyder had not yet replanted the trees. Requests to NPS media officials and Tony Wyllie, Snyder's spokesperson, asking if that were still accurate went unanswered as of deadline. In any case, as Smith takes over, Snyder should still have the unobstructed view of the river from his ballroom.
Disclosure: Dan Snyder once sued me for writing mean things about him, and in the complaint singled out a line that he had "made a great view of the Potomac River for himself by going all Agent Orange on federally protected lands." He dropped the suit.