Each week, Football Outsiders recognizes the most outstanding college linemen, defenders and other darkhorses from the previous weekend who are habitually overlooked in the hype for that other award (you know, that one, whatever it's called). These are the Lowsmen.
KYLE FULLER and KENDALL FULLER, CBs, Virginia Tech
The Hokies were missing their top cover man, Antone Exum, who tore his ACL last winter playing pickup basketball and will be fortunate to play at all this season. Even in defeat, though, they could not have asked for more from the Fuller Brothers, who lived up to their advance billing by denying Alabama receivers any of the space they enjoyed the last time we saw them, running free through Notre Dame's secondary in the BCS title game. Kyle, a senior with All-ACC credentials on his resumé, finished with four tackles, an interception and two passes broken up, officially, although anyone who watched the game will tell you had a hand in more plays that didn't show up in the stats. Kendall, a five-star freshman playing in his first college game, also recorded four tackles, and held his own on several occasions against Alabama's best target, All-American Amari Cooper.
But the real proof is on the other side of the box score: Bama quarterback A.J. McCarron, the most efficient passer in the nation in 2012, was a dismal 10-of-23 against Virginia Tech, turning in the worst passer rating of his career. (Even with regard to that number, neither Fuller Bro was in coverage on McCarron's only two completions beyond 12 yards.) As a team, the Crimson Tide managed only two offensive touchdowns, both on drives that began in Va. Tech territory, and finished with their worst game in terms of total yards, yards per play and first downs in more than four years.
DaQUAN JONES, DT, Penn State
Together, the offenses in the Nittany Lions' win over Syracuse combined to average 1.7 yards per carry, finish 7-of-36 on third-down conversions and commit seven turnovers. Only appropriate, then, that top honors should go to a senior who led the team with nine tackles – three of them for loss – and a sack for good measure, helping hold the Orange to 71 yards rushing. (The same Orange averaged 238 yards on the ground over their last seven games of 2012, and returned a pair of tailbacks who combined to run for 2,000 yards.) Penn State is a factory for great, late-blooming defensive linemen, and Jones is on the early track to become the next entry on the list.
G/O Media may get a commission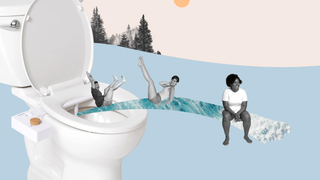 17% off
Tushy 3.0 Warm Water Spa Bidet Attachment
JAMES HURST, OT, North Carolina
Unmoved by the summer hype offensive for Jadeveon Clowney, Hurst was primarily responsible for holding the most feared pass rusher in the game without a sack or tackle for loss in the Tar Heels' loss to South Carolina, thereby reinforcing his status as a potential first–rounder in his own right. (Click here to watch seven-and-a-half minutes of Clowney inducing neither shock nor awe; Hurst is number 68.) UNC didn't get much done offensively, finishing well below its worst efforts of 2012 in both yards and points. But at least it was not due to a dreadlocked giant devouring the quarterback whole, as it could have been.
JALEN MILLS, CB, LSU
A freshman All-American in 2012, Mills picked up where he left off with five tackles and an interception in the Tigers' 37-27 win over TCU. Between them, TCU quarterbacks Casey Pachall and Trevone Boykin completed 15-of-28 passes for 145 yards, good for a paltry 5.2 yards per attempt, and did not have a touchdown pass, putting to bed most of the doubts about seven new starters on the LSU defense. Instead, two of the Horned Frogs' three touchdowns on the night came courtesy of the special teams, which allowed a 100-yard kickoff return in the first half, and the offense, which lost a fumble inside its own 10-yard line early in the fourth quarter. Otherwise, the final score is not nearly as close as it appears, and whatever hopes the rest of the SEC had of exploiting the Tigers in a "rebuilding" year are fading fast.
KURTIS DRUMMOND and JAIRUS JONES, DBs, Michigan State
Drummond and Jones each had an interception in the Spartans' defensively driven win over Western Michigan, including a leaping, one-handed beauty by Drummond that will endure as one of the highlight grabs of the year. In addition to their individual thefts, though, they also teamed up on an even bigger play in the first quarter, when Jones baited WMU quarterback Tyler Van Tubbergen (actual name) into an interception on a zone blitz, then lateraled to Drummond in a full sprint toward Michigan State's first touchdown of the season. Given the ongoing state of disrepair on the other side of the ball – MSU's only other touchdown against the Broncos came on a fumble return by DT Shilique Calhoun in the fourth quarter – Spartan fans can only hope the defense comes up with a way to contribute to the scoreboard every week.
COLLIN ELLIS, LB, Northwestern
Making his first career start, Ellis found himself in the right place not once but twice at California, hauling in a pair of tipped passes in the second half and taking both to the house to supply the margin in a 44–30 Wildcat win. Together the returns covered 96 yards, at least temporarily leaving him third on team in all-purpose production. Meanwhile, three additional passes broken up leaves him as the early national leader in passes defended.
Outsider of the Week: VERNON ADAMS, QB, Eastern Washington
If you watch Eastern Washington for one reason this season, it should be for the blood-curdling red turf it installed in its home stadium a few years back. But the second reason should be Adams, a freshman star in 2012 who may now be a star, period, after accounting for 518 total yards and six touchdowns in the Eagles' 49–46 upset at Oregon State. (That number would have made him No. 1 in the FBS in total offense this week, if Eastern Washington was an FBS school.) On the decisive drive in the fourth quarter, Adams accounted for every yard on an 11-play, 75-yard march for the winning touchdown, which he also handled himself on a two-yard scramble. By then, it was inevitable: That play marked the fifth and final lead change in the game's last 20 minutes.
---
The Lowsman Trophy Watch was created by Robert Weintraub. Want to nominate an unsung hero for the Lowsman? Drop us a line.
Matt Hinton writes about college football for Football Outsiders and SB Nation's Football Study Hall. Follow him on Twitter, @MattRHinton.