The Mighty MJD's Smorgasbord runs every Monday. Do enjoy.
• Is it me, or does it seem like almost every single week, at least 70 percent of the games on the NFC schedule are unclean anus? There are so many teams in the NFL this year that are either bad, or not quite bad but still unpleasant to watch ... it seems like it's almost impossible to have a good slate of games.
• Fortunately, in a place like this, where you can watch seven TVs, you only need one or two of them to turn out decent, and you can be thoroughly entertained. The NFL has a nice little system that way. Two decent games, and maybe one remarkable individual performance, and that's all anyone will talk about. No one will even remember all the shit vs. shit, vomit vs. shit, and non-shit vs. shit matchups.

• Update from FOX's Jay Glazer: "The Cleveland Browns are sticking with Derek Anderson." I'm sorry, was there a chance that they wouldn't? Have the Browns gotten tired of winning already? To report the same news in a different way, "The Cleveland Browns have decided that winning games will remain one of their goals."
• In celebration of the Marines birthday, a group of Marines are on the field somewhere (Washington, I believe) doing all that nifty gun-twirling stuff that they did in the beginning of A Few Good Men.
• Tomorrow being Veterans Day and all, I'd like to extend my most sincere wishes for safety and peace for all the men and women who are serving, or who have served in our Armed Forces ... including Vinny Testaverde for all of his heroic work as a USO dancer in the Spanish-American War.
G/O Media may get a commission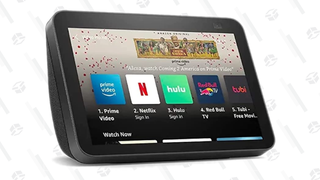 • TV guy asks me if I'd mind if he changed the Jacksonville/Tennessee game to the Panthers/Falcons game, because some dude behind me wants to watch that classic shit vs. shit matchup. I hate to ruin anyone's day, but ... I don't know. I feel selfish, because I don't really care about that game, but at the same time, I'm trying to minimize the amount of shit that flies into my eyeballs. Understandable?
• I'm begging for Adrian Peterson to put up 300 yards on someone, so I can get a reprieve of the constant highlights of him ass-raping the Chargers.
• More late-breaking news: Joe Horn and Keary Colbert are both out of the Panthers/Falcons game. That's terrible news for quarterbacks who couldn't get the ball to them anyway.
• You know how FOX sometimes at the beginning of a game, will put three players up on the screen under the heading, "In the Spotlight"? For Minnesota this week, it's three Adrian Petersons. If things like this keep happening, Brooks Bollinger is going to go all Matt Saracen on him and tackle him like a little girl at the end of a game.
• Pittsburgh opens their game against Cleveland by going 3-and-out, and then the Browns turn around and break off a Steelers-like drive ... They're picking up blitzes, Derek Anderson is throwing strikes. All told, it's a 16-play, 71-yard, 8:55 drive that ends with a TD catch by Kellen Winslow Jr.
• It's so fitting that Winslow scored on the day before Veterans Day. Our soldiers must be so proud of one of their own.
• Quinn Gray has a very unusual way of sending receivers in motion ... most quarterbacks will lift their knee and raise one foot off the ground, and that's a symbol for the receiver to move. Not Quinn Gray. He extends his entire leg behind him like a fucking ballerina. Kinda like this, but ... without the arm movement, and his leg doesn't get quite as high.
• Effeminate motion signals aside, the Tiny Dancer finishes off the drive with a TD pass, giving the Jags a 7-0 lead against the Titans. Fred Taylor and Maurice Jones-Drew were both rather punishing on that drive as well.
• Browns return man Joshua Cribbs, after a Steelers field goal, returns a kick 89 yards down inside the Steelers 5. We're on the brink of a 14-3 Brownie lead here.
• Budweiser should write to the networks about not having their George Clooney-voiceover commercials airing anywhere near commercials for Ocean's Thirteen. It really destroys any believability in the fact that Clooney's a Budweiser drinker. "Roseanne"-era Clooney might have liked Budweiser, or "Facts of Life Clooney "... but Ocean's Thirteen Clooney? Come on. This guy's going to mastermind a $500 million casino heist, and two minutes later, he's going to tell me that his favorite thing in the world is some bullshit beechwood aging process?
• Maurice Jones Drew extends the Jags lead against the Titans, and then celebrates with something that will not become the newest dance craze. His arms do the windmill, while his legs are engaged in some funky chicken action ... it's odd, but at least it has no connection to Soulja Boy (again, Happy Veterans Day) or the suppermanning of hoes.
• Redskins defensive coordinator Gregg Williams, unaware that it is not 1988, and he is not Bill Parcells, is wearing a tight sweater on the sidelines for the Skins.
• Tidbits from FOX: In Brett Favre's rookie year, the Soviet Union collapsed and Adrian Peterson was six years old.
• Uh-oh ... Large Benjamin throws an interception in his own red zone, where the Browns will take over, already with a 14-6 lead.
• By the way, if it seems like the universe is at all unbalanced at the moment, halfway through the 2nd quarter, both the Rams and Dolphins have leads.
• Derek Anderson's looking for Braylon Edwards in the endzone ... and oooh, that's a pretty catch. Officials say it was out, but Browns head coach Romeo Crennel disagrees ... and to show his disagreement, he will sprint-waddle out onto the middle of the field, and angrily chuck his red challenge flag at an official. Replay agrees ... TD Brownies, and it's 21-6.
• This feels significant. On one hand, the Browns/Steelers game feels a little bit like a poor man's version of Colts/Patriots, where the underdog team was in control, but you kind of had a sense that the other team was a powder keg that could go off at any second ... but on the other hand, it also feels like the Browns are officially saying, "You're not whipping our ass anymore. You might win, but you're going to have to work for it. You are not the only team in this division."
• I was just played for a chump. I didn't even realize it was happening. Remember the guy who wanted the Jags/Titans game changed to Panthers/Falcons? He just sent a cute girl over to the table to ask me if I'd mind if they changed the channel ... and it worked. I didn't even see it coming. She walks over, smiles, bats her eyelashes, asks very nicely ... and I'm like, "OKAY PRETTY GIRL ME DUMB CHANGE CHANNEL." I should have fucking known better. Twenty seconds later, I've gone from Jags/Titans in Hi-Def to Vinny vs. Joey in Standard Definition, and it finally dawns on me what just happened. That dirty whore. I am so weak.
• Stat from FOX: the Rams have had 2 different starters this year at left tackle, 4 at left guard, 2 at center, 6 at right guard, and 4 at right tackle. And yet, they lead the Saints.
• James Thrash has two touchdown catches? When's the last time that happened?
• You know what? I'm not leaving that question a rhetorical. I'm looking it up, because that's the kind of dedication to research and truth that I have. James Thrash hasn't had a touchdown at all since October of 2006. He had a total of two touchdowns from September 8, 2003 until yesterday a little after 1:00 p.m. EST. His last 2 TD game was on November 11, 2001. If you had the insight to start him in a fantasy league this week, you deserve to be orally pleasured for the next 18 hours.
• The Packers continue to whitewash the Vikings ... making me even more confident in my prediction that the Chargers are going to lose by 30 tonight at Indy. Don't be fooled by the Chargers ... they're not an "X-factor," or a "dangerous" team, or a team that could round into form ... they're just not very good.
• As a side note, it's much more fun to watch Adrian Peterson when it's not your team that he's raping and pillaging ... even if he's being held without any rapes or pillages at all on the stat sheet today against the Packers.
• Time of possession: Rams, 26:45. Saints, 9:28. Plays: Rams, 47. Saints, 17. It's 27-7, and Marc Bulger is kicking the ass of Drew Brees all up and down the Superdome carpet. I did not see that coming.
• Buffalo records a safety on Cleo Lemon to cut Miami's lead to 3-2. Meanwhile, Denver leads Kansas City 13-8, and Washington leads Philadelphia 15-7. I know the odds are against it, but I think today's the day that the Raiders break through and find a way to score 1.
• Uh oh ... Adrian Peterson takes a shot to the knee, goes upside down, and is now on the ground, either crying or convulsing.
• Pittsburgh has regained all momentum against the Browns, too ... with 5:00 left to play in the third, the Browns have yet to pick up a first down in the 2nd half.
• Peterson appears to be all right ... I believe he used his Purple Baby Jesus powers to heal himself. He's up and running on the sidelines. Phew. The Vikings almost had to rely entirely on first-string running back Chester Taylor.
• Here comes Morten Andersen from 47 yards ... and HERE COMES MORTEN ANDERSEN FROM 47 YARDS. I didn't know that kind of power still rested in Morten's leg. This shoots up some red flags ... while I have no ill will for the guy whatsoever, I think it would be awesome if Morten Andersen was busted for steroids.
• Large Benjamin, meanwhile, breaks off a 30-yard TD run, followed by a 2-point conversion pass ... and the Steelers have re-taken the lead. It feels like it's about time to declare this one a valiant effort from the Browns.
• Brett Favre strategically aims a pass at a Vikings defender's chest, knowing that another Vikings defender will swoop in and bat it away from him, and that both defenders will fall down in a heap and allow Ruvell Martin to make an easy TD catch.
• Browns kick returner Joshua Cribbs is a talented guy, and it's a good thing, because that was kinda dumb ... he misplayed a squib kick, then took his time and let it roll down inside his own 1-yard-line, apparently hoping it would cross the line and he could kneel on it ... kind of like a third baseman hoping a bunt will roll foul. Didn't happen, though ... so he chases it back to the 1, appears to be hemmed in for a Brownie disaster, and then, in a magnificent triumph of talent over intelligence, takes it 100 yards to the house. Just a ridiculous play ... and one that has the Brownies still alive.
• Unfortunately for Cleveland (and everyone else who doesn't like dickheads), however, Ben Roethlisberger is fucking awesome ... he leads a drive that eventually culminates in a TD strike to Heath Miller, thrown into traffic, back against his body.
• Joey Harrington, meanwhile, heroically hits Alge Crumpler over the middle ... Crump slips through a couple of defenders and streaks into the endzone for a game-winning TD with under 20 seconds left. Some plays seem like great efforts by great players (see: Roethlisberger), and some just sort of feel like fortunate happenstance (see: Harrington). Similar things, but there was quite a contrast in how they felt.
• The Browns final drive, crippled by a holding penalty on another quality Joshua Cribbs return eventually dies one-yard outside of Cleveland kicker Phil Dawson's career long distance. He'll try it anyway ... and it's straight enough, but comes up short. Ben Roethlisberger celebrates by tackling and then dry-humping Hines Ward.
• Unfortunately, I can't stay for the 4 o'clock games today, and I'll have to miss one of the week's non shit vs. shit matchups, in Giants/Cowboys. But Steelers/Giants was interesting, and the Rams came out of nowhere to get a win ... and that's enough to wash away all the rest of the Bills/Dolphins, Broncos/Chiefs, Panthers/Falcons garbage.