The NFL has fined a player for a really stupid reason. Well, we have to be more specific than that: The NFL has fined a player for publicly supporting a good cause that the league also unequivocally supports. Okay, that still doesn't narrow it down enough: The NFL has fined Steelers defensive back William Gay for wearing purple cleats to promote domestic violence awareness.
When Gay was eight, his mother was killed by her boyfriend, and he's helped out domestic violence victims and volunteered at shelters in the past. After Ray Rice knocked out his fiancée in an elevator last year, the NFL partnered up with No More, an anti-domestic violence initiative (that probably didn't offer anything beyond good PR.) The league actually asked Gay to take part in the campaign; he appeared in a "No More" commercial and a print ad. This much is clear: both Gay and the NFL are against domestic violence.
Despite this common interest, Gay will have to pay $5,787 for wearing his purple cleats, which are actually official Vikings cleats, in games this month against the Chargers and Cardinals. He also donned them last season, but the NFL didn't enforce any punishment, perhaps because it was too busy dealing with the backlash of how it handled Rice's situation. This season was a different story, however:
G/O Media may get a commission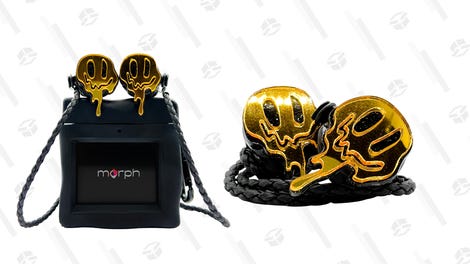 morph audio
Morph Earphones
Gay has a point, in that the stupidity of the NFL is magnifying Gay's message. Not nearly as many people would have noticed that the Steeler wasn't wearing appropriate cleats. In that respect, the league really is successfully spreading the message by punishing those who spread the message. That shouldn't require taking money out of players' pockets, though.
This might get confusing, so follow along: Gay's teammate DeAngelo Williams, whose dead mother the NFL was more than happy to exploit, was also fined this week for a uniform violation. He wore eye black that promoted breast cancer awareness.

Williams should not be confused with his teammate, defensive end Cameron Heyward, who wore customized eye black to honor his late father twice this month and received fines, before the NFL struck a deal to let him wear a specific kind of customized eye black, which really broke new territory for the definition of "customized." Did you get all that, or do you need a condensed version? Here's the gist: The NFL is really fucking dumb.
Photo: Jeff Gross/Getty Images/Stringer
---
Contact the author at samer@deadspin.com.