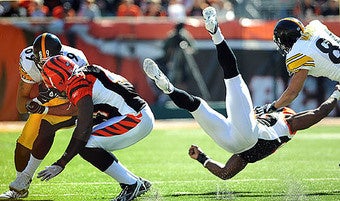 The NFL has approved four rule changes for next season that will theoretically lower the incidence of player injury, but will hopefully not make highlight packages more boring. (Illegal hits are still great for marketing.)
The rules that will go into effect this fall are:
• No blind hits or blocks to the head
• No contact to the head of a "defenseless receiver"
• No more than five players bunched together on an onside kick
• No more "wedges" on kickoffs.
The first two are somewhat minor and are basically just codifying fair play: Don't hit a guy when he doesn't have the ball and he's not looking. The third one I don't get, because that's pretty much the only way to recover an onside kick and the utter chaos of those plays is the only thing that makes them interesting.
The fourth rule is the most puzzling. The wedge has existed forever and is pretty much standard procedure for any kickoff return. The league says it's causing way too many injuries, and that's probably true, but special teams coaches everywhere must be scratching their heads trying to figure out what the heck their players are supposed to do in practice next year. Could this restriction revolutionize the very idea of special teams? Will some genius assistant coach invent—out of a necessity—a completely new approach to the kickoff return that changes the way we think about football; maybe even our very lives?
Or will the players do the exact same thing ... only slightly further apart? Yeah, probably that one.