We're doing a season-long NFL roundtable with our friends at Slate. Check back here each week as a rotating cast of football watchers discusses the weekend's key plays, coaching decisions, and traumatic brain injuries.
« Previous entry | Next entry »
From: Nate Jackson
To: Tommy Craggs, Daniel Engber, Stefan Fatsis
Despite the loss, I thought Don Majkowski did a good job for the Colts last night. He looked frightened but prepared. I don't see any reason why Kerry Collins should play another snap this season, unless Painter/Majik goes down, at which point Kerry would be inserted in the role of Brett Favre circa 1992. And in 20 years we can debate the merits of posting pictures of an older man's wiener on Deadspin.
G/O Media may get a commission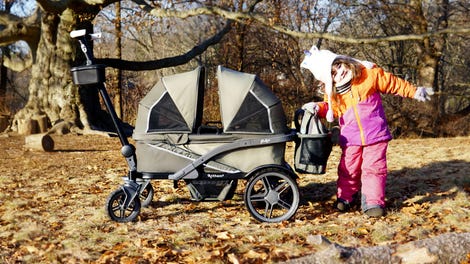 30% off
The Anthem All-Terrain Stroller Wagon Adventure Bundle
Go everywhere with your kids
This must-have bundle nets you either of Gladly's award-winning Anthem2 or Anthem4 All-Terrain Stroller Wagons as well as must-have accessories like a parent cupholder, a removable storage basket, extra-large canopies, a nap system, quilted comfort seats, a cooler bag with a padded shoulder strap, and a travel bag.
I start with a wiener joke because the rest of this post will be somber. Stefan, your homage to Peter Gent got me clicking around and following the obituary trail from dead football player to dead football player. The saddest part to me is that in a sport, a culture, that exalts and deifies its football players, it's impossible to make sense of their deaths alongside the immortality we grant them. What else can we do but move along to the next god as quickly as possible? The quicker the better, or else we start to question things.
Last night, Eric Foster sustained a nasty ankle dislocation. If you're squeamish, ESPN's Mike Tirico said, you shouldn't watch the replay. Cut to several players on the verge of tears, having what appeared to be an existential dilemma right there on the field. Why am I doing this again? I've been there—a couple times, in fact. And in both instances, there was nothing for me to do but move along, as quickly as possible.
The first time, I was playing free safety in a high school scrimmage, and the opposing team's quarterback scrambled, got spun around, and met our linebacker head-on. His chinstrap popped off from the force of the hit, and his facemask was pushed through his face. He came to rest at my feet, spitting out chunks of teeth and flesh as black blood poured from his mouth. They took him away in an ambulance, and we kept playing.
The second time, I watched Kevin Everett nearly die on the field in Buffalo. I was with the Broncos at the time. He met our kick returner, Domenik Hixon, in a very normal-looking football collision. But that hit severed his spine. He lay on the field for what seemed like an hour. The entire stadium was perfectly quiet. Tony Scheffler and I stood together, watching. "He looks dead," Tony said, not knowing how right he almost was.
But then they got Everett on the stretcher and wheeled him out of there, and we looked at each other, shrugged it off, and went back on the field. The attention returned to the contest. Down by two points and driving with no timeouts left, we rushed the kicking team onto the field and made the game-winning field goal.
I was the right wing on the field goal team. I was responsible for any edge rushers. If they brought two I blocked the inside one. They were bringing two all game and coming close to blocking it every time. On the final field goal, they brought two again. The inside man tried to jump through the gap between me and the tight end. I caught him square in the chest and he twisted through the air, landing flat on his back as time expired and the ball sailed through the uprights. A very normal-looking football collision, too.
I turned to find Jason Elam sprinting towards the other end zone in triumph. I chased him down and tackled him on the 50-yard line. Soon our teammates piled on top of us in a weightless, timeless celebration in upstate New York. Ecstasy! Glory!
Everett's catastrophic injury was already forgotten, and we were an especially sensitive team that year. We were dealing with the aftermath of several tragedies of our own. Darrent Williams was murdered after the last game of the previous season, and running back Damien Nash dropped dead during a charity basketball game in February 2007. Javon Walker was sitting next to Darrent in the limousine when he was shot, and he caught the pass to put us in field-goal range that day in Buffalo. Not one year later, Javon would be robbed, pistol-whipped, and left for dead on a Las Vegas street corner.
This is an unbearably sad game, if you care to look hard enough. Talk to one of the old-timers who can't get out of bed in the morning and can't convince the NFL that football is the cause of it. Talk to one of the old-timers who chose to get his pension early because he expected to die young, and now he's broke and mad as hell that the NFL isn't helping him. Talk to the wives and children of former players who can't remember their own names. Talk to the parents of the many high school and college players who have died playing the game. Talk to many of my former teammates: depressed, divorced, broke, desperate, alone. Talk to Sean Taylor's family, Chris Henry's, Korey Stringer's, Kenny McKinley's, Steve McNair's, Reggie White's, Dave Duerson's, John Mackey's, Ironhead Heyward's, Derrick Thomas's.
But make it quick. By the time we return from our commercial break, Eric Foster will be gone, wheeled off the field with tears in his eyes, his hand raised to a cheering crowd that will never think or speak of him again. Next man up. We've got a game to play here. Thank god.
Nate Jackson played tight end for the Denver Broncos from 2003 to 2008. His writing has also appeared in Slate and The New York Times. He is working on a book about life in the NFL.