The NFL is hoping to sign a deal with a major tech company to stream every game of next year's Thursday Night Football online, according to a report from SportsBusiness Daily. It is undoubtedly the future of football broadcasting, and it's getting here very, very quickly.
Jokic? Embiid? The NBA MVP is obvious... right? | Keep it a Buck(et)
The occasionally maligned TNF is still a big moneymaker for everyone involved. CBS is paying $300 million this year, and doesn't even get to broadcast a full slate. (CBS produces all 16 games, but NFL Network airs the final eight.) The ratings are great, and consistently up from previous years. And yet, Thursday night seems like the place for the NFL to experiment. Unlike all its other long-term TV deals, the NFL has been going year-to-year with TNF, and the bidding for the next contract, just opening now, is for a one-year deal with a league option.
But here's the really interesting part:
The league also sent RFPs to several digital companies, like Google, Yahoo, Apple and Amazon, to stream the entire Thursday night schedule on a non-exclusive basis, sources said. The league's initial plan would have the digital streams serve as a simulcast of the television production — with the same ads and in-game production features.
G/O Media may get a commission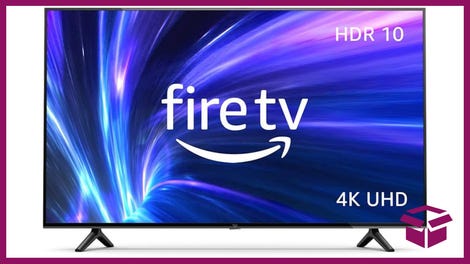 42% Off
Amazon Fire TV 50" 4K Smart TV
If you watched October's Bills-Jaguars game from London, which streamed exclusively on Yahoo, you were probably pretty impressed (even if not nearly as many people watched it as Yahoo tried to make it seem). It was easy, ran smoothly, and for those of us more accustomed to watching things on our computers, felt more natural.
A Thursday night game—like a Sunday morning London game—doesn't demand your full attention. It's something to be shunted off to a window on your laptop, brought to the forefront only when it sounds like something exciting is happening. Or to be opened up on your phone while you're at the gym.
The technology is there to stream a live football game to millions—making it work for tens of millions is the next step—so the only reason regular streaming isn't yet a part of our lives is because the NFL hasn't yet figured out how to make money on it. That looks like it's rapidly changing, from a single game in 2015, to 16 games in 2016, to, almost certainly, every single damn game being streamed online by decade's end.
[SBD]