Stop me if you've heard this sort of thing before, but the NFL is trying to screw over players with contract language. The difference this time is that the NFLPA has flagged the league's efforts as actual violations of the collective bargaining agreement.

Per ESPN's Dan Graziano, the union is considering filing grievances that would seek to void roughly 160 rookie contracts signed this year. As of today, a source told me, 214 of the 253 players drafted this year have already signed their rookie contracts. The NFLPA reckons that as many as 25 or 26 teams have stuffed these 160 or so rookie deals with prohibited terminology. Graziano gives three examples:
Clauses that require players to submit to multiple offseason physicals at the team's request—more than the two that are permitted under the CBA

"Automatic repayment" clauses that allow teams to directly withdraw money owed for expenses such as fines, services and tickets from players' paychecks

Language that forces prospective free agents to secure permission from their current clubs before their agents engage other teams in discussions during the pre-free agency "legal tampering" period

NFL teams have certainly gotten wise to the CBA's fine print, which would explain their increasing reliance on permitted contract mechanisms like injury splits, per-game roster bonuses, one-year deals, and contract years that magically vanish. The union filed a grievance against the league last month over the NFL's cavalier distribution of addictive painkillers to players—the subject of a lawsuit that was later tossed by a federal judge. But good on the union for digging in to keep the league from hitting players with stipulations that go beyond what the two sides have agreed upon.
Update: USA Today's Tom Pelissero was actually first to report on the NFLPA's issues with some of the language in rookie contracts.
G/O Media may get a commission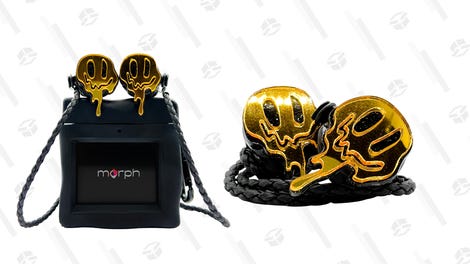 morph audio
Morph Earphones
[ESPN]