It was a banner night for NHL franchises who moved from Atlanta to the Prairie provinces, with both Calgary and Winnipeg clinching playoff berths—the former at the expense of the reigning Cup champs.
It's been six years since the Flames last sniffed the postseason—seems like longer—and this certainly didn't have the feel of the turnaround season. They were supposed to still be deep in a rebuild, and when captain and Norris favorite Mark Giordano went down in February, it was easy to write them off as unsustainable early-season overachievers. But here's what it sounded like in the Saddledome, in game no. 81, when Jiri Hudler scored an empty netter to seal things up:
"It was crazy," [Flames coach Bob] Hartley said. "Guys were jumping. Sticks were flying every where. We could alsmot feel fans going through the glass … it's a great feeling. To pull through in front of our fans was a classy way to do it."
It's going to be good to have Calgary in the playoffs, in the sense that it's always good to have fresh blood, like the Flames, Jets, Islanders, and maybe the Senators, in the postseason bracket. But new playoff faces mean some familiar ones have to miss out. With the Flames' win and clinch came elimination for their opponents, the defending-champ Kings. (What a sentence to write! Kings will probably manage to win the draft lottery, though. Fuckers.)
L.A. is out for the first time since 2009—the last time the Flames were in—and there's no single culprit to blame: it's been a down year for a number of their stars, Jonathan Quick has been pedestrian, and the Kings were largely awful on the road. Justin Williams described the feeling of going home in April: "Depressing. Embarrassing. Unfulfilled. Upset."
G/O Media may get a commission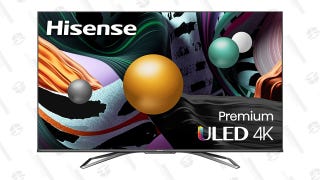 Save $350
Hisense ULED 65" Android 4K HDR Smart TV
Winnipeg lost in a shootout last night, but their loser point combined with the Kings loss secured a playoff berth for the Jets—their first since reconstitution. Winnipeg hasn't seen the playoffs since 1996, and if you're too young to remember those days, you are in for some fun—the crowds are among the wildest in hockey. As if previewing the postseason, Winnipeggers converged downtown to celebrate.
Meanwhile with Ottawa's win and Boston's loss, the Senators—one of the better stories in hockey—are two points up on the Bruins with a game to play. (Boston holds the tiebreaker.) Add in the Canucks and the Habs, and it looks like it's going to be a very Canadian playoffs. I can't wait for all of them to be eliminated.