Your morning roundup for July 16, the day we wondered who was giving all thatmoney to Michele Bachmann. See anything worthwhile? Tip your editors.
Jokic? Embiid? The NBA MVP is obvious... right? | Keep it a Buck(et)
What we watched: Oddly enough, even though we had baseball starting back up for real (not the Thursday night tease) and a major golf tournament, we spent Friday watching Twitter in a state of semi-bewilderment. You'll notice that, around these parts, we often take ESPN to task for various journalistic and ethical atrocities that occur far too often. We do what we can to bulwark sports coverage from various Norby-related scourges. But Deadspin is only one of many Worldwide Leader watchdogs, and that was never more apparent than on Friday, when legions on Twitter and blogs rushed to the defense of Bruce Feldman, maybe-suspended ESPN college football scribe. (Feldman collaborated with former Texas Tech coach Mike Leach on an upcoming book that talks trash about ESPN analyst Craig James, who talked enough trash about Leach to get him fired from Tech. It's a big, scurrilous waste of everyone's time.)
#FreeBruce became a big thing on Twitter before ESPN said, in the mid-afternoon, hold on, Feldman was never suspended. Huh? Eventually, we recognized the considerable plausibility of this story: ESPN had no reason to suspend Feldman (hence all the outrage in the first place), and only one outlet, Sports By Brooks, reported the suspension.
G/O Media may get a commission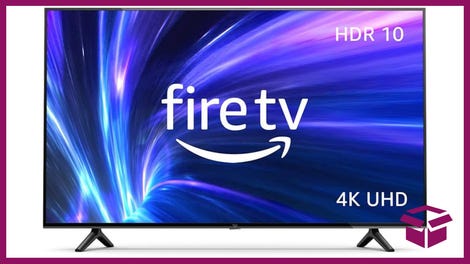 42% Off
Amazon Fire TV 50" 4K Smart TV
But, as former Deadspin liveblogger extraordinaire Matt Sussman tweeted, "Many writers I respect are wagering their credibility on the fact that ESPN is lying about Bruce Feldman's suspension." Brooks led the way. A New York Times piece seems to entertain that thought. All of this because ESPN waited many hours too long to deny that he had ever been suspended.
Feldman's case marked the first time (best as we can recall, at least) that a plurality considered ESPN deceptive and evil, rather than ham-handed and obstructive. Feldmangate was cloak and dagger stuff, for most folks. And yet we reached that fever pitch despite no confirmation of a suspension.
It's too soon to understand the sea change Feldman limned, but we suspect more people are coming around to the view of CJR (and Deadspin) contributor Sam Eifling: "ESPN is a dangerous place for a scrupulous person to work." When conspiracy theories (and accompanying hashtags) abound, in defense of a moderately known college football writer, without damning evidence, things are getting weird. In a good way.
What we're watching: Red Sox-Rays, 4:10 p.m. on your local Fox affiliate, provided you're not in a place where your local Fox affiliate would stiff you with some subpar game. Tampa's magical James Shields will face off against Boston's anything-but-magical John Lackey. The Rays don't score, but they will tomorrow.
Elsewhere
More on Bruce Feldman: "For nearly 24 hours through Friday afternoon, a slice of the sports world was engaged in a Twitter uprising to force ESPN to end its reported suspension of Bruce Feldman, one of its college football writers. Thousands of Twitter posts were expended in the #freebruce campaign, which rose to No. 4 on Twitter's trends list, a wild geyser of pro-Feldmanism. Outrage at what a blogger, SportsByBrooks, reported Thursday as an "indefinite" suspension came from other writers (Jason Whitlock of FoxSports.com changed his Twitter photo to Feldman's in solidarity), bloggers, media folks, readers, fans and bystanders." [NYT]
We can feel it: "NFL owners have agreed they will not put first-right-of-refusal clauses on 2011 free agents, a major breakthrough in talks with the NFLPA and progress toward a new CBA, sources told ESPN.com's John Clayton. It had been reported earlier that negotiations stalled because of the free-agency rule. The players were unwilling to grant NFL teams extra right-of-first-refusals on this year's free agent class, because many of those free agents were restricted under last year's uncapped system." [ESPN]
It isn't true, but it should be: "What former Brewers reliever Mike Fetters is doing at Miller Park is illegal, unofficial, frankly unsanitary… and extraordinary. Fetters, best known as a bulky righthanded relief pitcher, made nearly $14 million during his 16 years in the Majors, and is open about not needing the money he generates from his unauthorized food concession. "I'm set," Fetters told me in a Miller Park stairwell, as he hunched over the cast-iron skillet and hot-plate that he carries with him around the ballpark. "Own my own home, jet-skis for the kids and a hyperbaric chamber for the missus. This isn't about all that, and you can tell by what I'm charging this isn't about that." While Fetters says that he "does fine" on his mobile concession, it's clearly a labor of love-only love, after all, could compel a 40-something man to pull a bubbling cauldron of Colby cheese and that cast-iron skillet around the ballpark while evading Miller Park security. Fetters charges fans just $2 to dunk any of the other concessions available at the ballpark into the "cheese tank," and will put a fried egg-that's where the skillet and hot-plate come in-atop any concession for just a dollar." [The Awl]
No, the Mets couldn't have figured this out: "The vesting option for 55 games finished still in place — but now it's a mutual option, which means both sides have to agree to it for it to be exercised, which is highly unlikely. At $17.5 million, K-Rod would have the highest salary for any reliever in history. Rodriguez (and Boras) could prefer to have the closer become a free agent after this year. With the contract revision, Brewers manager Ron Roenicke said before Friday's game at Colorado that he feels no limitations in how he can bring Rodriguez out of the bullpen." [Buster Olney]
Freestyle Swimming Interlude:
Duke kids love their rap music: "Elton Brand won't accept failure. Even if it has the propensity to lighten his already deep pockets. That's probably why the Sixers forward is trying his luck in the movie industry again, this time signing on as a co-producer for the upcoming film "Tupac," a biopic on the life and death of the West Coast hip-hop artist." [Philly.com]
We are all Dave McKenna CXLVII: Here's your daily link to Dave McKenna's brilliant "Cranky Redskins Fan's Guide to Dan Snyder," which we'll be posting every day until Snyder's dumbass libel lawsuit hits the meat grinder.
Smoother than "Smooth": "A good chunk of attention focused on catchers this year has mainly been centered around Alex Avila and Matt Wieters, two first time all-stars who are also enjoying fine breakout seasons. Joe Mauer has dealt with his fair share of injuries accompanied by a lousy season in general but is still "Joe Mauer" and Victor Martinez who has barely played the position has contributed to the Tigers offense a great deal. However, it's extremely possible that the American League's best catcher isn't even among the four that I mentioned. That would be Indians catcher Carlos Santana, who, in the eyes of many has already developed into the star that people foresaw a few years ago. Carlos Santana...wow, where do we even start? Following a season last year in which he not only dealt with bad luck, but injuries too, the Indians hope and expectations for the twenty-four year old catcher included eventual stardom, even if it didn't appear right away. A 2.3 WAR, behind the plate albeit, doesn't equal stardom in my eyes but it does in fact show how productive he's been this year. And yet, it isn't the only advanced statistic that can be used to show why Carlos Santana is currently the best catcher in the AL." [Beyond the Boxscore]