Drew Magary's Balls Deep column runs every Thursday afternoon. Drew's new book, "Men With Balls," featuring 100% new material, is available for pre-order here. You can email Drew here. Read him during the week at KSK.
Greetings, roundeye! The Glorious Party of Chairman Mao eagerly awaits your arrival here in Beijing for these Games of the 2008 Summer Olympiad. Our preparations for the Games are now complete. We'd just like to let you know that 4 million construction workers DEFINITELY DID NOT DIE during the construction of the Bird's Nest. Those cries and shrieks you hear from countless mothers and fathers as you walk down the street are not from grief. They are simply overwhelmed about the fact that the Games will soon arrive at long last.
Our hope is that these Games will serve as a reintroduction of China and its people to the world after years of self-imposed isolation. Our people were quite mouthy at one point, so we had to send all them to their rooms. If they did not have a room, they were sent to the bottom of the Yangtze River. Being buried at the bottom of a river helps encourage quiet contemplation. But all that unpleasantness is behind us now. Our people are ready to welcome you with open arms, so long as you obey our short list of 736,089,452 rules and regulations.
G/O Media may get a commission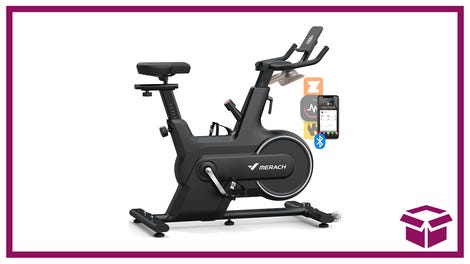 14% off + Coupon
Merach Indoor Cycling Bike
As you know, our country is growing. Fast. There are 1.5 billion people living here, which means the 50,000 children crushed in random earthquakes here every month can be replaced without much fuss. We use 40% of the world's concrete and 25% of the world's steel. And that's just for the above-ground prisons! China is also home to the biggest human migration in the history of the planet. Three hundred million of our people have left the rural lands of the country to come and live in our cities. You should see Chinatown in Shanghai these days. The place is PACKED.
We have more speakers of English here in China than in the United States, all of whom will have you howling with laughter at their pronunciation of the word "rollercoaster". We also produce more accidentally ingested lead than any country on Earth. And we are the #1 producer of consumer electronic products in the world. If your DVD player breaks after one month, that's your problem, buddy. You should have gotten a Sony.
We eagerly await the arrival of citizens from all over the world for these Games (except for you, Japan. You think we'll forgive Nanking that easy? Get fucked). We also eagerly await the billions and billions in sponsorship money. We hope to use that money to help expand our enormous human rights desecration program infrastructure and further boost Chinese economic influence the world over.
If you are new to our country, you will find our people extremely warm and friendly. Unless you're trying to get on some kind of mass transit. Then they will happily trample you like a Castle Donnington festival-goer. To further enjoy your stay, and to prepare you for the Games, we present to you this quick travel guide to the Games. If you have any further inquiries, please write them out in longhand and send them to our Office of Kafkaesque Fates. You can expect a blank reply in twelve to fourteen weeks.
Accommodations: All hotels and rental properties have been booked in advance of the Games. However, should you require a hotel room, we will be happy to bulldoze 100,000 of our citizens' homes in order to erect a five-star Mandarin Oriental within two to three hours. Our citizens will happily comply with this forced mandate of permanent displacement, so that you can stay here comfortably for a period of 14 days. Any of our citizens who resist will be defenestrated. It's the least we can do.
Transit: We do not suggest you rent a car once you arrive at Beijing Airport, as it could take you up to 753 hours or more to travel from Terminal A to Terminal A 1/2 during non-peak hours. The most convenient way to get around is to walk. Or to be arrested.
Dining: Looking for those little lettuce cups with ground chicken and stuff in them? Yeah, well then go back to America and visit Pei Wei, or PF Chang's, or some other brown sauce palace that rapes our heritage on a daily basis. We don't do lettuce cups. And if you make one more joke about us eating dogs, we will place you in a doorless room for 70 years. We don't eat dog. Usually. But the Peking horse is AMAZING.
Female Infant Disposal: If you have a female infant, please dispose of it in any of the specially marked female infant receptacles placed around the city. Be sure to tie the plastic bag containing your infant tightly. We've had a bit of a rat problem lately.
Smoking: If you cannot find a fresh pack of delicious Marlboros to smoke, please let us know. There are American tobacco company representatives all over our nation, ready out hand out fresh cigarettes any time you wish. They even tell us they may have potential health benefits. They're so nice!
Littering: Please help keep our streets filthy by littering. Please do not litter in the gutters or in alleyways. Those are too inconspicuous. Please litter in the center of roads, in hotel lobbies, and on nearby people.
Speaking: Please do not speak unless directed to do so. Speaking is the physical manifestation of thought, and our revered Chairman Mao Zedong believed individual thought to be the enemy of harmony. If you do speak out loud, please note that the Communist Party has the right to ship you out to one of our many lovely labor barges, and force you to carry a 300 lb. wooden yoke until your body deteriorates. Hope you like hardtack.
Richard Gere: You keep that gerbil smuggler out of our country. Anyone caught bringing Richard Gere onto Chinese soil will be imprisoned and forced to watch "First Knight" over and over again.
Journalism: Are you a journalist? Upon arriving in Bejing, please check in with the nearest customs offer. He will then confiscate you.
Weather: Our Weather Modification Office, which actually exists, has taken care of any and all potential rain. If any rain should fall upon the Games, it will be immediately arrested and sent to our special "water prison".
Burning Monks: If you wish to burn a monk to death, you do not need a permit. If the monk is not willing to self-immolate, simply douse him with kerosene and light him aflame using one of the complimentary cigarettes provided to you. If you see a burning monk on the sidewalk, PLEASE DO NOT PUT HIM OUT. He's supposed to be burning. Thank you.
Child Slavery: If you wish to hire a child for factory work, you must first file a formal request to our Child Slavery Office. You cannot buy child slaves without a Child Slave Operator License. To gain a license, you must pay a nominal fee and then take our written test covering your skills in all aspects of child slavery, including yelling, lashing, caning, starving, sodomizing, and emotional crippling.
Making A Billion Dollars: If you wish to make a billion dollars, please check in with our Office Of Commerce. Your billion-dollar transaction should occur shortly thereafter.
Protesting: You will not protest. Nor shall you protest our policy against protests. Nor shall you silently protest. We know why you aren't eating your bamboo shoots. You think we don't know passive aggression when we see it?
Pollution: The Communist Party has formally declared Beijing air 100% safe to inhale. The evaporated mercury should be out of your system within a decade or so. Please boil all water thrice over, then filter it through an elaborate series of cheese cloths. During peak traffic hours, we kindly suggest you cover your mouth, nostrils, and exposed skin pores. For a visual example of how to dress to avoid pollution, please consult the following Megadeth album cover:
Please do not wash your hands with city water. Nor should you touch city water and then use the bathroom, as the bacteria may erode your genitals within seconds. Bottled "chunky water" from our lovely reservoirs is available at any nearby market.
Defecation Holes: Please defecate in the specially marked defecation holes around the Olympic Village. Do you prefer a western-style toilet? Oooh! Well, la di da, Mister Fancy Pants! Sorry we couldn't erect a porcelain throne to accommodate your huge Western ass, Your Majesty. We have a billion and a half people in this country. We don't have time to build them all elaborate, Ritz Carlton super-shitters, asshole. What's that? You want toilet paper? What's the matter? Walking around with residual fecal matter slip sliding across the inside of your buttcheeks too hard on your delicate little anus? Jesus, you people are picky.
Spitting: Please rid your body of all saliva by spitting whenever possible. Spitting is welcomed everywhere: on sidewalks, on protesters, on political prisoners, on religious pamphlets, and such and such. Please be sure to make that WHUUUHHH sound in the back of your throat before expelling your saliva out into the open.
Soy Sauce People: Please leave all your soy sauce people at home. We fear them. And we don't like having an actual reason to arrest people.
Prostitution: If you would like a prostitute, please look for the refugee North Koreans or Vietnamese girls who have been sold into slavery. To the untrained Western eye, these look just like Chinese women who dress up like prostitutes. This humorous confusion should make for hours of learning and cultural exchange for everyone involved.
Bodies: Please ignore them.
Pearl Cream: Have you ever wondered why it's so hard to tell how old most Oriental women are? Their secret is called Pearl Cream, and it's made from real pearls.
Pearl Cream can be obtained through our Office of Ancient Chinese Secrets. Be sure to get there before Bob Costas does. He orders truckloads of that shit.
Surveillance: Please remember that no matter where you are, or what you do, we can see you. Please do not do anything to embarrass yourself.
The Games: Please do not cheer for your respective nations at the events. This is our time to shine. The IOC said we can do whatever the fuck we want so long as the checks clear, so please respect our hospitality by keeping all displays of patriotism to yourself. We're gonna win everything anyway. We had the Office Of Human Engineering take care of that.
These Olympics represent a new age for China in the world. They also represent a chance for NBC to gloss over any and all atrocities perpetrated by the Communist Party. So please enjoy them. Or else you will hear a knock on your door in the middle of the night, and then you will never be heard from again.
NOTE: I'm on vacation next week. Your Balls Deep guest columnist will be Gourmet Spud. Please treat him with the same respect you treat me. Wait a second... you people don't treat me with any respect at all. Lay into that filthy Canuck.