We get a massive amount of tips in our inbox each week. Some are pretty interesting, but don't get published for one reason or another. (NSFW)
It's usually because they're just so absurd or really lack even the most tenuous of news angles to give them the go-ahead. Other times it's because they're just absolute horseshit. But every Friday until we get sick of running them, we'll present to you some of these not-so-shiny gems. All items should be treated as [Sic'd]. Enjoy...
Erin Andrews Is The Angel Of New Jersey
Seeing that photo of Erin on the gave me the idea to share the following story, along with attached photo...
Last Thursday, Ms. Andrews was working the Rutgers-Louisville game at Rutgers Stadium. I happen to work for a Rutgers media outlet and was to be at the game, so I was obviously going to be on Erin Andrews watch.
Ahead to the fourth quarter...Rutgers is completely teabagging Louisville, so I decided to hang out on the field until the end of the game. My two friends came down as well. I'm looking all around for Erin. We then realize that she's standing no more than ten feet away. For twenty minutes, we stand there, trying to figure out what to do. Someone has to have the balls to talk to her. I didn't. I'm far too gay, apparently. But, one of the other guys I was with said fuck this, I'm gonna do it. So he goes up to Erin, small talks her for a little bit (I'm such a big fan!) and asks for a photo. Now, it's still the fourth quarter, so she responds by saying "I can't right now, but I absolutely PROMISE I will do it after the game."
G/O Media may get a commission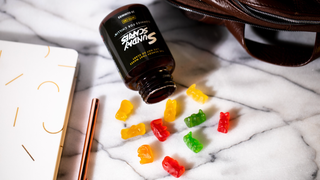 10mg CBD Gummies (22-Count)
It's senior night at Rutgers. The best quarterback in the program's history (Mike Teel) just threw for 450 yards and seven touchdown passes during his final home game. After the game, Teel conducted the band playing the alma-mater with "the sword," which is carried by the "real" Scarlet Knight. Anyway, instead of walking to the other side of the field and basking in this absolutely glorious moment, we stand on the field, trying to figure out how to go about this Erin situation. She did her postgame interview with Teel, and then walked into the ESPN tent on the sideline. She's in there for at least twenty minutes. We wait. We stalk. We get nervous. SHE PROMISED. If Erin Andrews breaks her promise...well I don't know what I would have done. Probably cry.
But, alas, she comes out. She's all done up, looking great. I like to think it was for us. Don't ruin it for me. She kept her promise. Says something like "I appreciate you guys for waiting." She then asks for a camera and summons a cop to take the picture. After the photo is taken, she says "Thank you guys so much," smiles, thanks the cop, and walks away. I was amazed at how nice and sweet she was. I mean, yeah, she's a real person. Kind of. Actually, she's not a real person. Erin Andrews is an angel among us mere mortals.
Ryan Howard Loves The MANG! (Redux)




Ryan howard with a girl I know...not sure why she changed outfits but im positive that she did everything she could to fuck him. No idea if she was successful though.
Pantsless Panda Party!
So this just came across my inbox. It's a picture (though two years old) of a quartet of University of Alberta Pandas basketball players doing a little skinny dipping on a beach somewhere. Apparently it was pulled off someone's facebook. Anyways, the players from left to right are Meghan Knowles, Ashley Wigg, Kara Stevens (no longer with the team), and Alysia Rissling.
Kenard Lang Loves To Drop Towels Too
I realize that I can't top the Hugh Douglas interview, but I thought I'd drop you a line to let you know that when I briefly covered the NFL for my college newspaper, defensive end Kenard Lang (then with the Browns; also played with Washington and Denver) loved him some naked-time.
I actually submitted this story (and several others) to Will in 2005 when Deadspin was doing its "Athlete Run-Ins" series. The gist is that my buddy's girlfriend was the paper's editor, so I convinced her to issue us press passes and we got ourselves into the Browns' lockerroom in 2003. We had a fake dictaphone and everything. After visiting running backs and the offensive line (where we discussed their favorite orders at McDonald's and Taco Bell), we made our way over to the defensive line and joined a group of about six (real) reporters interviewing DT Orpheus Roye. When my turn came up to ask I said "Orpheus, I have you rated as the number two defensive tackle in my fantasy draft, behind only Marcus Stroud. What do you think about that?" The reporters all chuckled, but I don't think Orpheus got the joke. Fortunately the "interview" was disrupted by a very big, very wet, very hairy, very naked Kenard Lang. He just jumped right into the circle and started cracking jokes and asking questions of his own, sans towel. From what I gather, Lang doing naked interviews of teammates was a regular occurrence during his tenure with the Browns. Good times.

John Clayton Says He Wasn't Even Near The Building At The Time
Yesterday on NFL countdown around 12:10 PM EST, I think I heard someone pass gas loudly on air. I can't remember exactly what they were talking about, but Chris Berman was talking and I could have sworn that I heard someone pass gas on air. About 30-60 seconds afterwards, I saw Cris Carter make a funny face. Please investigate because I am driving myself crazy thinking that I heard this.
Somebody Get One Of These

Hey, I found this bizarre Craigslist posting for a block of cheese with a portrait of Andy Reid carved into it, thought you might be interested.

Are You There God? It's Me Crazy-Ass
Hello dear Ladies and Gentlemen! I would like inform you that Scarlett Johansson (actress) actually is a clone from original person Scarlett Galabekian last name, who has nothing with acting career. That clone was created illegally by using stolen biological material. Original person is very nice (not d**n sexy),most important - CHRISTIAN young lady! I'll tell you more,those clones (it's not only one) made in GERMANY - world leader manufacturer of humans clones, it is in Ludwigshafen am Rhein, Rhineland-Palatinate, Mr. Helmut Kohl home town. You can not even imaging the scale of the cloning activity. But warning! Helmut Kohl clone staff strictly controlling all their clones (at least they trying) spreading around the world, they are very accurate with that, some of them are still NAZI type disciplined and mind controlled clones, so be careful get close with clones you will be controlled as well. Original person is not happy with those movies, images, video, rumors and etc. spreading on media in that way it would be really nice if we all will try slow down that ''actress'' career development, original Scarlett will really appreciated that. Please remember that original Scarlett's family did not authorize any activity with stolen biological materials, no matter what form it was created in it was stolen and it is stolen. It all need to be delivered to authorized personals control in Cedars-Sinai Medical Center in Los Angeles. Original Scarlett never was engaged, by the way! Her close friend Serge G. P.S. CONTROLLING ACTIVITY OF ANY CLONES IS US MILITARY OPERATION. H.R. 534, the Human Cloning Prohibition Act of 2003, was introduced to the U.S. House of Representatives on February 5, 2003. After discussion, it was passed on February 27 by a vote of 241-155. It now moves on to the Senate for consideration. This bill makes it unlawful for any person or entity to perform or participate in human cloning, or to ship or receive embryos produced by human cloning. The penalties are imprisonment of up to 10 years and fines of $1 million or more. These now join other nations as diverse as Norway, Australia, and Germany, which had already added cloning for any purpose to their criminal code. And in Germany where it carries a penalty of five years imprisonment they know a thing or two about unethical science.