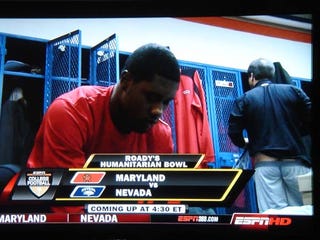 We get a massive amount of tips in our inbox each week. Some are pretty interesting, but don't get published for one reason or another. (NSFW)
It's usually because they're just so absurd or really lack even the most tenuous of news angles to give them the go-ahead. Other times it's because they're just absolute horseshit. But every Friday until we get sick of running them, we'll present to you some of these not-so-shiny gems. All items should be treated as [Sic'd]. Enjoy...

Humanitarian Bowl, My Ass,:
Not what you expect or want to see while watching the ESPN bowl pregame show. Dudes standing there with his shorts halfway up his ass, which is bad enough then he just drops trou. My eyes are still burning.
The NBA players were trawling for swimmers during the Olympics? Get out of town.
this is probably way too old to get excited about, but...
up here in Seattle people were thrilled with the amazing and gutsy
performance by Emily Silver. Making the Olympic swimming team, then
breaking hand, then being able to overcome the injury and still get to
the Olympics, and win a Silver medal! and despite the name I am sure
she was going for the gold...
And who else took notice? Kobe Bryant. The swimmers and the NBA guys
apparently hung out a lot while at the Olympics. And being an
attractive blonde, Kobe made the full court press. She also got the
attention of Lebron James. Lebron was more of a pal apparently, but
Kobe kept begging her to leave the parties with him.
Even a bit tipsy, any woman with half a brain and a memory of news
reports, would NOT leave a party with Kobe! She denied him. Not to
be outdone, Michael Phelps. Sitting in a corner not talking to
anybody (apparently not very popular socially speaking with the other
swimmers or the NBA players), he took out the lack of interest in
himself by texting Silver's boyfriend she was sleeping with Kobe
Bryant. Not cool...or true. Kobe got a cell number and still tries
to make that play—offering a trip down to la to check out a lakers
game...but is seen as way too pushy and sadly, a awful past, and even
more obvious—married. The married thing , "yes i am married but my
wife doesn't understand me...." or at least the kind of understanding
that 4 to 8 million dollar rings and jewelry can buy for a little
while.
So what do we have
Lebron James—a pal, low key, a good talker, not married although the
kids are a red flag.
Michael phelps, socially inept
Kobe Bryant—married but still a complete asshole. And probably one
blonde away from another rape allegation. Of course, the next one
probably won't end well, even if you assume it will be an 8 million
dollar ring to his wife for the next brush with the law. I do wonder
if kobe carried a pre-sex legal document for women to sign with him
now—if not he should...or just freaking pay for the blonde hooker
dude..or just try to call jessica simpson.....
Gooses Still Being Gotten On
Hello,
I have pictures of Joe McKnight clutching a Grey Goose Bottle and a cocktail looking pretty intoxicated at a party. If you are interested in purchasing these photos or know any interested parties please let me know.

(Ed.note: Oh, and no. Not purchasing these photos. We're not US Weekly. Yet.)
Um, Thanks?
I read your blog everyday. I found some pics of hot tennis star Ana Ivanovic and golfer Adam Scott at some Australian beach. I am just sending the pics to you guys because of the pics of Ana of course. They aren't really big however. Here is the link.

Define "Man Love"
Ha just saw Brady Quin on South Beach giving some 'man love ' to his bros on New Years. Deadspin material buy can't get a decent pic
You Know, I've Never Seen It Either
In his podcast, Simmons said he's never seen The Big Lebowski.
Perhaps Deadspin could recap it for him.

Oh, For Christ's Sake

Where is the ever popular "to watch tonight " feature??
"Profit by my mistakes, young impudent sir, and do not be at home when the devil comes calling."
Hey AJ: Please call Harvey Levin asap. We have a story you guys will be interested in.