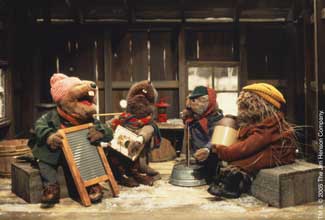 Beware, everyone: The otters have finally had enough of centuries of human dominance and have banded together to destroy us. It was only a matter of time. We welcome our new otter overlords.
The first attack, as it was written, came on the golf course.
(Lani) Becker said the animal chased her at least 100 yards, onto a neighbor's porch. No one answered the door and the otter continued to attack until she winged it with a doormat. "I was terrified," Becker said. "I had been bit and it just kept coming. You have a creature that's crazy, chasing you. There's very little you can do."

(Anita) Stafford was assaulted on the golf course. "There's a pond on that hole — it's a short par 3," Stafford said. "(The otter) was on the grass. He or she was just staring at me. "All of a sudden he charged me and bit my ankle," she said. "There are three punctures."
When the otters come, there will be no stopping them. No mercy, no compassion, no release: Just wanton destruction. We hope humanity enjoyed its brief reign.
Warning: Beware Of Aggressive Otters [SportsColumn]