Klay Thompson doesn't have too many ugly nights these days. It's easy enough to isolate the one so far this postseason: On Sunday, he shot 4-of-16 from the field and logged a -18 plus-minus in the Warriors' sole loss to the Spurs. It was a reminder that the league's best offense can still sputter out from time to time, but it was also an anomaly. In the Warriors' four wins, Thompson shot 59 percent from the field, and 56 percent from three. Klay hit these surreal numbers against what was—even without Kawhi Leonard—the NBA's fifth-best defense through the regular season.
Now the Spurs are gone, and Golden State moves onto a much juicier matchup. Can Klay sustain this level against the Pelicans, whose defense just throttled the top-scoring backcourt in the NBA? Does it matter, for once, that all of Golden State's primary weapons stay firing? Are the stakes now higher on nights when Klay shits the bed? Is it outrageous, or maybe a little fair, to wonder where the Warriors' points will come from if the Pelicans can drape their purest shooter under a fire blanket named Jrue Holiday?
OK, it's still a little audacious to take New Orleans over the defending champs. But this Pelicans team, now running faster and leaner without DeMarcus Cousins, scarcely resembles the one that lost 3 of 4 games against the Warriors in the regular season. Anthony Davis is still Anthony Davis. Holiday emerged as the NBA's best guard in the first round, snuffing out Damian Lillard on one end while acting as go-to shotmaker on the other, a tireless and never-ending highlight reel. His backcourt pal has once again come out on the right side of that comically vast gulf between Playoff Rondo and his apathetic regular season alter ego, attacking the rim, finding his passing lanes, and swarming foes. A beardless Nikola Mirotic has been (perhaps unsustainably) hot from the field. There were hints late in the regular season, but this New Orleans team, in roster and style, is basically new, finally playing the game that coach Alvin Gentry envisioned for them. When they square up against the defending champion next week, it will be a fresh test of wills—and thus one of the hardest second-round series to predict.
The annoying and immutable fact, of course, is that you have to anticipate that the Warriors win this and every other round, with or without their crown jewel. They can still count on good production from their 10th and 11th man; they're still the machine that made Javale McGee an NBA champion capable of this:
G/O Media may get a commission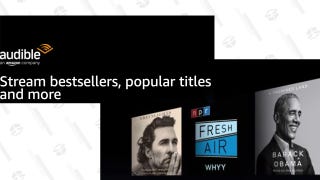 FREE
Audible Premium Plus 3-Month Free Trial
But Steph Curry's grade-2 MCL sprain leaves plenty of intrigue in this matchup. The Warriors may well need Klay Thompson to keep shooting the way he's shooting right now. Draymond hasn't borne much of the scoring load for quite a while now, but by now it seems his shot has fully abandoned him—its mechanics vary wildly from take to take, summed up perfectly by an air-balled open three last night, with a knee-bend so deep it looked like he was trying to put cheek to floor.
Kevin Durant, as has become routine, has poured in more points than any postseason player, and is sure to rise up over whoever the Pelicans can pull out of their thin roster to throw at him. But at least he may meet a new challenge with Anthony Davis lurking at the rim or lunging to close him out. Nothing will ever be insurmountable for these Warriors, who slept-walked and hobbled to 58 wins, but it's encouraging to see that a team that doesn't employ James Harden might still make Steph Curry sweat through his street clothes. And, maybe, if we're really lucky, the Pelicans will be scary enough to call him back into service.