Bryce Dejean-Jones, a 23-year-old shooting guard for the New Orleans Pelicans, is dead in Dallas County, Texas, according to a report in the Ames Tribune. The cause is being reported as a gunshot to the abdomen.
The former Iowa State Cyclones standout, who also went to USC and UNLV, went undrafted out of college, and signed a three-year contract with the Pelicans three months ago. He averaged 5.6 points and 3.4 assists in 14 games with New Orleans this past season, filling in for a couple of 10-day contracts and working his way up as a rotation player.
Dejean-Jones had been arrested in Ames as an undergrad when police answered a noise complaint call to his apartment and busted him on pot charges that a judge later tossed for lack of probable cause. He also had troubles at his former schools that seemed to follow him: He slugged a teammate at USC and later was suspended at UNLV for shoving a teammate there. The Ames Tribune talked to him during his final year at Iowa State about his past; the story included this exchange:
[I]t was after another loss to San Diego State, this one ending UNLV's season in the conference tournament, where things reached a nadir for Dejean-Jones with the Rebels. He says a teammate, who he declined to name, told him, "'I should have shot you when I had the chance.'"

"I'm like, 'You were going to shoot me?'" Dejean-Jones said. "So we started getting into it and the coaches ended up telling him you can just leave and go upstairs. I'm like, 'The guy just said out loud he should have shot me and you're going to let him leave the locker room? I'm leaving too. I'm not going to walk out to an ambush.'"
G/O Media may get a commission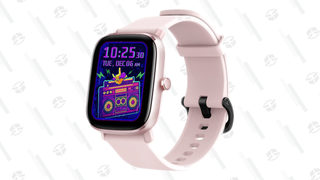 20% Off
Amazfit GTS 2 Mini Smart Watch
Get fit
Has built-in Alexa so you can ask questions and carry your smart assistant around with you; it has a battery that can last up to 14 days, has over 70 different sport modes, is 5ATM waterproof, and tracks stats like your heart rate, calories burned, sleep, and more.
Dejean-Jones transfered from UNLV soon after. None of that may have a thing to do with why he was killed. But he clearly had a rough run the past few years, and died just as things had truly begun to look up.
(Update 4:33 p.m.): Oh, damn. From the Dallas Morning News, Dejean-Jones was shot by a man in an apartment where he kicked in the front door at 3:20 a.m.:
The commotion startled the man sleeping inside, who police say grabbed his handgun and "called out," but got no answer. Police say Dejean-Jones then kicked the door to the bedroom — and the man fired.