The Mighty MJD's Smorgasbord runs every Monday. Do enjoy.
• The waitress this week is cute enough, but wearing a Brady Quinn jersey. I'm not sure what to make of that. Maybe she's from Cleveland, maybe she thinks he's really cute, I don't know. I just hope I'm here when she starts grabbing dicks.
• I'm pretty sure this is an accident ... but I can see four games, but I'm getting audio from the Baltimore/Cleveland game, which is not one of the four games I can see. Every time Ian Eagle raises his voice, I look around to see what's happening, and all I see are people standing around. This is going to drive me fucking insane.
• It's a slow week at the sports bar ... only a handful of tables in this particular room are occupied. In the back of the room, there are four or five young black men, and they're being a little loud and rambunctious. Most everyone else in the room is middle-aged and white. I'm sensing a little bit of discomfort.
• Julius Peppers blocks a Packers field goal attempt ... it's nice to hear from him. I wasn't sure he was still in the league.
• At the end of the ensuing possession, the Panthers line up in a field goal formation, but snap it directly to John Kasay, who then pooch punts it. Very clever, Panthers ... I mean, I know that Green Bay picked it up and returned it to the house for a touchdown, but just think how cool it would have looked if they hadn't.
G/O Media may get a commission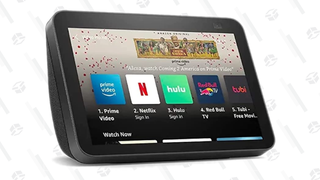 • If I'm overhearing correctly, the black guys in the back of the room love ESPN's "Takin' it to the House with Jason Krause" on ESPN's NFL Countdown. These are the only people I've ever heard say that ... now they're making me uncomfortable. I understand so little about how TV networks can capture certain demographics.
• Speaking of Countdown, I'm pretty sure I saw a segment this morning where Greg Garber compared Tony Romo and his improvisational abilities to "legendary freestyle rapper" Snoop Dogg. When did Snoop become known for his legendary freestyle skills? That feels a little bit like calling Michael Vick "a legendary drop back passer." I think ESPN has a lot to learn when it comes to the difference between a "legendary freestyle rapper" and "the only rapper Greg Garber's ever heard of."
• The Chargers, meanwhile, are down 10-0 to the Jaguars. This game is going exactly as I expected it to.
• The Eagles punt, and it's taken by Ted Ginn ... and Ted Ginn's going to take this one to the house. And for the second week in a row, the on-fire Miami Dolphins have an actual lead. This day can already be considered a success.
• This sound-on-a-game-I'm-not-watching thing is messing with me. I had never realized how dependent I was on an announcer's cues to know when something was happening. We're into the second quarter, and every time Ian Eagle gets loud, I look around and expect to see something happening. I can't stop myself. I am Pavlov's dog, and Ian Eagle is my dinner bell.
• Andre Johnson is finally back in the Texans line-up, and he is announcing his presence with authority. Matt Schaub hit him deep over the middle, after about 11 Saints all fell for a play action fake. 7-3, Texans.
• The referee in the Chargers/Jaguars game is surrounded by Jaguars cheerleaders ... this is bullshit. They're all dancing around him like he's a big metal pole at the Spearmint Rhino. They are bribing the official with pussy, and they are doing so openly and brazenly.
• On second thought, that's probably a fake ref. The pussy is real, though.
• Donovan McNabb is leaving the Eagles/Dolphins game ... of course, I think the Dolphins will miss him more than the Eagles will, being that he was 3-of-11 with 2 interceptions. Kevin Kolb isn't coming into the game, though ... it's AJ Feeley. That's a little bit of a surprise. I don't know if Kolb is actually behind Feeley on the depth chart, or if Kolb suffered a wrist injury this week burying a knife into a boar.
• Sign in Lambeau: "IS THIS HEAVEN? NO." Thanks. That's enlightening.
• Vinny and the Panthers are already down 21-3, incidentally ... but Vinny has the Panthers driving and down in the Packers red zone. Packers DT Corey Williams gets to Vinny, and punches him in the face ... every other time a quarterback's facemask even gets grazed, it's a penalty, but for some reason, clubbing a senior citizen in the head is perfectly fine. It might not be a penalty, but I think Corey Williams can expect a strongly-worded letter from the AARP.
• I just said the following about Philip Rivers, out loud, and I was completely serious: "At least it was a spiral."
• Neil Rackers makes a tackle on special teams for the Cardinals, and then heads to the sidelines, takes off his jersey and his pads, and gets a fresh new jersey/pads combination from underneath a tarp behind the bench. I've never seen anyone do that before. Is Neil Rackers not allowed to be dirty?
• Chad Johnson is a prick. He catches a pass, and starts running with it it one hand, not tucked away in the least. A 4-year-old wouldn't run like that with a Nerf ball if there was no one within 20 yards of him. Naturally, the prick fumbles it ... Arizona ball.
• In one of the personal lowlights of the season for me, Maurice Jones-Drew, staying in to help pick up the blitz, absolutely levels Shawne Merriman. Merriman went running into him, started to jump, and Jones-Drew floored him. David Garrard threw the 1-yard TD pass to Marcedes Lewis, and it's 24-10. That should earn me a solid week or two of Merriman steroid jokes.
• Sign in Lambeau: picture of a dog wearing a Packers jersey with the words "PACKER PUPPY" written above it. I'm sure that's hugely inspirational to the team ... an offensive lineman probably saw that sign and thought, "I wasn't going to block very hard on this next series, but if this batshit-crazy bitch can go to the trouble of forcing a Brett Favre jersey on her poor fucking dog, then maybe I can stay low, keep a wide base, and not get beaten by a swim technique."
• The Fish have, once again, squandered their lead ... an AJ Feeley TD pass puts the Eagles ahead, 17-7.
• Antrell Rolle intercepts Carson Palmer and takes it to the house ... he caps it off by doing a carthweel into a backflip, but can't stick the landing. I can't hear that game, but I think he got flagged 15 yards for that. I'm not sure what rule it broke ... there were no props, it didn't seem pre-meditated (after all, why would Antrell Rolle ever plan on being in the endzone?), and it didn't last a particularly long time. No idea.
• The black guys in the back of the room are talking about some Giants fan who was here last week, and one of them emphatically declares, "If he comes in here, he's gettin' fucked up." Everyone else has left the room, except for myself, the Greek, and those gentlemen. I really hope that Giants fan shows up.
• Phil Rivers drops back and hits Antonio Gates over the middle (I believe Philip has a rare eye condition that prevents him from seeing anyone not wearing the number 85) for a Chargers TD, and it's 24-17. We're actually not getting our asses whooped nearly as bad as I thought we would.
• The defense does their job, and we have the ball back, down 7, with 2:13 to play ... come on, Philip, BE A MAN. Don't listen to all those terrible things Big Daddy Drew said about you.
• And Philip is intercepted on a 6-yard pass over the middle. Big Daddy Drew was right. Fuck yourself, Philip.
• Bonus coverage: Daunte Culpepper and the Raiders trail by 7, they have the ball with 1:00 to play. And they fail quite quickly ... that wasn't really suspenseful at all. I'm not sure I should have used the term "bonus" there.
• Fans for the late games are starting to trickle in, as the group of young black people have unfortunately left. Among the incoming crowd is a woman with a huge ass, tight jeans, a Redskins windbreaker, and a giant Redskins cowboy hat (there's some irony). She's accompanied by a guy with a mustache and a mullet, and another guy wearing a camouflage shirt. This could be a long afternoon.
• Phil Dawson's got another shot at a late field goal to send the Browns to overtime, from a similar distance as the one he left short last week. The kick is up ... doink off the post, doink off the crossbar, no good.
• But hold on one second, ladies and gentlemen ... replay shows that it didn't hit the crossbar, it hit the part that extends back from the crossbar. That field goal was good. After a few minutes of mass confusion, the officials get it right, and have to get the Ravens back on the field ... Brian Billick looks like he's going to blow a cow.
• Terrell Owens makes a catch along the sidelines for the Cowboys, and one of the hick Redskins fans yells, "COME ON, DEFENSE, GET THAT PECKERWOOD." There's a word I haven't heard in a while ... peckerwood. I need to hang out more often with guys who wear camouflage to sports bars.
• The Jets, meanwhile, are taking it to the Steelers. We missed the first touchdown because the TV guy is terrible at his job, and now Thomas Jones is just plowing through the Steelers defense. This is weird.
• Phil Dawson has a chance to win it in overtime for the Browns ... and today, we spell redemption P-H-I-L.
• You know that Viagra commercial, with the six guys sitting in a Roadhouse, singing a song about unnatural boners? I don't think I had noticed the dog in that commercial before. I hope he was able to get out of there before the big gay orgy started.
• We had decided to root for the Cowboys, because these fucking Redskins fans were unbearably loud and dumb ... but unfortunately, we've also been joined by one of those "HOW 'BOUT THEM COWBOYS?" people. So the fun's been taken out of that. I guess I'll just sit here and get dumber.
• Hick Redskins fan: "I live for this game. I don't care about anything else." Me: "Like personal hygiene." Adds the Greek: "Or racial equality ... not even NASCAR, or Mama's Family on DVD."
• Curt Menefee has a studio update of someone scoring a touchdown, and then he throws it back to Troy Aikman and says something like, "That dance was good, Troy, but nothing like Hannah Montana." Score one for Curt Menefee.
• The "HOW 'BOUT THEM COWBOYS" idiot asks hick Redskins fan if he thinks Joe Gibbs will be back next year. The woman with the cowboy hat responds, "He kept smoke, so he's doing something right!" She's asked to repeat this, because no one knows what the fuck she's talking about ... as it turns out, upon further explanation, she's referring to NASCAR driver Tony Stewart. And she says it like everyone else in the room is dumb, because they don't know who "Smoke" is. I swear, I'm hemorrhaging IQ points right now.
• Though it's nearly impossible to concentrate on anything else at the moment, I would like to point out that the 49ers are wearing their throwbacks today, and they are the best-looking pile of shit on an NFL field today.
• Shaun Suisham missed a field goal for the Redskins. Hick Redskins fan yells, "I SAW THAT! THE GOALPOST MOVED!" He and idiot Cowboys fan think that's the funniest thing ever said by a human being.
• Idiot Cowboys fan to an Eagles fan sitting nearby: "Hey, Eagles fan. Hey, Eagles fan. You like McNabb?" Since the guy is wearing a fucking #5 Eagles jersey, I'm going to go out on a limb and guess that he does, dickface. He then proceeds to tell the guy that McNabb's the most overrated player in the NFL.
• When Ed Hochili officiates a Rams/49ers game ... he's one of the best five athletes on the field, right? He can't be far off.
• I think the table of Redskins/NASCAR/Smoke/Camouflage people are doing the Budweiser "Wassssuuuuupppp" thing. I kid you not. I should never have gotten out of bed today.
• Jason Campbell's playing a fantastic game, by the way ... it's the best I've seen him play. He's nearly matching Tony Romo. Anyway, on one play, Campbell gets blindsided in the pocket and is sacked. Hick Redskins fan is screaming that Joe Gibbs should "get him out of there." I'm thinking this gentleman would like to see a return to the purer, whiter days of Joe Theismann. Or Mark Brunell. Or Patrick Ramsey. Or Gus Frerotte. Or Jay Schroeder. Or Heath Shuler.
• The Jets are still leading the Steelers, by the way ... I'd like to focus a little bit more on that game, but I've just been sucked into the vortex of redneck stupidity that surrounds me. Anyway, at this point in the season, the Jets are +17 in the first half, and -80 in the second half. Someone's not making their halftime adjustments very well.
• Nate Burleson goes over the middle for the Seahawks, knocks over a defender at the goal line, then catches an easy TD pass. I don't think that's legal, but it's going to count.
• And on the ensuing kickoff, kicker Josh Brown takes down Devin Hester with a very nice stick. Hm.
• The Redskins commit a blatant pass interference penalty down the field ... it's as obvious a call as you're ever going to see. Hick Redskins fan jumps out of his seat and yells, "REVIEW IT!" Blood's going to start pouring from my ears at any moment.
• And Thomas Jones has just become the first 100-yard rusher against the Steelers in 24 games. Thomas Jones did this. Yes, that Thomas Jones.
• Total yards: Steven Jackson: 114. San Francisco 49ers: 94.
• Huge ass, tight jeans, cowboy hat Redskins fan thinks there's no excuse for NFL kickers to not make 70-yard field goals regularly, because college kickers can make 50-yarders. I thought that was a worthwhile observation, and I'm happy to pass it along to you.
• Tony Romo goes deep to Terrell Owens over the middle ... touchdown Cowboys, and Owens, without breaking stride, goes straight into the dunk over the crossbar. That was beautiful. 21-13 Cowboys.
• The Bears, who hadn't used Devin Hester on offense at all today, give it to him on the reverse. Hester looks for the corner, sees that there's no room, and pusses his way out of bounds without making contact with anyone. I guess that's allowed when you're the only talented offensive player on your football team.
• Tony Romo to Terrell Owens again ... damn. Owens is going fucking bananas today.
• FOX is showing a pregame clip of Steven Jackson messing with some kid on the sidelines in the Rams/49ers game. The kid, being held by his dead, keeps turning away from Jackson, but Jackson won't leave it alone. He wants to mess with this kid for some reason. Jackson eventually goes around to the other side of the guy, and takes the lollipop out of the kid's mouth. The kid looks at him like, "Hey, what the fuck, man?"
• The 49ers are driving, by the way, and have a chance to take the lead .. on consecutive plays, Vernon Davis and Darrell Jackson drop catchable balls in the endzone. Trent Dilfer's going to be fighting again in practice this week.
• Owens makes another catch. Hick Redskins fan: "TERRELL OWENS, I'D SHOOT THAT SUMBITCH." I don't find that difficult to believe at all, and I'm sure you've got the gun in your truck right now.
• Jason Campbell is putting together a potentially game-winning drive, with the Redskins down 5. Hick Redskins fan looks back at idiot Cowboys fan and says, "You nervous, boy?" Idiot Cowboys fan responds, "I'm as calm as a cucumber."
• Idiot Cowboys fan also drops this bomb: he's majoring in education. If you ever believed that the children are our future, it's time to come up with a new belief system.
• Leon Washington takes a punt back deep into Steelers territory, getting the Jets into field goal range ... they're actually going to beat the Steelers. I find this quite surprising.
• The Nuge comes on to attempt a 37-yarder ... it's up, it's good, and the Steelers have gone down. To the Jets.
• Jason Campbell has the Redskins inside the Cowboys red zone, looking for the winning score ... he rolls right, throws back across his body and is intercepted. That's unfortunate ... Campbell deserved a better ending than that.
• This sets off a standing-up, shouting-at-the-top-of-his-lungs, bullshit, moronic tirade from hick Redskins fan, about how the Redskins can't win with Campbell ... and I've gotta get the fuck out of here.