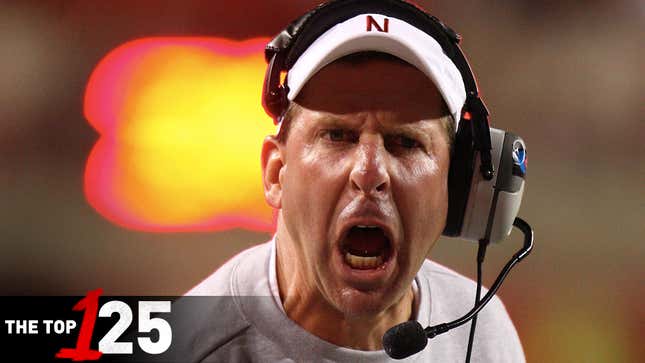 Each week during college football season we put the conventional polls to shame by ranking every FBS team from 1-125, by whatever standard we see fit. Last week's rankings were not consulted.
Ohtani has the WBC, but will Mike Trout ever lead the Angels to a championship? | Agree to Disagree
1. ALABAMA (2–0). No team coached by Nick Saban has ever won looking less like a team coached by Nick Saban than Alabama did Saturday at Texas A&M, which goes a long way toward explaining why it was so much fun. With no answer for Johnny Manziel in the most Manzielian turn of his career, Bama was grudgingly forced to take the reins off its own quarterback, A.J. McCarron, who more than lived up to his billing as the best Crimson Tide QB of the past thirty years. After falling into an immediate, 14–0 hole, Alabama's next three offensive possessions featured 14 passes to two runs, took a combined 5:23 off the clock and ended with touchdowns from McCarron to three different receivers; Bama never trailed again.
Between them, the two offenses combined for touchdown drives of 84, 59, 75, 80, 80, 93, 58, 83, 80, 96, 65 and 75 yards. I imagine Saban watching the film of this with his eyes clamped open, Clockwork Orange-style, and dreaming of his first opportunity to go back to bludgeoning opponents with bags of nickels.
G/O Media may get a commission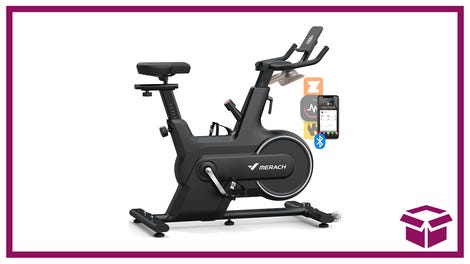 14% off + Coupon
Merach Indoor Cycling Bike
2. OREGON (3–0). In 2010, the Ducks administered the most lopsided beating ever endured by Tennessee in Neyland Stadium. Saturday, the back end of the home-and-home – a 59–14 massacre in which Oregon gained 687 yards of total offense – goes down as Tennessee's widest margin of defeat in any venue since 1910. I'm beginning to suspect this isn't going to grow into the next great intersectional rivalry.
3. CLEMSON (2–0). A nationally televised, Thursday-night trip to N.C. State is classic "Clemsoning" bait, and another chance for the Tigers to remind skeptics that that shit is so 2008.
4. FLORIDA STATE (2–0). With four minutes remaining in the second quarter, Florida State had yet to scored a touchdown against Nevada and trailed, 7–3. With four minutes remaining in the third quarter, Florida State had scored six touchdowns in a span of 17 offensive snaps and led 45–7. Through two games redshirt freshman Jameis Winston still has more touchdown passes (6) than incomplete passes (5).
5. LSU (3–0). It was only Kent State, but the Tigers finished with more total yards against the Flashes (571) than it's generated in any game since its last BCS championship season in 2007, deepening my suspicions that they're ready and willing to open things up if necessary. With Georgia and Texas A&M on the schedule—hell, even with Alabama, which doesn't look like a team headed for any more 9–6 decisions anytime soon—it most definitely will be necessary.
6. OHIO STATE (3–0). Say what you will about Cal's defense: An Ohio State offense that can score 52 points with headliner Braxton Miller watching from the bench is a nightmare scenario for the rest of the Big Ten.
7. GEORGIA (1–1).
8. SOUTH CAROLINA (2–1). In the first 20 minutes against Vanderbilt, the Gamecocks scored four touchdowns on their first four offensive possessions, on drives covering a combined 303 yards. Meanwhile, the Commodores' first five possessions yielded 48 yards and five consecutive punts. Still struggling to identify a glaring weakness on this team.
9. STANFORD (2–0). It's very difficult to go on hyping the defense as a potential counterweight to Oregon's offense when it gives up 20 points to Army.
10. WASHINGTON (2–0). It's too early to get carried away about a team coming off three consecutive 7–6 seasons, but we can say this: Washington has played two games against two non-tomato cans, Boise State and Illinois, and gained more yards against both of them than any previous Husky offense gained in any regular season game this century. (Hell, it's too early to even tell whether Illinois is or is not a tomato can.) We're still a few weeks away from finding out how much of that is noise against Stanford and Oregon.
11. UCLA (2–0). The Bruins racked up 249 yards against Nebraska in the third quarter alone, scoring four touchdowns in a span of 22 plays to turn a 21–10 deficit at the half into a 41–21 rout. After the Cornhuskers scored their third and final touchdown in the second quarter, they were outgained 373 to 146 for the rest of the game.
12. OKLAHOMA STATE (3–0).
13. OKLAHOMA (3–0). Oklahoma caught everyone off guard last month with its decision to name a redshirt freshman, Trevor Knight, as its starting quarterback over last year's backup/short-yardage hero, Blake "Belldozer" Bell, even if it was difficult to gauge the surprise in articles that compared Knight to Johnny Manziel before he'd taken his first snap. Not so much: After two of their most uninspiring outings in years under Knight, the Sooners went with Bell against Tulsa, won't be looking back. In his first career start, the allegedly one-dimensional Belldozer went for 413 yards and four touchdowns passing, improving on Knight's pass efficiency rating in the first two games by more than 100 points. Oklahoma scored on nine of 10 offensive possessions in a 51-20 rout.
14. TEXAS A&M (2–1). Not that he was a secret to anyone in the SEC after catching 82 passes in 2012, but the most eye-opening performance against Alabama came from sophomore wide receiver Mike Evans, a 6-foot-5, 225-pound pterodactyl of a target whose combination of size, speed and pure stiff-arming evil rendered Bama's cornerbacks helpless. Four of Evans' catches went for at least 30 yards, including a series of bombs that set up A&M's first two touchdowns in the first quarter and a 95-yard rainmaker from Manziel in the fourth. What will stick, though, is the incredible ease of it all against a secondary used to operating in lockdown.
15. LOUISVILLE (3–0). The Cardinals' first six offensive possessions at Kentucky covered 89 yards and yielded more punts (4) than points (3). Their last six offensive possessions covered 391 yards and yielded 24 points, more than enough in a 27–13 win.
16. MIAMI (2–0).
17. OLE MISS (3–0). One of the many encouraging bullet points in the Rebels' validating, 44–23 win at Texas was the presence of as many true freshmen in the starting lineup (five) as there were seniors, and no member of the new class stands out quite like blue-chip defensive end Robert Nkemdiche. I caught the game in person, and up close Nkemdiche is one of the most preposterously proportioned individuals I've ever seen—Ole Miss lists him at 6-foot-5, 294 pounds, which fits the mold for a plodding defensive tackle, but somehow this kid manages to look every ounce of that despite having the waist of a running back. He's just dense. At 18 years old, he looks like he was assembled from live oak trees.
Anyway, Ole Miss is 3–0 for the first time since 1989. Next up: A bye, followed by Alabama, Auburn, Texas A&M and LSU in consecutive weeks.
18. NORTHWESTERN (3–0).
19. MICHIGAN (3–0). Not only did the Wolverines come within four yards of losing to Akron, the team that came in dead last in this space in the preseason rankings: They were lucky it wasn't worse. Before their final, failed pass into the end zone as time expired, the Zips let golden scoring opportunities slip through their fingers on a pair of missed field goals and a pair of interceptions in Michigan territory, one of them coming on 1st-and-goal earlier in the fourth quarter. Altogether Akron's offense crossed midfield eight times, and came away empty on six of them.
Obviously, a call that close takes some of the luster off last week's uplifting win over Notre Dame, as does Notre Dame's subsequent difficulty in dispatching Purdue. But I doubt we learned anything about Michigan's prospects over the reset of the season.
20. FLORIDA (1–1).
21. BAYLOR (2–0).
22. NOTRE DAME (2–1).
23. ARIZONA STATE (2–0).
24. WISCONSIN (2–1). There's not enough space here to wade through the details of the clusterfuck ending to Arizona State's win over Wisconsin, which really has to be seen to be believed. Prior to that, though, the Badgers and Devils put on one of the best shows of the young season down the stretch, in which Wisconsin thwarted the momentum of three straight touchdown drives by the ASU offense by successfully deploying its starting middle linebacker as a passer on a fake punt; that play set up a crucial Badger touchdown, which set up the subsequent drive that set up the bizarro finish. All overshadowed by the officials' failure to spot a damn ball.
25. CENTRAL FLORIDA (3–0). UCF finished with 507 yards of total offense in a 34–31 upset over Penn State, the first 500-yard game against the Nittany Lions in the regular season since 2001. (Houston dropped 600 on a lame-duck, post-Paterno outfit in the 2012 Ticket City Bowl.) Normally, this would be the point where I vaguely intone the Knights' prospects of crashing a BCS bowl, but two of their next three games are against South Carolina and Louisville, so no. Check back around Halloween.
26. TEXAS TECH (3–0).
27. AUBURN (3–0).
28. VIRGINIA TECH (2–1). Alabama's offensive success against A&M only makes the opening-day mugging Virginia Tech put on the Crimson Tide that much more impressive. Through three games, the Hokies rank second nationally in total defense and tackles for loss, but the offense still cannot score.
29. BYU (1–1).
30. ARIZONA (3–0).
31. FRESNO STATE (2–0).
32. MICHIGAN STATE (3–0).
33. GEORGIA TECH (2–0).
34. NORTHERN ILLINOIS (2–0).
35. BOISE STATE (2–1).
36. MISSOURI (2–0).
37. TCU (1–2).
38. PENN STATE (2–1).
39. MARYLAND (3–0).
40. WASHINGTON STATE (2–1).
41. USC (2–1). The Trojans and their embattled coach deserved everything they got in the wake of a rock-bottom loss to Washington State, but credit where its due: A week after falling flat on their faces, the Trojans looked just fine against Boston College, racking up 521 yards of total offense—257 rushing, 264 passing—in an impressive 35–7 win on the rebound. Quarterback Cody Kessler, last seen watching an opposing cornerback take an interception to the house for Washington State's only touchdown, bounced back from a dismal 72.7 efficiency rating in that game to finish 15-of-17 for 237 yards and two touchdowns against B.C., good for an astronomical rating of 244.2.
42. KANSAS STATE (2–1).
43. OREGON STATE (2–1).
44. UTAH (2–1).
45. UTAH STATE (2–1).
46. NEBRASKA (2–1). It's easy to pile on after an ugly loss—and the second half of Nebraska's 41–21 flop against UCLA was about as ugly as it gets—especially when it comes at home, in front of a fanbase that was already nervous about the team to begin with. Regardless of the timing, though, the Bo Pelini audio saga is just too perfect, isn't it? If you had been given this story with all of the names redacted, then asked to identify which college coach said, "Fuck you, fans," on tape, Pelini would have been the obvious choice, right? Before his defense began cratering in big games on a regular basis, the most obvious red flag against Pelini was his tendency to lose his shit on the sideline at the slightest provocation. He was flagged multiple times in his first three years for berating officials, and TV cameras caught him raging out so many times in a 2010 loss at Texas A&M that he was publicly reprimanded by the chancellor of the university. (That was the same game in which Pelini's brother, Carl, was caught attacking a cameraman in the immediate aftermath; he's now the head coach at Florida Atlantic.) Petty, thin-skinned bravado after a dramatic win sounds exactly right.
47. ARKANSAS (3–0).
48. ILLINOIS (2–1).
49. CINCINNATI (2–1).
50. TEXAS (1–2). This is a clueless, defeated team in all phases right now, including special teams, which gave up a punt return for a touchdown Saturday that accelerated the second-half collapse against Ole Miss. But the problems on offense have very deep roots, in the sense that the Longhorns still have no idea who they are or what they want to be. At their best, Mack Brown's teams have always let the philosophy defer to personnel, evolving from an emphasis on downhill, between-the-tackles running to suit workhorses Ricky Williams and Cedric Benson, to a shotgun/zone-read scheme to accommodate Vince Young, to a spread passing attack that hinged on the uncanny accuracy of Colt McCoy. While the talent continues to pour in, though, since the 2010 there has been no reliable headliner and no coherent identity. It's a grab-bag, throwing a little bit of everything against the wall and hoping something will stick.
When it works, you get the first half against Ole Miss, in which the Longhorns scored 23 points. When it doesn't, you get the second half, in which they scored zero and failed to cross the Rebels' 40-yard line. (In this case, it didn't help that injured quarterback David Ash was replaced by backup Case "Don't Call Me Colt" McCoy, whom coaches clearly do not trust, but the point goes beyond one game.) Sometimes they can run, sometimes they can throw, occasionally they can do both. But they can't do anything consistently enough to lift the burned-out defense out of this rut.
51. IOWA (2–1). The Hawkeyes tempted AIRBHG in Saturday's win over Iowa State, running 60 times for 218 yards—an average of 3.6 yards per carry with a long gain of 13. Kirk Ferentz is having the box score engraved on his tombstone.
52. NORTH CAROLINA (1–1).
53. TENNESSEE (2–1).
54. NAVY (2–0).
55. VANDERBILT (1–2).
56. INDIANA (2–1).
57. WEST VIRGINIA (2–1).
58. VIRGINIA (1–1).
59. NORTH CAROLINA STATE (2–0).
60. RUTGERS (2–1).
61. MISSISSIPPI STATE (1–2).
62. TOLEDO (1–2).
63. SYRACUSE (1–2).
64. MINNESOTA (3–0). If you only read one piece-by-piece takedown of a misguided column about coach Jerry Kill's epilepsy this week, make it this one. Kill was hospitalized after suffering a seizure in Saturday's win over Western Illinois, the third time in as many years he's been unable to finish a game, but returned to work on Monday and plans to be on the sideline this weekend against San Jose State. As always.
65. SAN JOSE STATE (1–1).
66. BOWLING GREEN (2–1).
67. OHIO (2–1).
68. MARSHALL (2–1).
69. EAST CAROLINA (2–1).
70. RICE (1–1).
71. PITTSBURGH (1–1).
72. COLORADO (2–0).
73. HOUSTON (2–0).
74. WYOMING (2–1).
75. BOSTON COLLEGE (2–1).
76. TULSA (1–2).
77. PURDUE (1–2).
78. DUKE (2–1).
79. CALIFORNIA (1–2).
80. BALL STATE (2–1).
81. LOUISIANA–MONROE (2–1).
82. LOUISIANA–LAFAYETTE (1–2).
83. KENT STATE (1–2).
84. WESTERN KENTUCKY (1–2).
85. KENTUCKY (1–2).
86. IOWA STATE (0–2).
87. SMU (1–1).
88. AIR FORCE (1–2).
89. NORTH TEXAS (2–1).
90. ARKANSAS STATE (2–1). [Update: We originally put Troy in this spot, even though the Trojans had lost to Arkansas State on Thursday. We've flipped the two teams.]
91. MIDDLE TENNESSEE (2–1).
92. TROY (2–1).
93. NEVADA (1–2).
94. KANSAS (1–1).
95. WAKE FOREST (1–2).
96. TEXAS STATE (2–0).
97. SAN DIEGO STATE (0–2).
98. CONNECTICUT (0–2). After double-digit losses to Towson and Maryland, the fact that the Huskies are still in double digits in the rankings is a good indication of just how grim it is down here.
99. AKRON (1–2). Make no mistake, a home loss to Akron—a team riding a 16-game losing streak against the rest of the MAC—would have been worse for Michigan than its infamous flop against Appalachian State in 2007. It would have been a lot worse. At least after that game, the Mountaineers went on to win their third consecutive FCS championship; the Zips still haven't beaten an FBS opponent since 2010. But for one week? What the hell: Akron, you're in the top 100.
100. SOUTH ALABAMA (2–1).
101. TULANE (2–1).
102. UTEP (1–1).
103. FLORIDA ATLANTIC (1–2).
104. COLORADO STATE (1–2).
105. BUFFALO (1–2).
106. LOUISIANA TECH (1–2). Last year, the Bulldogs led the nation in scoring at 51.5 points per game. This year, in losses to N.C. State and Tulane, they've scored a grand total of 29.
107. ARMY (1–2).
108. TEXAS–SAN ANTONIO (1–2).
109. UNLV (1–2).
110. CENTRAL MICHIGAN (1–2).
[spoiler alert]
111. NEW MEXICO (1–2). Sunday's episode, "Ozymandias," is the bleakest, most relentlessly depraved hour in Breaking Bad's entire run, by wide a margin, and we're talking about a show in which we've seen major characters blown to bits in a nursing home and dissolved in barrels of acid. It's also the first episode that, at first blush, is entirely devoid of laughs. Here is Walter White at his nadir, all of his worst nightmares playing out in front of his eyes, his descent into pure, unadulterated evil arriving at its logical end. Walt, the human cancer, having finally laid waste to every life he's touched. In some twisted sense, though, in the way that it almost gleefully rejects the audience's expectation of a "happy" ending, "Ozymandias" may be the most compelling argument yet for viewers who read the show primarily as the blackest of black comedies. Redemption narrative? Here is what Vince Gilligan thinks of your redemption narrative: Fuck your redemption narrative. This story only goes in one direction.
All of the payoffs are in keeping with the trajectory of the series as a whole, which from scene one, episode one has been about answering the question, "What's the worst that could happen?" in increasingly audacious fashion. It didn't take long for the question to grow out of the writers' room into an exchange between the writers and the audience—on a visually vibrant show that revels in well-observed domesticity, just how bad can we really be talking about here? After six seasons of steady, methodical escalation, it's not hard to imagine the writers having a little fun with the ruthless, scorched-earth extremity of their final answers. Well, just how bad do you think you can handle? In "Ozymandias," one central character is executed by neo-Nazis and tossed unceremoniously into a makeshift grave in the desert. Another winds up tortured and shackled in a dark bunker, literally enslaved to crystal meth. (As a lab boss, Todd makes Gustavo Fring look like Bunsen Honeydew.) The central protagonist, who rationalized his transformation into antagonist by telling himself it was all "for family," is physically attacked by his wife and revealed to his son as the homicidal criminal that he is, the exact fate Walt dreaded in season four's "Salud." An episode that begins by teasing some remaining shreds of Walt's humanity quickly goes the other way: Having lost his family, his partner, most of his money and all delusions of Heisenbergian grandeur, all that's left is a bitter, desperate villain, who has nothing left to preserve the pretense of having ever been anything else.
[/end spoiler alert]
112. EASTERN MICHIGAN (1–2).
113. HAWAII (0–2).
114. UAB (0–2).
115. MEMPHIS (0–2).
116. SOUTHERN MISS (0–3).
117. TEMPLE (0–3). Honestly, if you have to a lose to an FCS school, there are a lot worse ways to go than on an improbable throw into the end zone in the closing seconds. Just ask South Florida.
118. SOUTH FLORIDA (0–3). South Florida doesn't want to talk about it.
119. MIAMI (OHIO) (0–2).
120. WESTERN MICHIGAN (0–2).
121. IDAHO (0–3).
122. FLORIDA INTERNATIONAL (0–3). So awesome of FIU to fire a respected coach other schools actually tried to away, in order to hire an aging retread who just led them to a three-touchdown loss to Bethune-Cookman.
123. MASSACHUSETTS (0–3).
124. NEW MEXICO STATE (0–3). Through three games, the Aggies have allowed 142 points, putting them on pace to allow more points than any team in Division I history.
125. GEORGIA STATE (0–3). Off back-to-back losses to Samford and Chattanooga by a combined 38 points, only losing by 34 at West Virginia counts as progress. Just two weeks till the Panthers' much-anticipated showdown with Alabama.
Matt Hinton writes about college football for Football Outsiders and SB Nation's Football Study Hall Follow him on Twitter @MattRHinton.
Image via Jim Cooke, photo by Getty