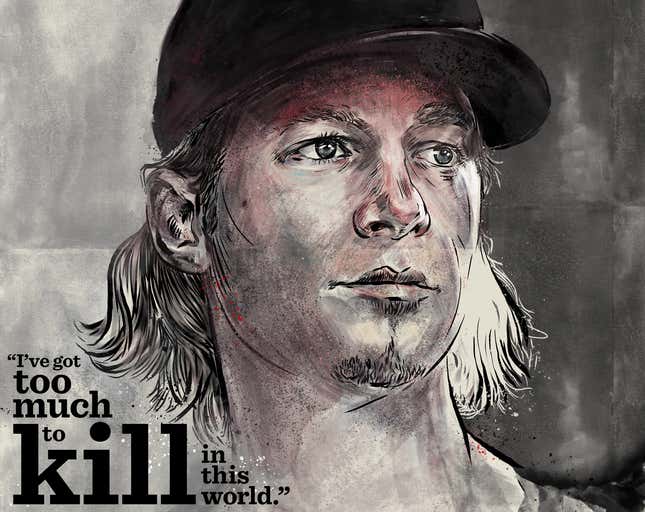 Bronson Arroyo was in some small town near Los Angeles, the name of which he doesn't remember, and he was thinking about getting old. He and a friend had stopped at a diner to get a bite to eat, and he couldn't help but notice all of the old men seated around them. He recalls this moment a few weeks later, standing in his kitchen on a hot September afternoon. He remembers taking the old men in, and then turning to his friend to say, "It doesn't matter what we do—it doesn't matter what we do—we're gonna look like that."

How running an NFL team is like running a restaurant | Chef Emeril Lagasse
Still in his kitchen, hastily eating a plate of chicken and rice with all the buzzing energy of a teenager who's late for baseball practice, Arroyo is thinking about the same thing. He's talking about one of his best friends, a guy who grew up next door to him in the Florida Keys who is now a Ph.D engineer that travels all over the world. "I value this guy as much as anyone in my life," he says. "I can count on both hands how many times I'm gonna be with him until one of us dies, and that's not a lot."
Later that same day, while sitting by his pool, watching the twilight turn to night, it's still preoccupying him. "Sandy Koufax," he says. "Give Sandy Koufax another five, 10 years, and when he walks into a locker room, some kid might be like, 'This is Sandy Koufax, man!' And you can even look at his numbers, but it doesn't matter. What my eyes tell me is, 'You can't do shit, man.' Right? Like that's what my eyes tell me. Because of that, it's like you inevitably—no matter how great you were, how vibrant you were—you crumble in everyone else's eyes, even if you're not crumbling."
Sometimes, he thinks about what comes after getting old. "I sit up at night and I think, 'Dude, I can't die. Like, I can't die, bro,'" he says. "Because I've got too much to kill in this world. It drives me crazy that I can't do everything I want to do in the next 20 years right now ... It eats at me."
If Arroyo is feeling more existential than usual, it's because the last 16 months have seen him dealing with a rare bit of bad luck in what's otherwise been a charmed life. The 38-year-old pitcher, now with the Los Angeles Dodgers after having been traded twice this season, has enjoyed a long and successful career despite having the stuff of a AAA lifer. He's won a World Series, made around $90 million, befriended rock stars, and cultivated an expansive network of close friends.
"My life has been very—I call it unscathed," he says. "I haven't really been torn up by anything in the world." But now something has torn, and with that comes the very real possibility that Arroyo's left with nothing to do but begin crumbling. But Bronson Arroyo isn't familiar with the feeling of being diminished, and he has no plans to start now.
"I sit up at night and I think, 'Dude, I can't die. Like, I can't die, bro.'"
On May 13, 2014, Arroyo, then pitching for the Arizona Diamondbacks, destroyed the ulnar collateral ligament in his right elbow. He pitched nine innings that game, outdueling Stephen Strasburg, and went on to make his next six starts. He didn't realize there was anything wrong with his arm at first, but his velocity kept dropping, and eventually he went in to see the team doctor. He can still remember the doctor's shock as he leafed through the X-rays. "Oh man, this is really bad," said the doctor. "See this area here? That should be all white, but it's all black. You got no ligament left." Arroyo would soon undergo the Tommy John surgery that has had him on the shelf for more than a full season.
Given his resume, his age, the amount of money he's earned, and his varied interests outside of baseball, it would have made sense for Arroyo to have used his injury as an opportunity to make an exit from the game. And yet here he is, living in a rented mansion in Paradise Valley, Ariz., grinding his way through his 16th month of rehab while getting shuffled from team to team. At the start of this season, he was still a Diamondback, but Arizona traded him (and his $9.5 million salary) to the Atlanta Braves in June. He had been rehabbing at the Diamondbacks' facility in Scottsdale, but had to move to Orlando to work out at the Braves' facility after the trade. About a month later, the Braves included him in a 13-player package to the Dodgers at the trade deadline, and he returned to Arizona in order to work out at the Dodgers' rehab facility, in Glendale. He hasn't been able to throw without pain yet, but he says he's in as good a physical shape as he's ever been, and can sense himself turning the corner soon.
In a perfect world, Arroyo would have been in pitching shape in time to earn a spot on the Dodgers' playoff roster. But the small, persistent twinge of pain in his elbow hasn't been as easy to wrestle into submission as he thought it would be, and so he's set his sights a little further down the road, into far more uncertain territory. The goal now is to be throwing comfortably in time to pitch in the instructional league and then hope the Dodgers pick up his 2016 option. If they don't, he'll just find another team that needs his services.
There are plenty of sore-armed pitchers, even old ones, who have been willing to start from scratch and compete for a roster spot with the rest of the scrubs, but it's a particularly puzzling decision for Arroyo to make, given what most people know about him. He's the dude who's always carried himself as more of a chilled-out surfer bro than a ballplayer, who's been a nightlife fixture in every city he's played in, who's buddies with Eddie Vedder, and who has maintained a career-long side hustle as a rock musician. Why not just walk away now and enjoy his life?
The answer, in part, has to do with Arroyo's belief in his own abilities. Age and injury can rob a lot of pitchers of the tools that make them potent—velocity, stamina, the sharpness of their breaking pitches—but Arroyo never relied on those things in the first place. He's always gotten by with something he believes is more innate, and therefore untouchable. What Arroyo has is feel.
"I've had a better feel than most guys that have played this game. I've been able to manipulate the ball more consistently than them," Arroyo says. Whenever he talks about feel, he reflexively snaps his right arm into a throwing position, his fingers holding an invisible ball in a four-seam grip, his muscle memory rolling his shoulder towards an unseen home plate. He projects the image of a man who has a heightened sense of control over his body when he does this, and it's easy to imagine him shooting a three-pointer or serving a tennis ball with the same ease he throws a curveball.
"I can change arm angles, and I can change speed on the ball, and I can still throw strikes." As he says it, his arm moves between different throwing slots, his wrist flexing downward.
Feel is something that can't really be taught, just like you can't teach a junkballer to suddenly start throwing a 90-mph slider. Arroyo refers to his feel as a bit of "magic" inside of him, something he was just born with. "I don't really value mechanics that much, to be honest with you," he says. "I think I could throw a strike upside down if I had to. If you give me enough tries at something, I'm gonna find way to have enough feel to throw that for a strike."
This feel is what's been behind Arroyo's successful if not glamorous career. He's never been the kind of player who hugely excites fans, but he's spent the last decade as one of the most durable and dependable starters in the game. His first full season as a starter didn't come until 2004, when, at 27 years old, he was plucked off the waiver wire by the Boston Red Sox. He pitched 178.2 innings and posted a 4.03 ERA with the Red Sox that season, and proceeded to do pretty much the exact same thing for the next nine. From 2004 to 2013, only two other pitchers in baseball—CC Sabathia and Mark Buehrle—pitched more innings than Arroyo. If he'd pitched one more inning in 2011, he would have had a streak of nine straight years with 200 or more innings. He probably would have pitched that inning if he hadn't been sapped by bouts with Valley fever, mono, and whooping cough that year.
A decade spent cranking out 200-inning seasons is impressive by any standard, but especially so coming from a pitcher with so little margin for error. Arroyo has spent his whole career attacking hitters with what he himself calls "non-dominant stuff." He's never had a fastball that can get much higher than 90 mph, or a slider that sends hitters spinning like a top, or a curveball that buckles anyone's knees. When Arroyo was drafted by the Pittsburgh Pirates in 1995, he was 6-foot-3, weighed 153 pounds, and was throwing in the high 80s. Everyone assumed that he'd fill out his frame and be throwing 95 in no time, but the velocity never came, and he had to learn to make do with what he had.
Plenty of pitchers who fit this profile have made their way to the majors, but very, very few of them have been able to hold onto their jobs long enough to match Arroyo's production. From 2004 to 2013, the span of Arroyo's career as a full-time starter, Buehrle is the only other pitcher to have amassed over 2,000 innings while striking out less than six batters per nine innings. If guys like Clayton Kershaw and Felix Hernandez are baseball's sorcerers—pitchers who dazzle and overpower with their otherworldly stuff—then Arroyo and Buehrle are the game's escape artists, out there every fifth day with one hand chained behind their backs.
---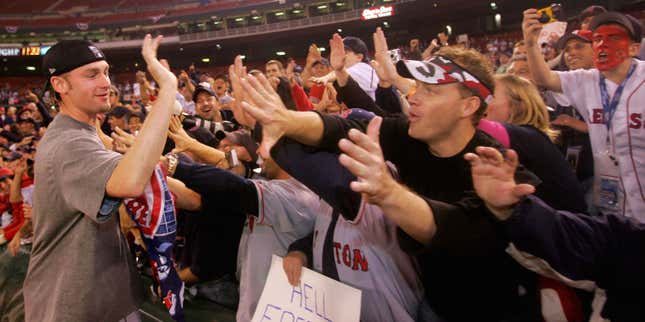 Arroyo celebrates the 2004 World Series with Boston Red Sox fans. Photo via Getty
---
You see that innate feel when you watch Arroyo pitch. If there's anything truly captivating about him on the mound, it's the unpredictability with which he flings the ball toward the plate. Most pitchers do everything they can to minimize variation and make their delivery as rote and repeatable as possible, but Arroyo can throw a side-arm curve, a three-quarters fastball, an overhand fastball, and a three-quarters curve over the course of one at-bat. It takes a special ability, a deep feel for where the ball is going to go, to be able to pitch that way with any effectiveness. "Being able to know where the ball was gonna go was the most important thing. That's why Greg Maddux was as good as he was, because he always knew where the ball was going," says Arroyo.

It's that level of control that gives Arroyo confidence when he's on the mound. "I've had to deal with the fact that I've never had an unbelievably powerful sniper rifle, and that I've been shooting this handgun," he says. "But I'm not scared to be in the trenches with a handgun."
Feel is about more than just arm angles and pitching grips, though. For Arroyo, it's directly tied to strategic acumen and creativity. "Everything about the feel is coming from between your ears," he says. "I've also always been a big thinker, and the feel plays into being very analytical and picking people apart in subtle ways. And I love the chess match of life, and that bleeds onto the field, it always has."

The freedom to think for himself on the mound, to play the chess match, was a big factor in getting Arroyo's big-league career off the ground. When he was first called up by the Pirates, he was given explicit instructions to never shake off veteran catcher Jason Kendall, but Kendall didn't understand how Arroyo needed to attack hitters with his stuff. The Pirates thought they were doing Arroyo a favor—he was just a rookie after all, and Kendall was an experienced veteran who knew the league's hitters—but Arroyo had been calling his own games since he was a kid, and he couldn't get anybody out with Kendall calling predictable games. "They took some of that creativity away from me, and it put me in a box. And if you put me in a box, my stuff's not overpowering, I'm not gonna fare that well," he says. It wasn't until he convinced the Pirates that he should be able to call his own games that he hit his stride, and he's been doing it ever since. "In an entire season, if I throw 3,000 pitches, the catcher is probably calling 100 of them."
It's these inherent qualities—feel and creativity—to which Arroyo credits his career. He believes that if he could throw 95 mph, he'd have four Cy Young awards in his back pocket, but the fact that he's been able to accomplish all that he has without an arsenal of devastating pitches makes his career not only impressive, but almost wholly unique in the modern game. He looks around the league now, sees all the teams that employ squadrons of goons who can throw 98 mph without effort, and he doubts if he'd ever get a chance to start if he were coming up through the minors today. "Now there are just so many guys that can surpass you with velocity, that you'd really have to be special," he says. "And maybe somebody would be aware enough to say, 'Man this kid's got feel,' but I might not have gotten the same opportunities that I did."
"But I'm not scared to be in the trenches with a handgun."
Arroyo's career began when he was five, in a Florida Keys gym with his father, a Cuban immigrant who worked construction and had a voracious appetite for bodybuilding. He and his friends had a thing for the gym—a "weird culture," Arroyo calls it—and they would spend every night after work powerlifting. By Arroyo's estimate, his father was consistently squatting 650 pounds and deadlifting 450 pounds.
When Arroyo's father saw his five-year-old son backhand a ground ball and flip it across the diamond during a tee-ball game, he decided to get the kid in the gym. By the time Arroyo was seven, he was in the weight room every day and squatting 250 pounds. He took to the gym-rat lifestyle while simultaneously diving headlong into baseball. The road to the majors quickly became the only one he ever planned on walking, and he dominated as a pitcher from grade school to high school. He estimates that since the age of five, he's spent maybe 30 days each year away from baseball. By the time he got to the rookie league, he already felt like a battle-tested veteran. "I had already been doing it for 14 years. It built a lot of my character in me, and it also made me enjoy going to the weight room every day," he says.
---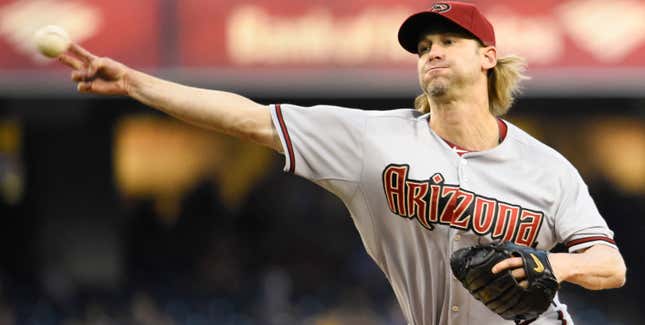 Arroyo lays one in against the San Diego Padres, May 2014. Photo via Getty
---
Arroyo's dedication and self-motivation are understandably hard to reconcile with his laid-back personality—which he says he inherited from his mother—and relaxed lifestyle. Early on in his career, that dissonance was a hard thing for his teammates to grapple with. One former teammate came up to him one day and said, "I've been playing with you for like four years, man. Sometimes you're getting beat up on the mound, and I can't tell if you give a fuck." Arroyo recalls Curt Schilling once telling him that he'd never pitch 200 innings with his body, and others used to chide him for going out drinking too much.

Arroyo remembers nodding along dutifully during these moments, but inside he knew those other guys didn't know what the fuck they were talking about. "Bro, you don't know what I've been through," he'd say to himself in these situations. "You're older than me, but when you were 18, you hadn't put in half the work that I did when I was seven,'"
"I already had this confidence inside. I had already been in a war that those guys hadn't been in," he says now.
When he looks back at his younger days, even the supposed signs of immaturity—the drinking and the womanizing—were more than what they were given credit for being. "People have always chalked me up as a guy who liked to go out and chase pussy," he says. "At the end of the day, what they didn't understand was the reasons I was there. I might end up in a bed with a girl the same way you might, but my reasons were totally different than yours. I'm really enjoying this conversation with this girl and picking her life apart …"
Here he pinches all of his fingers together on both hands, and repeatedly jabs them lightly into the air in front of him like a shadowboxer.
"I love this freaking thing with people, man, this back-and-forth. And maybe I get something out of it, or maybe they say, 'I never thought about the world in that way, man ...' I love that, and people don't know that about me."
He remembers nights out, when his teammates would see him chatting with a girl they deemed unattractive, and they'd sidle up to him and whisper something like, "Hey, man, you need me to save you?" Arroyo always brushed them off. "What they didn't understand is what was coming out of her mouth was fucking amazing, bro," he says. "Like, I was thinking on a totally different level than they were."
It wasn't just the squats that got Arroyo to this "different level." Those days in the gym with his father were also dedicated to cultivating a mental fortitude. Arroyo remembers these moments as his father imparting a philosophy of life.
"He didn't talk about the glass is half full when you break the ligament in your arm, or you get fired from your job," recalls Arroyo. "He talked about the glass is half full when they freaking got you tied to a freakin' tree in the Philippines, and they're gonna chop your fucking head off with a machete. And he was like, 'If you don't give a fuck that they're gonna chop your head off, who cares? They got no power over you unless you fear that.'"
Contemplating hypothetical life-and-death situations was a common theme in Arroyo's conversations with his father. Once, when Arroyo was seven, his dad told him to imagine someone walking up to him, putting a gun in his mouth, and saying, "Give me all your money, or I'll fucking shoot you." He was then to imagine himself responding to the gunman, "Well, go fuck yourself, because I don't really give a fuck if you shoot me."
"You don't talk to kids like that, you know?" says Arroyo now. "But because he did, it made me just observe the world. I just looked around."
---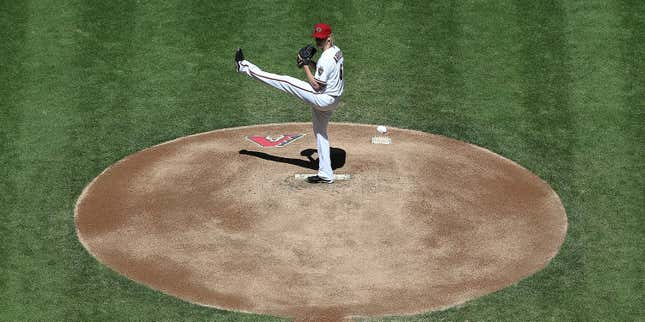 Arroyo against the San Francisco Giants, April 2014. Photo via Getty
---
It's those old lessons that fill him with both confidence and ease now, nearing the end of a long and difficult rehabilitation and facing the very real possibility that his career is over long before he wants it to be. He wasn't worried when the fastball so many scouts thought he would develop never came, or when he was told over and over again that his body wasn't built for the rigors of major-league pitching, or when the Pirates didn't give him the full-time starting job he deserved.

"I knew I was gonna be in these shoes. I knew my life would be like this. I was thinking about those things when I was six and seven," he says. Everything's always worked out before, because he's never been afraid of anything not working out. So why should it be any different now?
"When the doctors say, 'You're never gonna pitch again,' I'm thinking, Well, what if I was on an airplane, and the captain says, 'Oh we're over the Atlantic Ocean, man, and we're gonna crash into the ocean.' Now that is terrible. My arm breaking? Whatever. I'll make it happen no matter what."
And if he can't make it happen? If that small but devastating throb of pain in his elbow never goes away? "Then I'll be content with that, too. I'm not gonna let one second of worry ruin my time here on the planet. "
"If you don't give a fuck that they're gonna chop your head off, who cares? They got no power over you unless you fear that."
Bronson Arroyo is thinking about getting old again. He's thinking about the end of his career, and how he'd like to go out. He understands that he's well past the age when most guys retire, but he can't help but feel like his time isn't up yet. He thinks about how he and David Ortiz are the only two players from that 2004 championship team still in the league, and he promises himself that he won't go out like so many of his former teammates did, diminished and clinging desperately to a job.
"I've seen the demise of a lot of players physically, and they get pushed out of the game when they didn't want to leave yet because they couldn't keep up anymore, and it's just sad, man," he says. "To see a guy like Derek Lowe, who had 175 wins in his career, won 20 games once or twice, saved 40, had an amazing career, man, and to watch him just fall off the table, and for teams to go, 'No, we just don't want you anymore, man.' It's like watching the old man [in the diner]… like watching the old man, just in a different form. And it's like you're battling that all the time to try and not be that."
Lately, Arroyo's thoughts of the future have stretched far beyond his place in the game. His year spent away from the mound has afforded him a chance to spend more time with friends and family, and to think about what he still hopes to get out of those relationships. He's come to realize just how long it's been since he's seen so many of his best friends, and so he's spent much of the last year flying them out to Arizona just to hang out for a few days. When he makes his daily 45-minute drive from Glendale back home to Paradise Valley, he picks out a friend he hasn't talked to in a while and calls them up, just to say hi and chat for a bit. "I want to hear people, man," he says. "I just want to spend time with people before we all drop dead of some weird cancer, you know?"
He thinks about his dad—the old man is 65 and not as strong as he used to be, and Arroyo has started to notice the loose skin hanging from his neck—and whether there's still enough time for the two of them to go back to Cuba together. He worries about how much of an ordeal it will be for his dad to travel. Will he be okay with Cuban food? Will his joints and bones be able to handle hours of travel? What if the bed at the hotel isn't comfortable enough?
And what about those friends? How much time is left before they become too worn down by life to truly enjoy it anymore? "I don't want to wait until people are kinda past their prime to get the goods out of 'em ... I wanna get my friends and capture them while they're still nimble enough to be like, 'We'll sleep on the floor, bro, who cares?'" He says this less than an hour after getting a text message from a buddy, informing him that a guy he knew in high school had just dropped dead in his kitchen at age 40. Nobody knew what the cause of death was yet.
---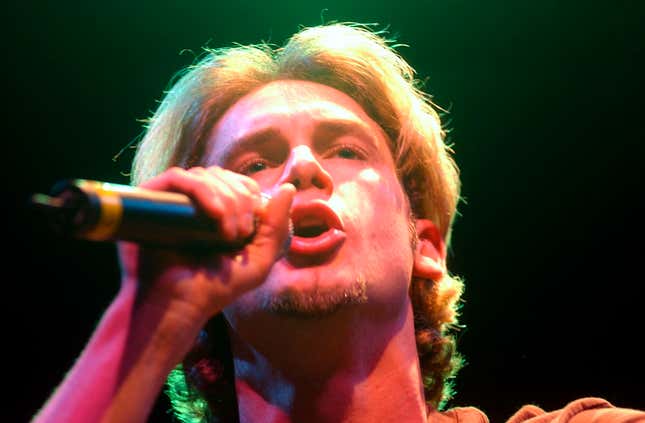 Arroyo sings at his CD release party in 2005. Photo via Getty.
---
He's started making more home videos, too. When he was younger, he never even took pictures, but he's recently become fixated on the fact that he won't look as young and bright as he does now for much longer. "The older I've gotten, the more sentimental I've gotten, too, and realizing that you do look amazing when you're younger," he explains. "You look back at pictures of yourself 20 years ago and you realize how fabulous you really looked."

These are the thoughts that keep Arroyo up at night, thinking about how he just can't die. He often wishes he never had to sleep, or that he could be 10 Bronson Arroyos at once.
Arroyo is far from the first 38-year-old man to become fixated on such things. Call it a midlife crisis if you want, but that descriptor evokes a sense of anxiety that doesn't really fit Arroyo. He's always been able to see where he's going.
He has plans. The first thing he's going to do when he retires is call up each one of his friends and ask them what is on their bucket list, because he's going to make sure each item gets checked off. If a friend wants to go skydiving, Arroyo will be there to jump with them. If another wants to swim with great white sharks, Arroyo will be right there in the metal cage. And if a bunch of friends want to do the same thing, he'll organize the whole trip on their behalf. "And I'll have a high school reunion that's actually worth a shit," he adds. "I need to do all of that. That is literally my number one thing."
After that, he wants to spend some time in L.A. with his musician friends and make a record. Then it will be time to find a place he wants to live, where he can build a house by hand, the same way he and his father built his current home in Florida.
He won't marry or have any kids, because he never wants to feel strapped down to anything the same way he was strapped to baseball. He always tells people that his goal is to maintain the freedom that he had when he was 15, and figuring out what to do for fun on a summer day was the biggest decision he had to make. "That freeness of go wherever you want, do whatever you want, let's have a good time—I don't see that in adults. I see them strapped by monetary things, by family, by terrible relationships. And I just refuse, man. I ain't doing it," he says.
Even without a family of his own, he doesn't foresee himself getting lonely. "I've got a good 100 people that I hang with. If I'm sitting on a porch, and I'm 85, and they're all dead, every one of them, I can always acquire new relationships. If I couldn't, though, it's all right," he says.
And what if something catastrophic prevents him from ever checking off those bucket lists, from living out his unencumbered life and making his way to that porch? Arroyo has a plan for that, too.
He's started making short videos for his closest friends, about 60 people. He sits down in front of the camera, and talks about what makes that friend so important to him. He might play them a song, or he might just talk, but he wants the person who eventually sees that video to understand how special they are. The videos will be kept in a safety deposit box, and when Arroyo dies, they will all be sent out to his friends.
"Can you imagine, man? I'm 45 years old and my plane goes down, and 60 of my people put this tape in the VCR, and they're like, 'What?! This dude is talking to me, from death, basically. He was thoughtful enough to think of that. And he gave me a check for 200 grand!' For me, it doesn't get any better than that. That is the highest of highs."
"I see them strapped by monetary things, by family, by terrible relationships. And I just refuse, man. I ain't doing it."
It's dark now, and Bronson Arroyo is still sitting by his pool, talking about baseball and killing time before some of his friends come over. He's grown much quieter than he was earlier in the day, and he's no longer wrestling with the idea of the future. All those thoughts that roll around in his mind all day, the ones that tug so hard at the corners of his brain that he can't sleep, have been put aside. Right now, he's thinking he might like to hit up the nearby casino.
He was never a gambler before his injury, but a year spent unmoored from the game he's dedicated his life to has left a lot of room for new experiences. On his first trip to the casino, his eye was caught by the roulette wheel, and so he decided to invent a game for himself. He pretended to be a bum who had to make $35 a day on the roulette wheel in order to survive.
He gave himself $100 to start out, and went to the casino every day with the intention of adding $35 to his bank. He bet small on the first day, grinding his way toward his goal over the course of a few hours. When he walked out, though, he had an extra $35 in his pocket.
"And so day two I go over there and I beat it: $35. Cool. Day three: I win like $100."
Then came the time to start pushing things, and so he began betting the maximum of $35 dollars on each roll. After those first two days of meager betting, Arroyo went back another 13 straight days—sometimes visiting twice a day—and bet heavy on every spin. At the end of those two weeks, he was up $13,300. "I was like, 'Dude, I can't lose!'" he says now.
So what's the secret? It's nothing special, really. Arroyo likes to bet on one number for 12 straight spins, then another number for the next 12, and so on. When he picks a new number, he always chooses one that hit in the last four or five spins. Arroyo estimates that this strategy wins him money eight out 10 times, and he says he usually leaves the casino at least $100 up.
There's no need to think too hard about the true efficacy of Arroyo's strategy, or how you'd probably get hosed if you tried it yourself; it matters as little as the absence of velocity and a devastating out pitch ever did. What matters is that Arroyo keeps walking out, unscathed and on the rise.
Art by Jim Cooke