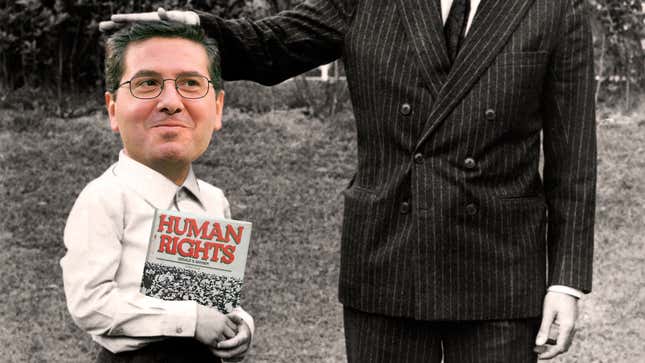 Vinny Cerrato phoned a Boston sports-talk station recently and tried to explain why Dan Snyder won't change his football team's now officially derogatory name. "It's not a money thing for Dan," Snyder's former sidekick claimed. Instead, Cerrato dropped some Freud on us.
"This is about his dad," he said, according to a transcript of the interview typed up by the great Dan Steinberg of the Washington Post. He continued: "That's the big thing. His dad was a historian and wrote books on it and that kind of stuff."
It's true: Gerald S. "Gerry" Snyder, who died in 2003, was a wordsmith by trade, an occasional journalist (United Press International, National Geographic) who wrote a number of non-fiction books: Are There Alien Beings?, Is There A Loch Ness Monster?, Test Tube Life, Let's Talk About Computers, The Right to Be Let Alone: Privacy in the United States, In the Footsteps of Lewis and Clark. For that last one, dad says he retraced the route with his family. "Danny as usual brought up the rear," he writes of a hike near St. Albans, Mo.
More relevant to his son's problems these days is a book called Human Rights, published in 1980. It's a children's book, only 60 pages long, but in light of Cerrato's comments about Snyder wanting to do right by the memory of his father, it makes for some interesting reading. The greatest honor he could pay Gerald Snyder's work would be to drop the "Redskins" nickname.
G/O Media may get a commission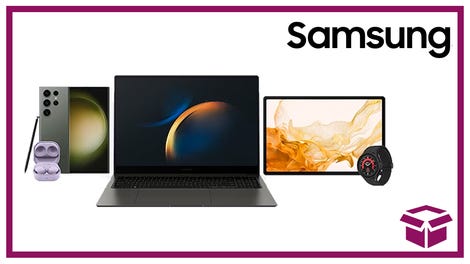 24 hour deals
Discover Samsung - Daily Deal
The preamble of Human Rights says the book addresses "the international status of civil rights and describes the struggles of women, racial minorities, children and the disabled to attain these rights in various countries."
And so it does, with Snyder giving short takes on various inhumanities of the era (with lots of big photos). He describes for his young audience, for example, political oppression in Idi Amin-era Uganda, speech suppression in Soviet Bloc nations while the wall still stood, and institutionalized gender inequities in Ayatollah Khomeini's Iran.
Naysayers would point out that Human Rights occasionally views the world through red, white, and blue glasses (mostly white). In a graphic labeled "Map of Freedom," countries where human rights abuses are known to take place are shaded in; the darker the hue, the likelier that that nation's citizenry is being silenced, oppressed, or otherwise abused by the ruling class. The U.S. portion of the map is filled in with as white a shade of pale as any country 'round the world, and an accompanying decoding key explains that our lack of shading puts the U.S. in the category labeled "Free." Snyder writes that "most observers agree that nowhere else in the world is there more freedom of expression than in the United States."
There's also a chapter on the various fights for civil rights in the U.S. (which on its own largely contradicts that "Free" designation we get in Snyder's Map of Freedom) that includes a ranty passage about "reverse discrimination." Snyder writes that the struggle to gain equality for "blacks and other minorities" can sometimes "result in a different kind of discrimination known as reverse discrimination."
"In trying to ensure a proper racial balance—say of students in a medical school or workers in an auto factory—whites are denied opportunities just because they're white," he writes. "This sometimes happens even when the white person is better qualified than the black or Hispanic applicant."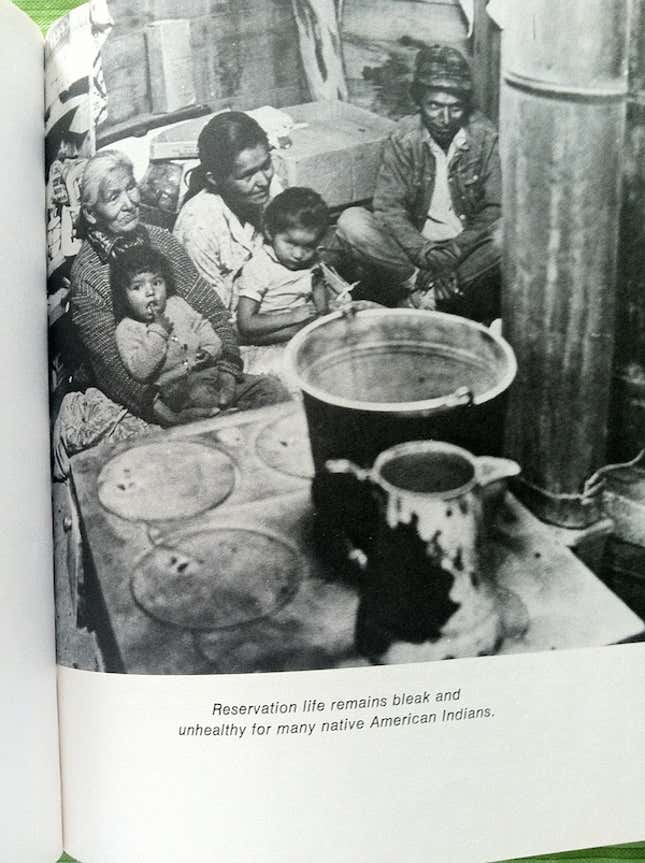 Gerald Snyder's certainly no bleeding heart, but his book makes clear that no one was dealt a worse hand than the folks at the root of the Redskins name squabble. American Indians' "cry for human rights has gone the longest unheeded," Snyder writes. After enduring the federal government's genocidal efforts and serial treaty-breaking, the author points out, the native peoples now put up with the hurtful slurs of their fellow Americans. An unnamed Indian tells Snyder that "some people still refer to us as 'bucks' and 'squaws.'"
Snyder connects these casual epithets to a more pernicious variety of prejudice. "The Indians are struggling for full human rights," he writes. "Their main problem: unemployment, with discrimination against them because they are so 'different.'" And though the name-calling is hardly the worst obstacle to prosperity confronting the native peoples, the Indian tells Snyder, it is "still a part of our unemployment problem."
Yet, Snyder the Elder does more than merely catalog man's inhumanity to man. He also points out ways that wrongs might be righted, and he lauds the righteous. In his author's note at the beginning of the book, Snyder specifically thanks the National Council of the Churches of Christ (also known as the National Council of Churches, or NCC). He later commends NCC for getting involved in rights battles in "the Philippines, South Korea, Thailand, Paraguay, Chile, Bolivia, Cuba, El Salvador, Argentina, South Africa and Iran."
To that list we can now add "Ashburn, Va.," home of Dan Snyder's football team. Just last month, the board of an NCC affiliate called the United Church of Christ (UCC) voted unanimously to boycott all things Redskins unless and until Snyder drops the name.
"Changing the name of the Washington NFL team will not solve the problems of our country's many trails of broken promises and discriminatory isolation of our Native American communities," said Rev. John Deckenback, CEO of UCC's Central Atlantic Conference, while urging parishioners to stay away from Redskins games and stop wearing licensed clothing. "However, a change in the nation's capital can send a strong message."
Gerry Snyder also thanks the United Nations for its work and devotes lots of space to the U.N.'s Commission on Human Rights. The U.N. has no military or legal authority to impose its goodwill, he explains. But the organization nonetheless rings the chimes of freedom whenever the U.N. utilizes what Snyder describes as its "only real weapon"—public relations—to call the world's attention to places where wrongdoers dwell.
In April, the U.N.'s Office of the High Commissioner for Human Rights issued a press release that "called on the owners of the Washington Redskins Football team, to consider 'the hurtful reminder that the term "redskins" represents of the long history of mistreatment of Native American people in the United States.'" In the statement, James Anaya, an American law professor and the U.N.'s special rapporteur on the rights of indigenous peoples, said that the nickname of Snyder's team's "is understood to be a pejorative and disparaging term that fails to respect and honour the historical and cultural legacy of the Native Americans in the US."
He also said: "Indigenous peoples have the right to the dignity and diversity of their cultures, traditions, histories and aspirations. Private actors also have responsibilities independently of the States' obligation to promote and protect human rights."
Put another way: "Most important, of course, we can—and must—respect the human rights of others." Dan Snyder's dad wrote that, in the last line of Human Rights.
Image by Jim Cooke