This week the Washington Post's Rick Maese published a harrowing, fairly devastating account of the recent hardships of former NFL fullback Kevin Turner, a leading plaintiff in the NFL concussion lawsuit, who is locked in a desperate battle with late-stage ALS.
Jokic? Embiid? The NBA MVP is obvious... right? | Keep it a Buck(et)
Among the excruciating details of Turner's daily struggle to survive—seriously, it's horrible; the poor guy's body is completely abandoning him—is the sobering statistic that NFL players are about four to eight times more likely to develop the neurodegenerative disease ALS (known as Lou Gehrig's disease) than members of the general public. ALS generally sets in between ages 50 and 60; Turner was diagnosed as a 41-year-old. His case is not unique among NFL players:
Former Ravens linebacker O.J. Brigance was 37 when he received the diagnosis. Former Raiders running back Steve Smith was 37. Ex-Saints safety Steve Gleason was 33. Former Vikings safety Orlando Thomas was 31. (He died last month at the age of 42.)

"Unfortunately, there will be more that come out in the next couple of years," Turner says. "I hope not, but I believe it will."
You should read the whole thing right away, but this passage in particular really drives home the profound shittiness of Turner's situation:
It's like ALS stole the levers that control everything above the waist — hands, arms, head — so Turner must rely on a communication system that is complex and constantly evolving. In addition to mouthing words, blinking eyes and tapping feet, Turner has a large posterboard with the alphabet spelled out. Someone holds it while he points to letters with his foot, spelling out his requests and needs.

Against one wall is a computer monitor, just a few sizes bigger than an iPad. The Tobii eye-tracker allows Turner to type, surf the Web, even check Facebook without using his hands. He instead focuses his eyes on the keyboard in front of him, moving his gaze from letter to letter, as the words slowly emerge.

"I'm a little slow right now," the machine's automated voice says.

In response to a question about how he's feeling, Turner's eyes and the computer's voice respond: "Hangin' in there like a hair in a biscuit."
G/O Media may get a commission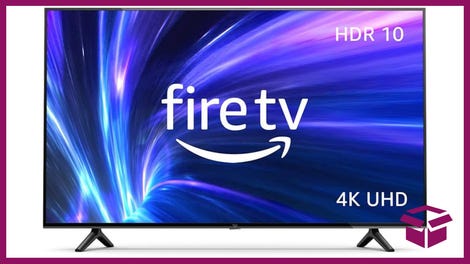 42% Off
Amazon Fire TV 50" 4K Smart TV
Yeesh.
This potential consequence of the game isn't very well understood and is pretty far removed from America's consciousness. Turner has offered his brain for study on the impact concussions may have had on the onset of ALS. Let's hope the guy has some happy times left before he makes that particular contribution.
Other Sports
12:55 p.m. — beIN Sports — La Liga Soccer: Elche vs Málaga
Elche are the worst side in La Liga, and Málaga are going to pound the bejesus out of them.
1:30 p.m. — ESPN3 — Women's College Basketball: Texas A&M (4) vs Texas (3)
Heavyweights! A clash of the titans! Probably!
2 p.m. — ESPN3 — Men's College Basketball: Maryland (17) @ Oklahoma State
Oklahoma State sits in first place in the Big 12 at 9-1. This should be a test for both teams.
2:55 p.m. — beIN Sports Español — La Liga Soccer: Athletic vs Atlético Madrid
Atlético are now 6 points back of Real Madrid and Barcelona at the top of the table. They'll keep pace with full points today, but their hopes of winning the league are probably dashed.
2:55 p.m. — beIN Sports — Serie A Soccer: Inter Milan vs Lazio
Inter have scratched their way to a positive goal differential, but their defense is leaky and they'll have a tough time scraping any points out of this one.
3 p.m. — ESPN2 — Women's College Basketball: Kentucky (8) @ Duke (13)
Women's college basketball is as good a reason as any to root for a humiliating home defeat for the Blue Devils.
4:30 p.m. — NBA League Pass — NBA Basketball: Grizzlies @ Cavaliers
The Cavs are scuttling a bit of late, losing three of four before a tight home win over the woeful Nets Friday night. The Grizzlies dropped a home game to the Bulls last time after ringing up six straight wins, and will be looking to avoid losing consecutive games for just the second time this season. This should be tight and competitive, with a sneaky-fun Mike Conley/Kyrie Irving point-guard matchup.
6 p.m. — NBA TV — NBA Basketball: Pistons @ Nets
Woof. The NBA needs flex scheduling, and now. How the hell is this dog the one nationally televised game of the day? The Pistons are garbage, and the Nets are the most dismally boring team to watch in the entire NBA.
6 p.m. — NBA League Pass — NBA Basketball: Suns @ Wizards
This one should be fun as hell. Goran Dragic vs John Wall! The Wizards have the NBA's second best home record (13-2), while the Suns are desperately clinging to the back of a playoff picture that is already, already turning up the heat on the middle of the Western pack.
7 p.m. — NBA League Pass — NBA Basketball: Pelicans @ Thunder
If Kevin Durant plays, this becomes must-watch television. Durant, Anthony Davis, and Russell Westbrook are perhaps three of the five most gifted players in basketball, and the Pelicans and Thunder currently both sit outside the West's top eight. The Pelicans laid an egg at home last night against Portland and look more and more like a team that will need a significant roster shake-up in order to vault upward from the middle of the Western Conference.
TV Reruns
1:12 p.m. — TV Land — Roseanne
A few hours of good-ass comedy to carry you through the early afternoon NFL schedule.
4 p.m. — FXX — The Simpsons
Episodes include "Simpsons Roasting on an Open Fire," "Bart's Dog Gets an F," "Dog of Death," and then a bunch of crap.
5 p.m. — TV Land — Golden Girls
The usual Sunday evening mini-marathon that replaced The Cosby Show on TV Land's schedule.
Movies
Noon — TNT — The Wizard of Oz
I'm one of those people who once watched this movie with the sound off and Dark Side of the Moon timed to play over it. What did I learn? Teenagers are dipshits.
12:15 p.m. — AMC — White Christmas
The longest two-hour movie you will ever watch. It has Bing Crosby singing "White Christmas," but then it also has Rosemary Clooney and Vera-Ellen singing "Sisters," which is exactly like someone ramming an oyster fork directly into your temporal lobe.
1:30 p.m. — BBC America — Star Trek V: The Final Frontier
What a bonehead sack of crap Sybok is. Screw Sybok.
1:45 p.m. — IFC — Caddyshack
I submit the Bishop's thunderstorm round is one of the five or so greatest sequences in comedy movie history.
2:15 p.m. — Sundance — 12 Monkeys
How the hell did they do that thing to Brad Pitt's eyes in this movie? They gave homeboy some serious googly eyes. I'm not totally comfortable with that dark science.
4 p.m. — BBC America — Star Trek VI: The Undiscovered Country
Playing Chang has got to be the low point of Christopher Plummer's career, but however much that part of the script blows (and oh how it blows), the part where Spock just flat-out ruins Kim Cattrall's shit with the epic mind-meld is great. Maximum mind-meldage.
4 p.m. — IFC — Heat
Welp, I know what I'll be watching at 4 p.m.
4:30 p.m. — SYFY — 30 Days of Night
It just never really happened for Josh Hartnett. This movie is probably as close as he came to acting well in a respectable flick.
5 p.m. — USA — Forrest Gump
It's sort of Robert Zemeckis's thing to make these big, bloated, overwrought flicks that ultimately have, like, two grown-up, thoughtful, memorable scenes. So much of Forrest Gump is heavy-handed sentimental junk.
5:30 p.m. — FX — Looper
Not a particularly memorable movie, but smart, well-made, and engrossing.
6:30 p.m. — BBC America — Star Trek II: The Wrath of Khan
Part of BBC America's day-long Star Trek marathon.
7 p.m. — LOGO TV — Aliens
"GAME OVER, MAN! GAME OVER!"
7 p.m. — VH-1 Classic — The Blues Brothers
Dan Aykroyd's real-life craziness is kind of a bummer and can make watching his best stuff a little disorienting.
7:30 p.m. — abc Family — Home Alone
Home Alone is like two movies, crammed into one. The first is a totally likable story of an adorable little kid who sings to himself and is afraid of the furnace, trying to survive alone in a big house for a few days around Christmas. The second is a horrible mean-spirited pile of shit story in which all humans are awful, including a little kid who gives the pizza guy a 20 cent tip and then chases him off with the threat of violence before engaging in some kind of ugly home-defender's wet dream sequence. I'm pretty sure every kid who sees Home Alone is completely intolerable for the following 18 months.
8 p.m. — FX — Prometheus
Ha ha, science fiction nerds, Prometheus is awesome, and you only hate it because of your feeble imagination! I laugh at you! Ha ha!
9 p.m. — Spike — Training Day
It's a wildly uneven movie, but it has some seriously cool sequences, and hot damn is Denzel Washington spectacular.
9 p.m. — BBC America — Star Trek III: The Search for Spock
Surely this is the best of the odd-numbered Star Trek movies.
Merry Christmas, jerks.