Since the dawn of time, it's been mankind's dream to own the Sports Almanac from Back To The Future Part II. If one could know the result of a sporting event beforehand, one could make untold riches by gambling on it. While the Novikov self-consistency principle — or perhaps Calvinism — means this can't happen, what if you could wager on an event with a predetermined outcome? Welcome to the world of betting on pro wrestling.
A "soap opera that entertains millions," Linda McMahon said of the WWE. You won't find a place to bet on whether Stefano's evil plan will succeed on Days of Our Lives, but thousands of people were able to put money on The Miz retaining his WWE championship against John Cena at WrestleMania. (One early line had The Miz at +700, so if you believed in him, you made out all right Sunday.) But there's one indisputable fact: There are a certain number of people who knew for sure that The Miz would win.
Wrestling has long acknowledged that there is a curtain, even if they are hesitant to draw that curtain back. But we've all known from childhood that wrestling isn't "real," isn't objectively determined in the ring by two fighters and their physical skills, aided by the occasional foreign object or outside interference. It's "sports entertainment," a winking term that signifies they know we know.
That's not necessarily a barrier to wagering, says Adam Young, the head oddsmaker at Bodog. "Maybe it's scripted and maybe there's a couple people who know what's going to happen," he says. "But when you're taking bets on what color the Queen's hat will be at the Royal Wedding, some people probably know that too."
In the surest sign that pro wrestling betting has arrived, Bodog set odds for WrestleMania for the first time last week. But it's nothing new for the burgeoning field of "entertainment" betting — Young says prop bets for Dancing With The Stars and American Idol have pulled huge and unexpected numbers of bettors. He puts professional wrestling squarely in that camp rather than with MMA or boxing.
G/O Media may get a commission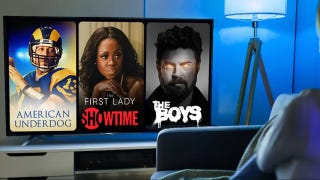 UNDER $1
99¢ Prime Video Channels
"It's always more tricky when it's not stastically based," he says. "The lines are iffy, you can't do a ton of research before making your wagers. but it's a lot of fun, and that's the purpose of it."
It's fun, yes, but there's also money involved. Not so much at the more established sites — they're keeping limits low on wrestling bets for now, usually between $25 and $50, until they see how it goes — but at any number of online sports books of varying trustworthiness.
As you'd expect, some enterprising souls sought an edge. One message board poster asked:
"There used to be this newsletter that would tell me two days before the event, what would happen. I'm sure it still exists. Where can I play these?"
Others played it like inveterate gamblers, "debating over how the lines were likely to move."
It's the possibility of gaining that edge on a very unscientific event that has oddsmakers and the WWE both uneasy.
"A touchy subject," says Jay Kornegay the director of the sports book at the Las Vegas Hilton. The Hilton, like every other brick-and-mortar sports book, isn't allowed to take bets on pro wrestling; it's prohibited by the Nevada Gaming Control Board. (Offshore-based betting websites, i.e. all of them, operate in a more nebulous legal realm.)
"Anything that's predetermined, we're not going to be able to touch," Kornegay says. "We have to stick to the field of play and ... let's say 'real' sporting events."
That could be changing. Kornegay says he's seen a lot more leeway on wagering on MVP and other awards in recent years, and those results aren't objectively determined. But for each novel type of bet, they have to submit it to the gaming board, and "with something like wrestling, it might not even be worth the legwork we'd have to do."
For example: getting the WWE to clarify how well-guarded their secrets are. A spokesperson was more than happy to return a reporter's phone call while basking in the afterglow of their biggest event of the year. The same spokesperson became reticent when asked about the scripting process.
"The WWE thrives on spontaneity, and our fans expect nothing less than the unexpected every evening," their emailed statement read. "We'd be doing them a disservice if story arcs were predictable, and with nearly 60 years in business, we've learned how to keep the element of surprise alive."
That entails keeping almost everyone in the dark, says one wrestler with a couple of WWE stints on his resume.
"We'd know the general contours of our own storyline, but not each twist or turn until right before" the wrestler says. "Anyone else's matches? Forget it. We knew just as much as the message boards."
Those layers of secrecy involve keeping the details of a storyline or match within a small circle — the top bookers and writers, and maybe the performers themselves.
"Maybe a total of five people know for sure until a few hours before the show," says our wrestler. "For the main event, it's likely The Miz and Cena had gone over a few spots they wanted to hit during the match, but weren't told who was going to win, and how, until Sunday morning."
This is done to preserve secrecy, something the WWE has done a great job with in the internet age. Gambling apparently isn't even an afterthought in Stamford, although talent or staff could surely be disciplined under their standard confidentiality clauses. But we can't help but wonder what's to stop a WWE writer telling a cousin to put it all on The Undertaker.
But then, we can't help but wonder what's to stop one of the Academy Awards' independent auditors from telling a cousin. Or Christina Aguilera putting a million dollars on the over for her Super Bowl national anthem length, and hamming it up.
Oddsmakers are still learning as they move toward making pro wrestling a regular on their slate. Setting the lines for WrestleMania was a challenge for Bodog, a responsibility delegated to the wrestling fans in the office.
"Guys in the office had a great time setting the odds, arguing back and forth," Young says. "They watch it, they decide who they think makes a more logical winner. Put a little bit of opinion in there too, because why not."
Admitting that the odds were something of a shot in the dark, Bodog saw a ton of movement on their lines (much more than the typical sporting event) and adjusted accordingly.
"We were going back and forth on one match," Young says. "The talk in the office was that Edge was going to lose his belt, so he opened at +350. But lots and lots of people were taking that action, and he went all the way down to +200. Then the money started going the other way, and it ended up closing back where it started, at +350."
There weren't millions to be made betting this WrestleMania, nor did Bodog clean up. They say some favorites won, some dogs, and the night ended up as close to even as you can get.
But a growing number of folks put their money on The Miz, and walked away winners. And if they say they knew it was going to happen, they're either liars or McMahons.