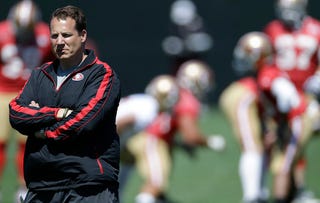 The Raiders are in the market for a head coach. Their list of candidates, however, is proof that owner Mark Davis is his father's son.
Mike Garafolo of Fox Sports reported last night that Oakland was planning an interview with Eric Mangini, currently an assistant for the 49ers:
Mangini's career record as a head coach is 33-47 with one playoff appearance—a loss. But wait, there's more! Jack Del Rio, who had two excellent seasons with the Jaguars but holds a career head coaching record of 68-71, and Pat Shurmur, who went 9-23 in two seasons with the Browns, will also get interviews. Even interim coach Tony Sparano, who produced a record of 32-41 with the Dolphins and Raiders, will get to make his case to stay where he is. This list is clear, however: The Raiders are going to screw this up.
These are all terrible head coaching options. The Raiders are not shaking up any foundation, and right now, they can build a new one with a sparkly new coach. But they're choosing to look at proven failures.
Oakland needs to break the cycle of coach shuffling. Look at some college coaches. Talk to one NFL coordinator who isn't a failed head coach. Listen, if you're going to fail, fail originally. Don't fail with fucking Pat Shurmur.
The Raiders have some talent right now. That's not a joke. Derek Carr is a competent quarterback. Khalil Mack was an outstanding linebacker in his first season. Latavius Murray could help their running-back woes. This is the perfect time for someone new, and the Raiders don't seem to be taking advantage of the opportunity.
Photo: AP