Twitter reports that the Super Bowl generated 24 million tweets last night. Most of them were terrible, so I just looked at the ones that said "fuck."
I plugged my program, "Fuck_Machine.rb," into Twitter's live stream, grabbing every tweet that contained both "fuck" and a term referencing either the Ravens or 49ers. Fuck_Machine dutifully recorded 226,309 tweets between 6:34 p.m. and 11 p.m. Eastern time, about one percent of Twitter's estimate of the total. The actual tweet number was a bit higher, because Fuck_Machine could only handle 50 tweets every second.
The Ravens won the game, but they won the fuck battle as well: Baltimore inspired 141,064 "fuck" tweets, compared with 108,715 for San Francisco (23,470 tweets contained references to both teams). The tweets ranged from the aggressively negative:
To the profanely exhortative:
G/O Media may get a commission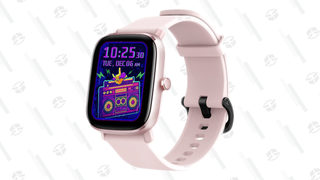 20% Off
Amazfit GTS 2 Mini Smart Watch
Get fit
Has built-in Alexa so you can ask questions and carry your smart assistant around with you; it has a battery that can last up to 14 days, has over 70 different sport modes, is 5ATM waterproof, and tracks stats like your heart rate, calories burned, sleep, and more.
Here's a graph of how it played out during the game (the vertical axis represents tweets per minute):
The letters represent important moments in the game. Here's a fuck-based Super Bowl recap, showing who gave a fuck and when.
A: The Ravens score a touchdown, putting them up 7-0. 2,543 fucks are given at 6:41.
B: The 49ers connect on a field goal, 7-3. 635 fucks are given at 6:54.
C: Anquan Boldin makes a great catch. 706 fucks are given at 7:04.
D: San Francisco fumbles. 712 fucks are given at 7:13.
E: Touchdown Baltimore, 14-3. 2,254 fucks are given at 7:22.
F: Colin Kaepernick throws an interception and a fight breaks out. Fuck volume stays at over 1,000 from 7:29 to 7:33.
G: The Ravens attempt a fake field goal. 967 very confused fucks are given at 7:36.
H: Joe Flacco connects with Jacoby Jones on a 56-yard touchdown, 21-3. Fuck_Machine breaks for the first time at 7:49, with over 3,000 tweets registered during that minute. Overall fuck volume remains over 1,000 until 7:54.
I: David Akers kicks a field goal to close out the half, 21-6. Very few football-related fucks are given during halftime.
J: The second half starts with an 108-yard kickoff return by the Ravens. Fuck_Machine breaks at 8:33, and over 2,000 fucks per minute are given between 8:32 and 8:35.
K: The power goes out at 8:38. Very few people give a fuck about football for the next 45 minutes.
L: The power returns at 9:10. Fuck volume is a paltry 345.
M: The 49ers score their first touchdown, 28-13. 1,119 fucks are given at 9:25.
N: The 49ers quickly score again, 28-20. Fuck volume reaches 2,974 at 9:33. People are starting to give a fuck again.
O: Ray Rice fumbles. 2,856 fucks are given at 9:41.
P: The Niners pick up another field goal, 28-23. Fuck volume reaches 1,876 at 9:45.
Q: Justin Tucker and the Ravens respond, 31-23. 511 fucks are given at 9:58. No one really seems to give a fuck about field goals.
R: San Francisco scores another touchdown but fails to convert the two-point attempt, 31-29. 2,544 fucks are given at 10:04.
S: Baltimore kicks another field goal, 34-29. Fuck volume is 529 at 10:22 and sinks to 348 at 10:26.
T: The 49ers come within ten yards of the goal line. 1,261 fucks given at 10:28.
U: San Francisco turns it over on downs. 2,427 fucks are given at 10:35, and fuck volume stays over 1400 for the remainder.
V: The Ravens take a safety, 34-31. 1,934 fucks are given.
W: Time expires and the Ravens win the game, 34-31. Fuck_Machine breaks, with over 3,000 fucks per minute given between 10:45 and 10:50.
Join us next year, when we'll try to figure out whether anyone gave a shit.