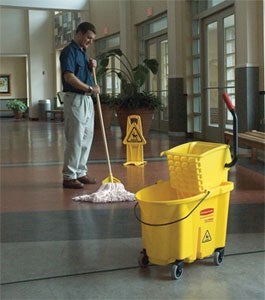 Many years from now, when we all have personal jet packs and Brett Favre finally retires, mop jousting will be as commonplace at buttered toast. ESPN will have four channels devoted to it, all hosted by Mike Golic. Your kid will be in a mop jousting league. Every family will own at least seven mops. Your kitchen floors, of course, will be spotless.
But no matter how big mop jousting becomes, let us never forget its humble beginnings.
Kyle Perry, a track star at Brigham Young, was arrested last week after getting out of his car and striking a pedestrian — with a mop. Perry's vehicle apparently got too close to the man, who was pushing a bucket with mops across a street June 14, witnesses told police. "Angry words were exchanged," Provo police Capt. Cliff Argyle said. "Mr. Perry exited his vehicle and grabbed a mop out of the pedestrian's mop bucket and started to strike the pedestrian. The pedestrian grabbed another mop and used it to defend himself," he said. "Eventually the pedestrian was shoved over a planter box and fell onto his back."
Police arrived (what's the code numbers for "mop attack?") and arrested Perry. But our story isn't over.
Perry is filing a complaint against Provo police, claiming that he was unfairly tabbed as the aggressor. We eagerly await the gavel-to-gavel coverage by Court TV's Nancy Grace.
That's No Baton: BYU Track Star Arrested In Mop Fight [Yahoo Sports]
Y. Runner Filed Complaint With Provo Police [Deseret News]
BYU Track Star Mops Up Pedestrian [Lion In Oil]