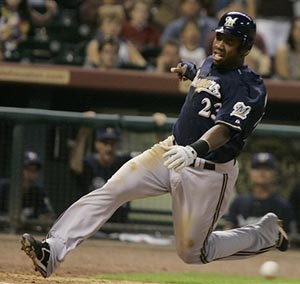 • Ha-Ha, My Win Cancels Out Your Win. Looks like the NL Central is the lone division that knows how to orchestrate a damn pennant race. The Chicago Cubs won 6-2 over the Colorado Rockies, and they remain just ½ game behind the Milwaukee Brewers. The Brewers also won, but with a smaller margin of victory, and they needed more innings to do it. Yet the wins are equal in nature. Doesn't seem fair, you say? Well that's because you're a Cubs fan and looking for any excuse that allows the Cubs to scratch their way into first place. But we all agreed upon these rules over 100 years ago. It's out of my hands.
• Final Score? Or City Unemployment Rates?. The bats were relatively silent in the Oakland A's 16-10 win over the Detroit Tigers, namely because the bats were drowned out by this loud sucking noise emanating from the Tigers bullpen. Jack Cust hit a grand slam for the A's — part of an 8-run sixth inning — and wound up with 7 RBI in all. In fact, the only Tigers reliever who pitched a scoreless inning was Fernando Rodney. Go figure.
• Go Phil Hughrself. Cue the "Here come the Yankees" headlines. Wait ... they've already begun? Cue nothing then. The 21-year-old Phil Hughes shut down the Cleveland Indians lineup, allowing just one run over six innings in a 6-1 victory. Wilson Betemit did not contribute to this win.
• No, No, Throw Toward Your Teammate. After the first inning, the Philadelphia Phillies and Atlanta Braves were on pace to finish the game tied 36-36. This didn't happen, and I'm out a grand. The only other time home plate was stomped on was in the seventh, thanks to a throwing error. The Phillies won 5-4, vaulting ahead of the Braves in the NL East. (For second place.)
• Fun Fact: They Also Play On The West Coast. A pitchers duel between the Minnesota Twins (Scott Baker) and the LA Angels (Kelvim Escobar) ended in Baker's gun misfiring, prompting Maicer Izturis to hit his first ever grand slam. Isn't that how it always goes? The Angels won 10-1.