On Sunday, U.S. Figure Skating gave the final spot on its three-member women's Olympic team to Ashley Wagner, even though she had fallen twice the previous day during an "embarrassing" skate at the national championships in Boston. The other selections were Gracie Gold, the newly crowned national champion who gave ecstatic performances at nationals, and Polina Edmunds, the 15-year-old just up from the junior ranks, who landed in second place at nationals after both of her programs. But Wagner, a two-time national champ, was the story. Controversy bloomed. Dark conspiracies were bruited. Did the invisible hand of NBC knock Mirai Nagasu, bronze medalist in Boston, off the roster in favor of a telegenic prefab star? Was it racism?
Ohtani has the WBC, but will Mike Trout ever lead the Angels to a championship? | Agree to Disagree
Here's another theory: It was pragmatism, of the kind that eventually wins medals. I tended to agree with the sentiment expressed by The Skating Lesson's Dave Lease. "It's what Martha would've done," he posted to Facebook.
The Martha he was referring to is Martha Karolyi, the grand doyenne of U.S. women's gymnastics, figure skating's cheerier summer sister. Since 2001, Karolyi, along with a selection committee comprising two other members, has chosen the world and Olympic gymnastic teams. They do not base their decisions solely off the results at nationals or the Olympics, as was done in the past; they take into account other factors, such as competitions throughout the year, injuries, even national team practices at the training center in Texas. Since she took over the program, the U.S. went from winning no medals in significant international competition from 1997-99 to winning the lion's share of medals in major meets, including three consecutive all-around titles and the team gold in 2012. Hers is a rational, evidence-based approach to choosing up teams in an inherently subjective sport, even if the evidence isn't known to the public and even if the choosing is done behind closed doors by an unaccountable elite. The method flies in the face of people's ideals about sports—notions about fairness and the perfect meritocracy of competition—but it also happens to be the best way.
G/O Media may get a commission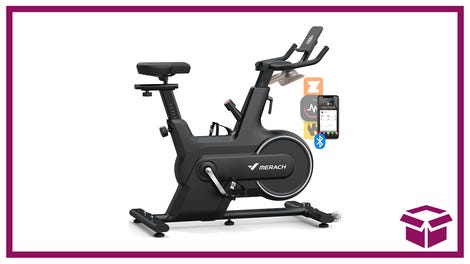 14% off + Coupon
Merach Indoor Cycling Bike
Wagner was a Karolyi kind of choice by U.S. Figure Skating. She had been the most successful U.S. skater of the past two years, winning a bronze at the most recent Grand Prix final. And it was her fifth-place finish at the 2013 World Championships that earned a third spot for the Americans in Sochi. Without Wagner's (and Gold's) contributions, Nagasu wouldn't have had a spot to vie for. She would've found herself in the same position that Wagner was in back in 2010—in third, on the outside looking in. It seems plain that despite a couple of poor skates, Wagner deserved that third spot on the strength of her previous contributions and her body of work. (But let's return to the question of "deservedness" and sports in a bit.)
"If you look at Ashley Wagner's record and performance, she has the top credentials of any of our female skaters, USFS President Patricia St. Peter told reporters. "We don't use a single competition as the sole measurement for who should participate in the Olympic Winter Games."
The minor uproar that this selection caused was due to the novelty of the method. For years, figure skating used the nationals as a sort of Olympic trial, even if the event never had any such formal designation. "The United States Figure Skating has had the ability to use selection criteria to choose the team for some time," Lease told me in an email. "They have simply never done in this way it until now."
Up until this year, substitutions were made only because of injury. Famously, Nancy Kerrigan replaced Michelle Kwan in 1994 after getting clubbed on the knee. Kwan was named to the team in 2006 before withdrawing at the games and ceding her spot to Emily Hughes. "This is the first time that a non-injured athlete has been chosen due to having a poor result at the National Championships," Lease told me in an email. "It happens regularly in other countries, but it is unprecedented in the United States."
In this respect, at least, American figure skating is entering its Karolyi era. Before Karolyi took the reins, only injured gymnasts could petition onto teams, but little allowance was made for someone who'd had a bad competition at trials. This approach could be absurdly rigid. In 1988, the U.S. snubbed Dan Hayden, their best male gymnast, when he underperformed at Olympic trials. He went to Seoul as the alternate.
Had the more flexible selection procedure not been in place in 2011, it is doubtful that Gabby Douglas would've won Olympics gold the following year. At the 2011 nationals, she put up a disastrous performance—falls on more than one event, two balked attempts at her beam dismount—but was named to the training squad for the world championships. She ultimately competed (and competed very well) for the U.S. in Tokyo. That experience in 2011 laid the groundwork for her 2012, when she not only won the Olympic all-around but was also the only American to compete on every event during the team final. It wasn't "merit" that got Douglas on the 2011 team, but potential.
Potential, of course, is not always realized. Nagasu is a prime example of that in figure skating. She made the 2010 team and placed about as high as she could've hoped given the competition—fourth. After those Olympics, she was expected to continue to improve and eventually to win, but she did neither. She has only now returned to form, albeit without the triple-triple jump combination that is de rigueur in the women's competition. Nagasu's performance at nationals could've been a sign of more great things to come, or it could've been the high point of her season. Similarly, Wagner's skates at nationals could've been flukes. Or they could've been a sign of a more sustained downturn. Whether you choose the team based solely on results or on other criteria, it's a gamble either way.
Truth be told, none of the top four American skaters, regardless of how you shuffle them, has a very good chance at medaling in Sochi. The international field is simply too strong. It would take a personal best coupled and luck for one of the American ladies to break into the medals.
That's become a typical scenario for the U.S. The American women have not won a medal in world or Olympic competition since 2006, when Kimmie Meissner won the world title. While the U.S. women haven't tumbled far, they now finish consistently out of the medals. "The American ladies were the dominant force in figure skating for four decades," Lease wrote. "Over the last eight years, there has been a high level of panic after our ladies stopped earning medals. The same thing happened in gymnastics during the late nineties. Our current camp system [in gymnastics] was instituted because our ladies stopped producing international results."
The new selection method might be a response to the medal drought. Martha Karolyi, as we've noted, tends to give chances to young gymnasts with promise. (But woe unto you if you don't seize the opportunity and run with it.) Presumably, that was at least part of the rationale behind the selection of Polina Edmunds, the 15-year-old who placed second at nationals. Nagasu supporters have correctly observed that her inclusion on the team is problematic if U.S. Figure Skating is considering a "body of work." After all, she just came up from the junior ranks, and her results, while promising, weren't particularly impressive. She placed fourth at the Grand Prix junior final. Nagasu, on the other hand, is an Olympic veteran and has won some Grand Prix medals since 2010. Surely Nagasu's body of work is more impressive than that of Edmunds.
And it is. But it seems that the USFS is looking to the future with Edmunds, hoping to start building her reputation as soon as possible—and individual reputation matters a whole lot in figure skating—in the hopes that she'll soon start winning medals internationally. As with Nagasu, there is no guarantee that this will work, but if the U.S. hopes to regain its position in figure skating, it seems wise to encourage the young talent. The U.S. has similar hopes for Gold. And as for Wagner, if she can get herself back on track and land that tricky triple-triple, she might be a factor.
It's not hard to work out the logic behind the individual choices: Wagner is the United States' best shot at a medal this year, and Gold and Edmunds represent the future. The mistake lies in looking for a consistent application of clear criteria. Here's Philip Hersh, the Chicago Tribune's longtime Olympics writer:
Was there a formal vote? If so, what was the tally? We apparently will never know, as USFS officials were as vague about such procedures as they were in creating selection rules that allowed body of work over the past year to carry a significant but nonspecific amount of weight.
Karolyi, when selecting teams, isn't looking to appease the folks who expect transparency in the process. She's certainly not trying to figure out who deserves a spot the most. After all, every elite athlete works hard and on some level "deserves" a spot. Karolyi is trying to put together a team that will win. The execution of this strategy can often seem unfair, all the more so because the sport is judged. As in gymnastics, the subjective nature of the sport makes athletes, coaches, and fans cling more tightly to notions of fairness. Both sports have made efforts at introducing more "scientific" scoring systems, but in the end subjectivity still rules. Who wins and who loses is determined by a group of unaccountable elites. Why should the decision about who participates and who doesn't be any different?
Assuming U.S. Figure Skating doesn't bend to the outcry, this is how things will be in the "What would Martha do?" era: situational pragmatism yielding controversy and accusations of corruption and double-dealing—and, maybe gold.
---
Dvora Meyers is a freelance writer based in Brooklyn. Her work has appeared in The New York Times, Slate, Tablet and elsewhere. She writes about gymnastics and Judaism at Unorthodox Gymnastics, and she is the author of Heresy on the High Beam: Confessions of an Unbalanced Jewess. She blogs about woman-y stuff over at The Anti-Girlfriend.
Photo via Getty.