Everyone expects to see a certain number of lifeless offensive possessions and back-rimmed jumpers in any college basketball game, basically for the same reason you don't expect to see the most crisply-turned double plays at a minor league ballgame, and it's really not surprising to see more of those bad things during a national championship game in which each team is facing their toughest competition of the season. Sports fans accept this and are generally prepared to deal with it, but it was easy to lose patience during last night's championship game due to the officiating crew's insistence on muddying up the court.

Forty-four fouls, man! There were 44 goddamn fouls called during last night's game, and 27 of those whistles were blown in the second half. Blame the players for shooting a combined 34 percent from the field, but I imagine it's hard to get into much of a rhythm when a foul is getting called at a rate of more than once per minute. Some of the calls were excruciatingly bad, too, like this one on Gonzaga's Zach Collins:
That was the fourth foul on Collins, who was one of the best players on the floor for Gonzaga and ended up fouling out of the game with five minutes left. Both teams had to play a large portion of the second half with key players in serious foul trouble, and that only served to make what was already an ugly game a truly grotesque one. And then, as if on a mission to make as many fans as angry as possible, the refs swallowed their whistles during one of the most pivotal moments in the game:
G/O Media may get a commission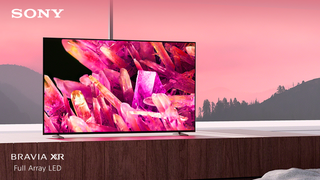 $400 off
Sony 55 Inch 4K Ultra HD TV X90K Series
That's Kennedy Meeks and and Silas Melson battling for a lose ball in the final minute of the game, when the score was 66-65 in favor of the Tar Heels. Meeks's hand is clearly out of bounds, which means the Zags should have gotten the ball down one with 50 seconds left to play. Instead, a jump ball was called, and with the possession arrow pointed toward UNC, the Heels got a free possession and another bucket, widening their lead to three. Gonzaga still had a chance to make something happen with 27 seconds left, but we all know how that turned out.
It's hard to imagine a bigger letdown from last year's championship game than what we got last night. Again, that's just how college basketball goes—for every classic matchup you're going to get a Butler vs. UConn rockfight or Justin Jackson bricking nine threes. The least the refs could do is make an effort to keep a bad and forgettable game from being a memorably disgusting one.