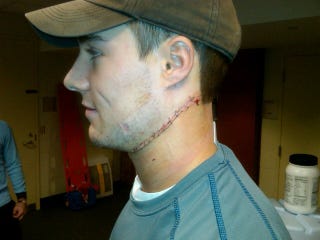 Because no one reads the newspaper, and SportsCenter's anchors are too perky for this early in the morning, Deadspin combs the best of the broadsheets and internets to bring you everything you need to know to start your day.
•This is Miami (OH) player Will Weber, just two days after an errant skate sliced open his neck, severing an artery. A hundred stitches and 15 staples later, and he looks like he belongs in The Nightmare Before Christmas.
•I don't know if you heard, but the Miami Heat picked up a couple new players. They sure must regret trading Michael Beasley though, because the new guys didn't lead them past the Celtics. If the Miami internet commenters are to be trusted, it's all Spoelstra's fault.
•Boise State topped Louisiana Tech, but it wasn't dominating, and exposed a major flaw in the Broncos that could prevent them from reaching No. 1. Mainly, that they played Louisiana Tech while Auburn played LSU.
•John Daly says he played better when he was drunk. Well, sure, if he's talking about Big Buck Hunter, we all do.
•Some Baltimore nuns are auctioning off a rare Honus Wagner card, and they're shocked that such a little useless thing could be worth so much money. Meanwhile, Jesus's foreskin is considered priceless.
•A Dallas attorney petitioned for a continuation of a case he's scheduled to work today, because he's got World Series tickets. Bonus: drunken whipped-cream covered Josh Hamilton is mentioned in the motion.
•••••
Happy Wednesday. Bagelsbagelsbagels.