The Houston Rockets officially announced their acquisition of Chris Paul at a press conference yesterday, and GM Daryl Morey was pretty explicit about what the team's goals are for next season. Trading for Paul might just be the beginning.

Here's what Morey had to say, via ESPN:
It's a weapons race in the NBA, and you're either in the weapons race or on the sidelines. We felt with Harden in his prime, Chris Paul in his prime, this gives us a real shot to chase the juggernaut teams that are out there and puts us right there with them.
Whether or not you believe Paul will make Houston better, it's hard not to appreciate the Rockets' refusal to succumb to the Warriors' chilling effect. A lot of teams are going to spend the next few seasons punting the ball while trying to wait out the dynasty in Oakland, and the teams that want to mount real challenges are going to have to make bold decisions to do so. Were the Rockets, as they were constructed on Tuesday, a real threat to the Warriors? Not really! Are they any more of a threat now that Chris Paul is there? Who knows, but at least they are trying something.
And Houston might have another card or two to play this summer. Multiple reports have the Rockets determined to get Paul George or Carmelo Anthony to join up with Paul and Harden. Anthony could be had if the Knicks decide to buy him out or accept a let's-just-get-this-over-with trade; George would be a harder trick to pull off as the Rockets already used most of their valuable assets acquiring Paul.
G/O Media may get a commission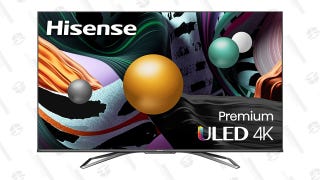 Save $350
Hisense ULED 65" Android 4K HDR Smart TV
The irony is that trading for Paul, whose presence should make Houston a more appealing destination for Anthony and George, may have also kneecapped the Rockets' ability to trade for either of those guys. Paul could have opted out of the last year of his contract with the Clippers and signed with the Rockets this summer—assuming the Rockets would have been able to make another move to clear enough cap space—but that would have cost him the ability to sign a five-year, $205 million extension next summer. Paul had to opt-in with the Clippers and then be traded to keep that contract on the horizon, because the Rockets would have only been able to offer him a four-year, $152 million deal in free agency.
This is a the tightrope a team has to walk if it wants to convince multiple superstars to join up and take on the Warriors. It's likely that Paul only agreed to come to Houston if the Rockets promised to sign him to his mega-extension next summer, and that cost them valuable trade chips. George and Anthony may be much more willing to play in Houston now that Paul is there, but why would the Pacers and Knicks choose to deal with a team that now only has bargain-bin assets to trade?
This could all very easily blow up in the Rockets' faces. Maybe they won't land George or Anthony, and maybe Harden and Paul simply won't function together. Then they'll likely end up a team with a disgruntled superstar in his prime and an aging, grouchy point guard signed to a crippling five-year contract. This scenario is just as, if not more, likely than the Rockets coming out of this summer as a legitimate juggernaut that can take on the Warriors. Such are the risks that must be taken when you're trying to climb this particular mountain.