Okay, so, here we are, eight games into the NBA season, and the Sacramento Kings are 5-3. Sure, it's early, and sure, the Kings have had decent starts before only to collapse into piles of shit. All the usual caveats apply, and the Kings could very easily turn back into a pumpkin when the clock strikes midnight and either trade the proverbial farm for Kevin Love tomorrow or lose 20 straight games.
But the horizon of an even more outlandish possibility has become clear over the past week or so: The Kings might actually be Fine. Probably not Good, but Fine, which, for the Kings, would be a seismic upgrade. Some bozo said they would be "Apocalyptically Bad," and they are most certainly not that.
The Kings have now won four on the trot, and four of their five wins have come against teams who are actively trying to win this season. They have played the seventh-hardest schedule in the league. This is their first such streak since the late DeMarcus Cousins era, which, given how young and green they were last season, is a legit reason for to feel good about this weird crop of 20-year-olds. As a Kings fan, my instinct is always towards pessimism. The bottom seems liable to fall out at any time, because it always has. And yet, none of the stats show that this hot start is all that fluky.
The most obvious turnaround has been how fast the Kings are playing. They finished dead last in pace last season at 94.9 possessions per game, and now they're all the way to third at 105.6. Some of that uptick can be chalked up to Zach Randolph, the highest usage player on last year's team, not stepping foot on the court yet this season, but a larger reason is because the Kings are De'Aaron Fox's team now. Fox showed flashes last year, though he struggled in the way that most young point guards struggled. He could get to the rack, but couldn't finish there or effectively draw fouls. Ask John Wall, there's a difference between being fast and using your speed correctly.
This season, Fox is taking four more free throws per game, shooting 13 percent better at the rim, and he has a flashing green light to run straight at the rim when he gets an inch of daylight. The Kings are up to fourth in fast-break points, and Fox screams out in transition as fast as any other point guard in the league. He's putting up 17.5 points, seven assists, and a steal and a half so far this year. This is so much more fun to watch than plodding-ass Zach Randolph and George Hill.
Fox is clearly the man at point guard, and Willie Cauley-Stein has established himself as the team's best big man (Harry Giles has thus far been total ass, another thing I was wrong about.) Cauley-Stein's been an enigmatic player in his four years in Sacramento, clearly possessing all the athleticism and physical attributes of a potentially dominant big man yet none of the awareness or basketball skills of such a player. For such a big, springy man, he was an awful rebounder for three seasons.
G/O Media may get a commission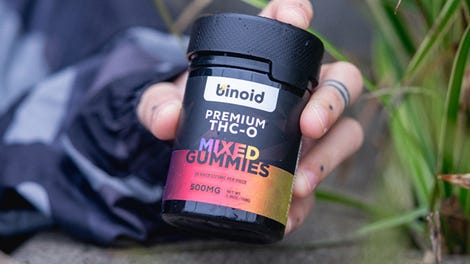 25% Off + Free Shipping
Binoid THC-O Gummies
This year, he's taken a huge step forward, putting up 17.4 points and nine boards, and becoming a big problem inside for opponents. Cauley-Stein's 26 and 13 helped sink a determined Miami squad on Monday and take Hassan Whiteside completely out of the game. The increased pace helps Cauley-Stein just as much as it helps Fox, as he can run the floor like a much smaller man for easy dunks.
This website had some very harsh words for Marvin Bagley during the pre-draft process, and while Luka Dončić still looks like the best player so far from the 2018 draft class, Bagley has looked shockingly comfortable at the NBA level. The dude is very clearly an elite athlete, and he's bullied his way to 23 offensive rebounds, more than twice as many as the next best rookie. He uses his second-jump ability to devastating effect on the defensive end as well, logging five blocks against the Nuggets and averaging 1.3 per game on 23 minutes a night. Once he learns the finer points of timing and where to stand, he looks like he'll be a devastating defender. An alarming number of his blocks aren't little tips or nudges; he spikes the ever-loving shit out of the ball.
This is probably not sustainable, but it's also not all noise.

Among the other young dudes, Buddy Hield has distinguished himself as a scorer, shooting 44.7 percent on threes, and he'll soon get Bogdan Bogdanovic back to help space the floor even more. Bogdanovic was the Kings' best wing player last year, and he'll hopefully get Justin Jackson out of the starting lineup the moment he comes back. Sacramento is the third-youngest team in the NBA, and only three players who've seen the court this year are over 25. However, the two veterans who do play—Nemanja Bjelica and Iman Shumpert—have slotted in perfectly to their roles. They're shooting 54 and 48 percent from three, respectively, and Bjelica moves the ball as well as any player on the team. Neither are stars, but they've stabilized an extremely young squad, which is all you can ask from veterans on a bad team. Philly is probably very mad that Bjelica ditched them to come tear shit up for the Kings.
Anyway, I don't want to do the end-of-blog pivot where I caution you on the burden of expectations and the imminent specter of regression, because, who cares, it's the Kings. It's been fun as hell to watch a group of young players I was acutely skeptical about coalesce into a run-and-gun group that overwhelms more seasoned teams with pure speed and persistence. They don't have their first-round draft pick this offseason, so they won't try to do anything besides win, which is freeing, even if it means they won't get to add another young piece this offseason. They're probably not going to make the playoffs out West and their November is absolutely murderous (they play Golden State, Utah twice, Milwaukee, Toronto, Houston, and San Antonio.) I'm not going to worry about that, I'm just going to enjoy things while they're good and pay my penance for being a big dumb idiot.