Jeffrey Gildenhorn, a beloved D.C. restaurateur, recreational politician, and full-time man about town for several decades, died earlier this summer after choking on his meal at the Palm, a local power lunch institution. He'd lived a full enough life that none of his many obituaries mentioned his supporting role in a forgotten chapter in the sports history of the nation's capital, when Donald Trump told everybody he was going to bring baseball back to town.
"Trump Says Baseball Is Already Set for D.C." proclaimed the headline of a Washington Post story in August of 1989. The article had Trump assuring baseball-starved citizens that their long local nightmare was over.
"It's a very big thing," Trump told Post reporter David Aldridge. "Washington will finally have a team."
Trump wasn't promising D.C. a major-league team, however. No, he had made himself the face of a new, rival confederation that had no official name, but was alternately dubbed the Independent Baseball League, the Baseball League, and, naturally, the Trump League. D.C. was going to have a flagship franchise in it—according to Trump, that is.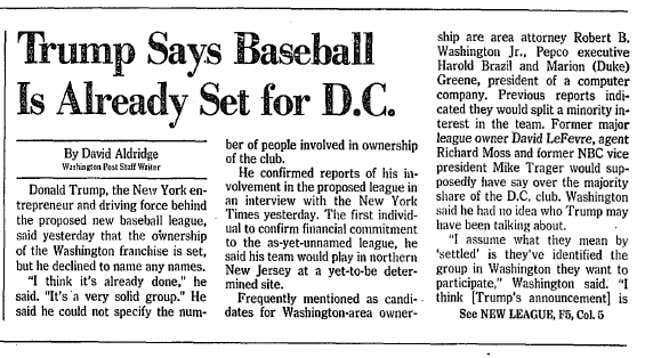 If nothing else, the summer of '89 is worth remembering because this was a time when the Washington Post editorial board actually endorsed a Trump proposition. "As has happened before when the game was in an expansive stage, a new league is being talked up by various high-flying capitalists," read an unsigned editorial about the league featured in the Post on August 20, 1989. "Among them is Donald Trump, who assures us Washington will have a franchise. That will be a milestone of sorts, when professional baseball becomes so popular it's being played in the capital of the country that invented it."
Gildenhorn grew up going to Washington Senators games, only to see two MLB franchises by that name leave town, the first for Minnesota in 1961, and the second for Texas a decade later. He told the Washington Post in February 1989, after a failed attempt to buy the Atlanta Braves, that getting D.C. another baseball team was his most important goal. "I want to make this the challenge of my life," he said. In the earliest reports about the new league, before Trump jumped in and sucked up all the air, Gildenhorn was reported to be leading the D.C. ownership group. His bid was the most advanced of all the proposed Trump League teams. D.C.'s was the only squad that ever announced a nickname—Gildenhorn told reporters he was going to call it the Washington Senators. "He had business cards printed up that said 'President, Washington Senators Baseball Club,'" says Pat Malone, a longtime friend of Gildenhorn who worked with him while the prospective D.C. ownership group was being assembled. (Whether Gildenhorn had any legal right to "Senators" was never decided.)
Gildenhorn had also begun serious discussions for a team to play the 1990 season in RFK Stadium, where MLB's Washington Senators once played.
With witting assists from top player agents, including budding superstar Scott Boras, and labor honchos, including the MLBPA's Donald Fehr, the media pushed the story that big league ball was returning to D.C., and that Trump was a key player. Folks in other markets that felt similarly ignored by the baseball establishment also took the new league seriously: "Aside from the Pete Rose Epic, the single most significant development in baseball this year is the possibility of a new league commencing operations next year," wrote John McGrath of the Denver Post on August 14, 1989; for several years prior, Denver had been a leading contender to get an MLB franchise if the owners in the established confederation ever expanded again.
Murray Chass of the New York Times reported on Aug. 17, 1989 that Trump told him the league "is scheduled to begin operation next April."
"We'll have a long-term contract with a major television network or a number of major networks, including cable," Trump told Chass, adding that he'd run the New York-area squad.
The hubbub over the mysterious new league seemed to rattle the nearby Baltimore Orioles. Just one day after Trump's bluster appeared in the Times, the O's gave Ben McDonald, a pitcher from LSU and the top choice of MLB's 1989 draft, a package worth several times what the team originally announced they were willing to give him. But that was before newspapers across the land began saying McDonald would land with the Trump League.
Alas, in the end, Trump delivered no baseball, to D.C. or anywhere. The league's disappearance was as quiet as its introduction was loud, and just as sudden.
"I was just waiting to see what would happen, and nothing did," says Jim Dalrymple, who was general manager of RFK Stadium in D.C., the alleged future home of the Trump League's Senators.
Yet for all the nothingness, not everybody's forgotten Trump's baseball shenanigans. Will Glasgow, who was a part of the group expected to bring Portland a franchise in the new league, remains peeved by the megalomania and fruitlessness of it all.
"Just bluster. Much ado about nothing," Glasgow says. "[Trump's] baseball league was a precursor to 'repeal and replace.'"
---
Secondary sports leagues have a history of failure. The ABA got four of its teams accepted by the NBA before dissolving; the WHA got four of its teams into the NHL and disappeared; and, as Trump knew intimately, the USFL went away in a shambles after the 1985 season without a single team folding into the established circuit. The American Football League, welcomed as an NFL partner beginning with the first Super Bowl in 1966, was the rare confederation that stuck around close to intact.

Baseball seemed, in 1989, the most rival-proof of all major sports. There had been no viable competition for the American and National Leagues since the Federal League collapsed in 1915 after two seasons. MLB not only survived that battle, but won in a rout and came away armed with an exemption from federal antitrust laws that is on the books to this day.
All that aside, the concept of a league fronted by Trump didn't seem like so much of a non-starter at the time. Dick Moss, a player agent and former MLPBA general counsel, and David LeFevre, a former minority owner of the Houston Astros and Cleveland Indians, were named in several early newspaper stories about the upstart league as the people who came up with the idea, but neither Moss nor LeFevre wanted to speak with the media. No other league officials or prospective team owners besides Gildenhorn were getting attention for the project when Trump stepped forward and took the reins. (Neither Moss nor LeFevre responded to Deadspin's requests for comment for this story.) Trump, circa 1989, had all the media magnetism he has now and far less baggage. His casinos and tall buildings were seen as fiscally fit. As the league was being talked up, his first book, The Art of the Deal, had just spent 48 weeks on the New York Times bestsellers list, including 13 in the top spot. Trump's involvement "added instant credibility" to the new league, wrote Chass in the New York Times.  
And, even though the USFL was ultimately a business flop, and its demise is generally attributed to Trump for prematurely forcing a move from a spring schedule to the fall in 1986 to go head-to-head with the NFL, it had definitely ruffled the establishment. Fans in lots of markets thought baseball's status quo could use some ruffling when the Trump League talk surfaced. MLB hadn't expanded since 1977, with the addition of teams in Toronto and Seattle. America had more cities than ever not only wanting a major-league team, but also, according to market research put forth by the Trump League proponents, able to financially support one.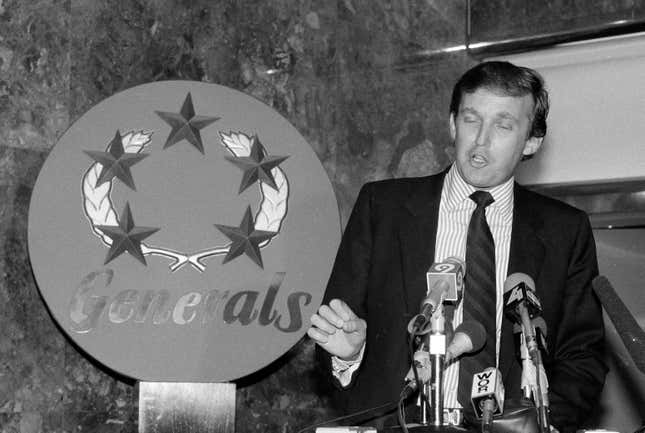 The Trump League was envisioned as starting out with eight to 12 teams, according to a report from the Associated Press on a prospectus put together by a New York-based consulting outfit called Strategic Directions. The franchise fee would be $5 million. Players would have a minimum salary of $100,000, at a time when MLB's minimum was $68,000. There were old-school baseball flourishes, too: The Washington Post reported teams would play a 154-game schedule (the same as MLB played before going to 162 games in 1961) with "a preponderance of day games," and a ban on the designated hitter. The market researchers concluded that "12 to 15 markets offer substantial and immediate potential for a new league." The then-baseball-less burgs chosen as most fit to host inaugural franchises were D.C., Denver, Phoenix, Sacramento, Hartford, Indianapolis, Portland, Ore., Charlotte, Nashville, Columbus, Ohio, New Orleans, and some combination of Miami, Tampa, St. Petersburg, and Orlando. New York and Los Angeles, despite already having multiple MLB teams, were deemed fit for even more big-league ball.
Trump told the New York Times and Washington Post that he'd take the New York franchise. And for the Southern California squad, he brought in Israeli billionaire and Trump Tower tenant, Meshulam Riklis, and his wife, starlet/critical punching bag Pia Zadora. Riklis was riding high at the time both as a pioneer of funding corporate takeovers with junk bonds and for his ownership of G.L.O.W., the women's pro-wrestling promotion now used as fodder for a retro Netflix series.

The new league's benefactors were also expected to exploit the growth of baseball internationally and cross borders to supply talent for the confederation: USA Today reported on August 9, 1989, that the league's prospectus called for teams to aggressively seek out foreign players, and that talks with "Cuban players have already commenced."
The tumultuous state of baseball broadcasting also enhanced a new league's potential. MLB had just signed a TV deal, set to kick in with the 1990 season, that over four years would pay $1.06 billion to CBS and another $400 million to ESPN. That pact cut out ABC, which had the Monday night baseball franchise, and NBC, which had been televising a game of the week since the mid-1960s. NBC was seen as eager to fill their sudden void in baseball programming with ... baseball programming. A USA Today report held that former TV executives were helping organize the Trump League, and that the league was making "overtures to ABC and NBC." And others wanted in, too: Mike Burg, a spokesman for Jefferson-Pilot, a major sports broadcasting syndicator based in North Carolina, told the Richmond Times-Dispatch he was interested in televising the proposed new league because "there's basically a hole in network television right now."
"The Trump organization and Jefferson-Pilot are looking at these opportunities," Burg added.
Also working in the Trump League's favor was that the collective bargaining agreement between MLB players and owners was set to expire on Dec. 31, 1989; the likelihood of a strike or lockout added viability to any sports enterprise that would give fans and players a place to go come springtime. The Los Angeles Times reported that Donald Fehr, a sports-labor icon who at the time was executive director of the MLB Players Association, was not only supporting the new league through the media, but was also organizing meetings with top baseball agents and letting union members know that they might soon have more negotiating options. "Obviously, I would like to see [the Trump League begin play] as soon as possible," Fehr told the Washington Post.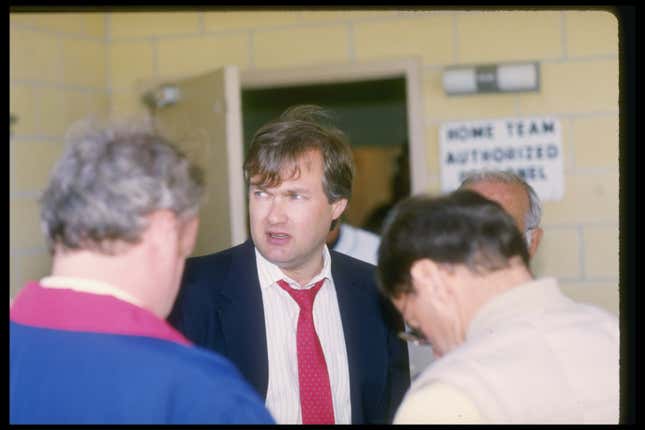 Fehr, who left the MLBPA in 2009 and now runs the NHLPA, recalls that in 1989 the union was still dealing with the fallout from the most egregious example of owner collusion ever uncovered. As talk of the new league surfaced, MLBPA was investigating how owners had conspired from 1985 through 1987 to suppress the value of free agent contracts. That investigation ultimately led to the owners paying a penalty of $280 million to the players via the MLBPA. But that payment, which the New York Times referred to as a "jackpot," wasn't agreed to until a year after the concept of the Trump League was bandied about. "So anybody that wanted to come up with another league, I was happy to talk to at the time," Fehr says.

Some major league baseball sources said at the time that the union's involvement in the Trump League was merely a ploy for the negotiations with owners as the CBA's expiration loomed. But Malone, Gildenhorn's associate, remembers meeting with Fehr in 1989 to discuss the new league and coming away believing the union boss's support was sincere. "Donald Fehr was for it because he liked to stick it to the man," says Malone.
---
The few potential Trump League owners who went public with their intended involvement were known to have already tried and failed to land an MLB franchise. Will Glasgow, a lawyer and businessman, and lumber mogul Bruce Engel were partnered to head up Portland's effort to land a franchise. In 1987, Glasgow and Engel had serious negotiations with George Argyros to buy the Seattle Mariners, with the intention of turning that team into a regional operation with a home schedule split between Portland, Vancouver, and Seattle. But Argyros ultimately turned down their $37 million bid. (Glasgow now says Argyros "gave us a handshake deal and then reneged.") And Gildenhorn had his reported $80 million bid for the Atlanta Braves, what would have been the highest price ever paid for an MLB franchise, rejected by Ted Turner in early 1989.

As for Trump, well, he'd had lots of baseball rodeos before pushing his unofficially eponymous league. For most of the decade, it seemed any baseball franchise that was even rumored to be for sale would soon have Trump's name attached to the deal.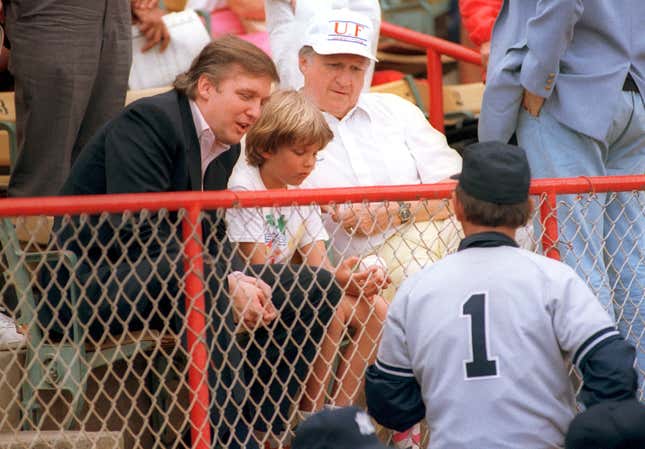 You can look it up.

On Nov. 3, 1983, for example, the Providence Journal reported Trump was "interested in purchasing the Cleveland Indians of the American League." A week later, Cleveland station WKYC reported that "three sources" were saying Trump closed the deal to buy the team for "as much as $34 million." (In the wake of reports of Trump's Indians acquisition, the Miami Herald quoted a "spokesman for Trump" named "John Barron" saying that Trump "has not bought the Indians and will probably not buy the Indians." According to a Washington Post investigation from last year, no such spokesperson ever existed, and "John Barron" was a pseudonym Trump used when he'd call news organizations and pretend to be his own flack.)
On May 9, 1984, the San Diego Union-Tribune reported that Calvin Griffith was on the verge of selling his majority interest in the Minnesota Twins, and that Trump was the leading contender to buy it.
On February 3, 1985, the Seattle Times reported Trump was interested in buying the Seattle Mariners from Argyros, who was mulling filing for bankruptcy at the time.
On Feb. 11, 1985, UPI sports editor Milton Richman had a story headlined "With Flutie in Tow, Trump Looks to Get Into Baseball," which said that Trump's bid to buy the Twins had fallen through, "so the team that interests him now is the San Francisco Giants."
In the San Diego Union-Tribune on March 21, 1985, Giants owner Bob Lurie confirmed that Trump told him he "was interested in owning the Giants in San Francisco, not taking them back to the New York area."
On June 15, 1985, the Bergen Record reported that the Pittsburgh Pirates were being wooed to move to New Jersey by a group allegedly led by Trump.
The Toronto Star ran a story on May 14, 1986 that one of the hottest "rumors" in baseball was that "Donald Trump will buy the Cleveland Indians and move them into a proposed New Jersey stadium."
On Dec. 3, 1986, the Los Angeles Times reported that Trump had partnered with former San Diego Padres/L.A. Dodgers star Steve Garvey and the pair was looking at buying the Padres.
Trump never actually landed any of those franchises. So some observers saw his push for a new league as a disguised attempt to become an MLB owner and join that billionaire boys club for pennies on the dollar. In D.C., where the buzz for the new league was by far the loudest, Washington Post columnist Ken Denlinger advised fans to stay wary until they heard "more from Trump and Gildenhorn."
"Just guessing," wrote Denlinger on July 10, 1989, "I imagine Trump wants to buy into Major League Baseball as cheaply as possible. Same as he thought investing $10 million or so in the U.S. Football League might get him a merged team in the NFL suddenly worth $80-90 million."
---
Trump's influence seemed most obvious when word got out that the new league would try to sign Ben McDonald, a pitcher who'd just finished his junior year at LSU.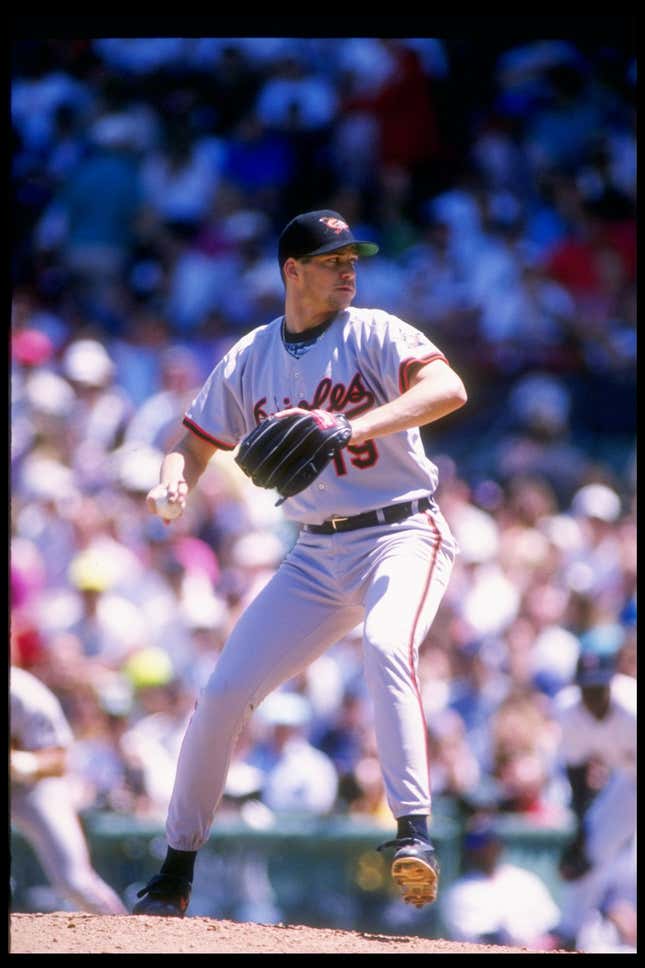 Scouts touted McDonald as a once-in-a-generation talent. A report by Richard Justice in the Washington Post said baseball folks rated the 6-foot-7, 212-pounder "higher than Dwight Gooden or Roger Clemens or Frank Viola" when they were prospects. The Los Angeles Times said "the Major League Scouting Bureau gave him its highest rating ever for a pitcher."
Trump's former football team, the New Jersey Generals of the USFL, an upstart NFL rival, had had their biggest PR successes a few years earlier by luring top college football prospects—first Herschel Walker and then Doug Flutie—away from the NFL with outsized and novel contracts. Not only was the money the newfangled football league was offering bigger than what the staid NFL was willing to fork over for Walker and Flutie, but the Walker and Flutie pacts were structured as personal-service contracts with the Generals owner. That meant that if the NFL ever wanted these marquee properties, they'd have to deal with Trump, who bought the Generals for $9 million after the USFL's first season.
Trump tried taking the very same tack with McDonald.
In the 1989 MLB draft, as expected, McDonald was taken by the Baltimore Orioles with the first overall pick. The overall top pick in the 1988 draft, Andy Benes, had been signed by the San Diego Padres for $235,000, a record amount for a draft pick at that time. McDonald didn't have an agent when he was drafted; if he signed with a registered agent he would lose his last year of NCAA eligibility and whatever leverage was afforded by his ability to return to LSU. So he let his father, Larry McDonald, handle his initial dealings with the O's. According to the Baltimore Sun, the elder McDonald told team president Larry Lucchino right away that he expected a "Bo Jackson-type contract" for his son, which meant more than a million bucks. The Sun reported the team initially offered him "$230,000 and a minor league contract"—or less even than Benes got a year earlier.
But then the McDonalds brought in Scott Boras, the budding superagent who had also represented Benes. And then reports came out that the new league countered with a personal-services contract from Trump himself.
"The Orioles believe Trump ... will guarantee McDonald's contract in much the same way he lured Heisman Trophy winner Herschel Walker from Georgia in 1983," wrote Justice in the Washington Post.
The Baltimore Sun reported that Trump had offered McDonald a three-year, $2.25 million deal from Trump.
According to several media reports, Boras used the Trump League's alleged formation to force the O's to open their wallet a lot wider. "That's the thing Baltimore must understand," Boras told the Washington Post on August 7, 1989. "This has become a free agent negotiation because of external matters [the new league]."
After Trump's reported personal-services contract offer, Lucchino told the Sun that there would be no more offers from the Orioles and that he was resigned to having McDonald sign with the new league. The Los Angeles Times story on the negotiations was headlined, "Orioles Appear to Be Losing Ben McDonald to an Invisible League."
Lucchino, who left the O's after Peter Angelos bought the team in 1993 and then had successful stints running the San Diego Padres and Boston Red Sox, is now owner of the minor league Pawtucket Red Sox. He declined to be interviewed for this article, but through a Pawtucket spokesman, Lucchino said that negotiating with Boras for McDonald was indeed tough, but that the proposed new league did not sway the O's final offer.
In any case, on August 18, 1989, or one day after Trump boasted about his new league's arrival in a feature story in the New York Times, the Orioles agreed to give McDonald a package that the Baltimore Sun reported was worth $1.15 million with bonuses. That means Boras got his client more than four times what the O's were originally offering McDonald, and four times more than he'd gotten Benes just one season earlier. And, according to the Washington Post, McDonald's deal would pay him "more than Bo Jackson got in 1986 when the Kansas City Royals lured him away from the NFL Tampa Bay Buccaneers."
---
As things turned out, the Ben McDonald sweepstakes provided the Trump League with its only apparent relevance. After McDonald signed with the O's, Trump never made another public statement about his baseball league. (Neither did John Barron.)
McDonald could be the only guy who came out ahead.
Among the losers? Gildenhorn. Despite all the work he'd put in promoting the the neo-Senators, Gildenhorn was drummed out of consideration as a Trump League owner even before the league went away. Malone says once Trump decided to speak for the league, Gildenhorn was told to pipe down. Malone guesses that Trump was envious of the media attention Gildenhorn had gotten in D.C. "Once Trump got involved, there wasn't any air for anybody else," he says. There are also signs that Gildenhorn didn't have enough renown to be part of the clique Trump envisioned as fellow owners: The Washington Post reported that league sources said they'd prefer world champion boxer Sugar Ray Leonard as an owner instead. And when Trump called potential owners and possible top officials to New York for a meeting with him and Riklis in Trump Tower, Gildenhorn wasn't among the invites.
"Jeff felt slighted," says Malone.
Gildenhorn picked himself up after the Trump League letdown, and kept trying to cross bringing baseball back to D.C. off his bucket list. In the early 1990s, he negotiated with a minor-league team from Virginia to play at RFK Stadium. That never materialized, either. He did, however, live long enough to see his dream realized, in the form of an actual major-league squad at that, with the Washington Nationals arriving from Montreal in 2005. He kept busy running several restaurants, one of which, the American City Diner, became known as a hangout for D.C. politicians. And he himself ran for mayor in 1998 under the slogan "The Candidate Who Means Business" with a platform that included legalizing prostitution. He lost.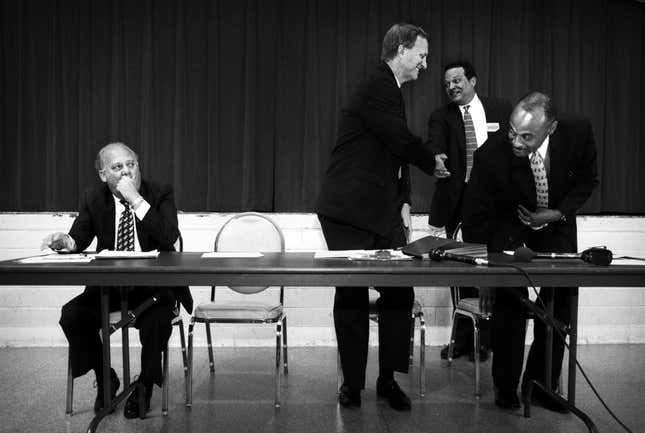 Turns out Gildenhorn didn't miss much by not being included in the Trump Tower meeting, the one and only confab of owners after losing McDonald to the O's. In a 1994 story about rival baseball leagues, Chass of the New York Times described the Trump Tower meeting as a soul-killing debacle. "Trump and Riklis did not show up," Chass wrote. "Shortly after the meeting began, their aides arrived and announced to the other owners and the founders that Trump and Riklis didn't think the league was ready to proceed to the next step ... Their vacillation turned a stick of dynamite into a water-soaked firecracker. The league lost its momentum and never recovered."

Glasgow, who says he was familiar with Trump from being in the same Wharton School graduating class and from dealings on Wall Street in the 1980s, traveled cross-country for the non-meeting. He also rates it a fiasco.
"There was no organization whatsoever," says Glasgow. "Trump hadn't done a thing. He just kept everybody waiting, wasted everybody's time."
Glasgow's group had been negotiating with the city council in hopes of getting a lease to play baseball in the 1990 season at the downtown venue formerly known as Civic Stadium. He and Engel had even offered the then-tenant Portland Beavers, a AAA team in the Pacific Coast League, a reported $300,000 to vacate. Those talks were ongoing when the Trump League disappeared, he says. The Portland Timbers of Major League Soccer now use the stadium. Portland never did get a major league baseball team.
"I don't even know now if [Trump] was ever serious about it," Glasgow says.
Trump never publicly disclosed what went wrong with his baseball foray. But the world watched as his non-baseball endeavors similarly fell apart. In the fall of 1990, just six months after he opened the Taj Mahal in Atlantic City as the world's biggest casino, Trump defaulted on the very loans that allowed him to build it. He dropped off the Forbes 400 that year, too, with the magazine estimating that Trump's net worth had gone from $1.7 billion in 1989 to within "hailing distance of zero" just one year later. He declared bankruptcy for the first time in 1991.
He filed for his first divorce, too, from Ivana Trump in 1990. And his relationship with Riklis went to hell: In 1991, the Los Angeles Times reported that Trump sued Riklis for $1.2 million after he and Zadora reportedly walked out on their lease at Trump Towers because "they could no longer scrape up the $100,750-a-month rent."
With Trump's finances and reputation in a shambles, MLB owners were willing to publicly admit that they no longer viewed him as either a possible colleague or a threat.
"Two years ago Donald Trump looked like a very viable owner," Charles O'Connor, the executive director of the MLB owners' Player Relations Committee, told the Dallas Morning News in December 199o. "He was the angel for the proposed third league. But look what has happened to him. The backing the man had in terms of his other interests is not there."
Trump never got a baseball team. He, like Gildenhorn, ran for office. He won.

The work stoppage that the Trump League organizers were counting on and likely praying for actually materialized when the CBA expired. But following a month-long lockout in early 1990, which caused opening day to be moved back by one week, players and owners signed a new collective bargaining agreement that was in effect for the next four years. The adversaries agreed during talks that MLB expansion would be a priority; Colorado and Miami were added for the 1993 season. But O'Connor, the chief negotiator for the owners, now recalls that the Trump League was not a factor in those negotiations.
"It had no impact on the CBA," O'Connor says of the Trump League, "or anything else in baseball."
In 1994, as another labor dispute loomed, Moss once again began thinking about starting a new league to rival MLB. For the second go-around, Moss was willing to talk to the press. Asked about the Trump League's flop, Moss told Chass of the New York Times that a tanking economy and the end of collusion hurt. Chass assigned some blame to Trump, linking the league's failure to "the Donald factor." Moss, looking forward, gave Chass some names of folks (including Ted Turner) that he thought would make good owners next time he got around to founding a league.
"He didn't mention Donald Trump," Chass wrote.