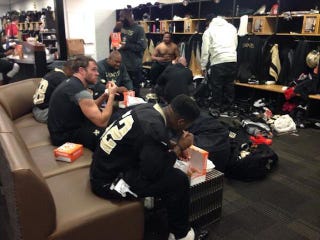 The Saints always seem to get a little salty when naysayers bring up the performance disparity when they play on the road. Drew Brees bristled earlier this year after a loss to Seattle when it was suggested the team was basically a guaranteed loss on the road. He had stats ready to show how it was all contrived, but they still lost on the road. So now they've ditched logic for superstition. As always, the answer is Popeyes chicken.
After that loss in Seattle—where they'll be heading back if this pans out—Brees noted that the Saints have the most wins on the road since 2009. The Saints went 7-1 on the road in 2009 and on every road trip that year, the team apparently had Popeyes.
"We've had Popeyes since '09, but just not this year," said running back Pierre Thomas. "Oh, we had it so much in '09. Popeyes has been good to us. I think we'll have Popeyes on the plane this time."

Payton is definitely changing up at least one thing.

"He said we're adding in a new Gatorade flavor for the week," said defensive end Cam Jordan.

"All we have to do is go to work and keep playing well," Meachem said.

"And bring the chicken," added wide receiver Lance Moore. "Don't forget the chicken."
Good news for the Saints: they played the Eagles in 2009 on the road and won. Bad news for the Saints: their one road loss was to division rival, and current 2 seed, Carolina Panthers. Good news for the Saints: they won the Super Bowl that year.
Image via Twitter
New Orleans Saints say Popeyes chicken is key ingredient for playoff success [UPI]