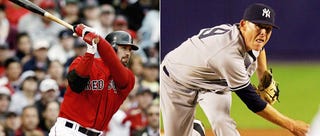 Notes from a day in baseball:
• Salvation, Thy Name Is Clippard. Sure, Mets-Yankees was fun, but nothing on the interleague schedule can match the ferociousness of a good, old-fashioned Yankees-Red Sox series. Wait, did we say old fashioned? Sorry; so far this season that rivalry has been anything but. Boston holds a 5-1 edge, having recently told their AL East pals from the Bronx: "If you see us getting smaller, that's because we're so far ahead." The fun begins tonight at 7:05, Wakefield vs. Wang. (And we'll be there tonight, incidentally.) Sadly, there will be no Roger Clemens in this series; on Wednesday the Stealth Rocket is scheduled to start for the Double-A Trenton Thunder in a tuneup assignment. By the time he makes it to the Yankees it may be too late; Boston is 10 1/2 games ahead of New York, their biggest advantage since 1995. On Sunday the Yankees avoided a sweep in the Subway Series as rookie Tyler Clippard allowed only three hits over six innings to lead a 6-2 win over the Mets. Alex Rodriguez hit his 17th homer, which leads the majors.
• The K Is For Strikeout. Meanwhile, Boston had its own rookie fun, as Kason Gabbard was called up from Triple-A Pawtucket on Sunday morning, waited through a storm that delayed the game 2 1/2 hours, then led the Red Sox to a 6-3 win over the Braves with a seven-strikeout effort over five-plus innings. He left with a 6-0 lead ... back to the minors. We shall meet again, young one. Jason Varitek's bases-loaded triple in the first gave Boston a 4-0 lead. Fun fact: Andruw Jones struck out five times, including for the final out.
• Let The Eagle Fly ... Good news: The American bald eagle is about to be taken off of the federal endangered species list. That will be a bad day for Screech, of course, who will then be fair game. Go get him, Mr. Vice President! The Washington Nationals' resurgence coincides directly with all of this, as their 4-3 win over the Orioles on Sunday completed a 7-3 homestand. All of you members of the Nook Logan Fan Club rejoice; your hero's two-run single off reliever Danys Baez in the eighth was the difference for Washington. It spoiled Erik Bedard's 12-strikeout day for Baltimore. Of course at 16-28, the Nationals still have the worst record in baseball ... but there were some who predicted that they wouldn't win a single game.
• Woody Williams And The Series Of Unfortunate Events. For all who possess Woody Williams on your fantasy team, lucky you. Williams (1-6) gave up eight hits and five runs, including three homers, over four innings, as the Rangers beat the Astros 14-1. Texas had six homers, with one by Ramon Vazquez, who had five RBI.
• Bleeding Angel Red. Kelvim Escobar — look, we don't name these guys, it's not our fault the first names are all screwy — went eight scoreless innings to lead the Angels to a 4-1 win over the Dodgers. That's good for a sweep, folks.