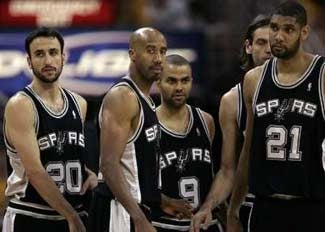 Basketbawful is here to share his thoughts and insights about tonight's climactic Game 7. So come and let us reason together. Or something.
San Antonio versus New Orleans: Game 7
David West. And here's the big question: What's the status of West's back? In case you joined this party late and have been, I don't know, living under a rock, Cheap Shot Rob put the business to West's already injured back in Game 6. The Hornets need him — and desperately — if they're going to win Game 7. And word on the street is that West's meaty flank is "right at 100 percent" with "most of the soreness out of there." Said West: "My biggest thing is just to go out and not think about it. I'm just going to go out there and play, try to help this team advance."
Agony of the feet. Tyson Chandler's bruised foot? It's all good. So good, in fact, that he's been running after someone even tougher to guard than Timmy D: His daughter. "She may be a little tougher to chase around than Tim Duncan. She's been a handful out there — no disrespect to Tim Duncan. He knows he's my guy." Tim's feelings would be hurt...if he were humanssZZZZZAAAACKT!!
History is with them, Part I. Through six games, the home team has won each game by an average margin of 18.2 points. But Chris Paul is all, like, whatever. "You could put this game in the middle of the desert somewhere. The previous six games really don't matter too much."
History is against them, Part I. No Hornets team has advanced to a conference finals - East or West - in the history of the franchise. That's a 20-year drought. Although doesn't a drought mean there was once a non-drought? Whatever. The point is, the Good Ship New Orleans has set a course for uncharted waters.
History is with them, Part II. The Spurs have done everything the Hornets haven't: Four NBA Finals appearances, four titles, MVPs, Finals MVPs, etc., etc., etc. There's no situation they haven't faced during this mini-dynastic run. They're not going to get rattled.
History is against them, Part II. Yeah, they have four titles in nine seasons, but — SHOCK ALERT!! — they've never won two back-to-back. They've also never come back from a 2-0 playoff series deficit, which they had early on in this series.
Home sweet home, Part XVI. Road teams have only won two games so far in the second round. And the Hornets haven't lost a home game in the playoffs this year at all. Said West: "The reason we fought out games throughout the regular season was to be able to have a Game 7 on your home floor. We've been able to do that, so we've got to take advantage of the opportunity we have."
Stock up on eyedrops. According to Manu Ginobili: "You've just got to be very focused, knowing that you can't blink, that you can't let the other team get on a run, get confident on a run. It's going to be a really tense game with a lot of adrenaline. Fans are going to be going nuts. So it's going to be a very fun game to play." If there's any team that can maintain its focus in a situation like this, it's the Spurs.
My prediction: The Hornets by 15+. No. Wait. I don't want to stat curse my boys. The Spurs by 15+.