LeBron James is, if nothing else, hyperaware of expectations. Some players use that for individual motivation, others fail under the pressure, but James, on occasion, twists it into a game plan. You saw that last night down the stretch, as the Spurs appeared convinced James would seek personal redemption in the clutch. James used that expectation to get his teammates open. There's no redemption quite like evening a series.
James knew he was getting killed after leaving with cramps in Game 1. (Clearing his mind entailed things like going to see Maleficent on his own Saturday evening, and waking up early for a yoga class yesterday.) He responded with a statement game, sure—35 points to lead all scorers, 10 boards, and some vicious defense down the stretch, most notable a smothering of Tony Parker to keep it a one-point game with 1:43 left. But the game still hung in the balance. Maybe everything leading up to it should have been a clue that James had his mind on more than just scoring.
Close, late, San Antonio's help defense naturally cheated toward James. What superstar wouldn't want the ball in his hands in the crucial seconds? With Miami down one and just over two to play, James saw Duncan leaning a little bit too much toward the lane, and fired the ball to Chris Bosh in the corner for a three attempt. Miss.
Few expect the best player in the world to give up the ball in this situation. Even fewer expect it twice in a row. So the next time down the floor (after James's stop of Parker), James did it again. He drove to his left, drawing Duncan all the way into the paint, one of four Spurs surrounding him. That left Bosh all alone.
"I caught Tim Duncan peeking at me a little bit," James said, "and I was able to find C.B. in the corner in one of his favorite spots on the floor and he knocked it down."
G/O Media may get a commission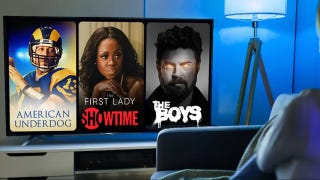 UNDER $1
99¢ Prime Video Channels
It takes a certain mindset and a unique skillset to properly play the point forward position. You have to be a scorer, but a scorer who's not afraid of the outcome when you pass for the higher percentage play—or of the criticism if your teammate doesn't close the deal. It's an unfair truth that James would be getting killed today if Bosh missed that second three and San Antonio won. That's always a risk—just like taking every shot himself would have been—but James is secure enough to play smart basketball. Don't underestimate that.
Said Bosh: "Even if he's hot, he'll still hit you if you're wide open. He's the most unselfish player I've ever played with."
The next time down, James drove again, clearly looking to see who'd bite. Kawhi Leonard bit too hard so James barreled into him, drawing the foul, Leonard's sixth (poor guy was abused all night). The sequence of possessions illuminates the horrifying truth about guarding LeBron: Even he doesn't know what he's going to do until he does it, so good luck anticipating him. And if the better play means giving the shot to someone else? So be it. There are many ways to make a statement.