If you thought watching Stan Kroenke, Dean Spanos, and Mark Davis agitate, bitch, and bully their way through stadium and relocation negotiations was nauseating, just wait until Dan Snyder kicks his new stadium plans into gear. It's coming!
The diminutive definitely-non-goat-fucking tyrant has already hired a construction firm and drawn up plans for an outrageous, ridiculous new venue for his middling Washington team, and that this venue will be located somewhere other than Landover, Md. is a foregone conclusion. For one thing, building another gigantic arena in Landover would be like putting a second birthday candle on a literal pile of dogshit. For another, the team is already making noise about an arena experience that more closely recalls the heady days of RFK Stadium, which was nestled smack in the middle of D.C. Landover, for all its many positives (no hordes of orcs, not located on the moon, etc.), cannot possibly, under any circumstances, offer any such vibe.
Gird your loins for this inevitable dance. In addition to the usual public financing debates, and the intense competitive courtship of Virginia, D.C., and Maryland, one of the sticking points for moving the team back inside the city's borders has been Snyder's infamous stubbornness on the whole racist nickname issue. The preferred D.C. site, where the corpse of RFK Stadium now stands, is owned by the National Park Service. Why does this matter? Because the Obama administration was disinclined to open up the space for a new NFL arena to a team with a racist nickname:
Interior Secretary Sally Jewell told D.C. Mayor Muriel E. Bowser this spring that the National Park Service, which owns the land beneath Robert F. Kennedy Memorial Stadium, was unlikely to accommodate construction of a new stadium for the Redskins unless the team changes its name.
There will be a new administration, soon, one more receptive to the idea. In addition to Tony Wyllie inevitably saying insane and baldly disingenuous things about the economic benefits of public stadium financing, prepare for another round of excruciating Fox News segments and deeply disheartening late-night tweetstorms about this issue from people who are supposed to be running the country. It's going to be agony. D.C. won't get the team back inside its borders without dragging all of us through absolute hell.

Here's some cool stuff to watch while this miserable goddamn league sorts out the rest of its winter schedule:
Other Sports
3:30 p.m. — NBA League Pass — NBA Basketball: Lakers @ Clippers
What matters more, here: the Lakers' modest 10-11 record at Staples Center, or their dismal 5-17 record on the road? It's a trick question—obviously, neither matters at all. The Clippers are back on their feet after a six-game swoon to close 2016, having now won five straight, albeit against a somewhat soft schedule to begin the new year. The Lakers are part of that soft schedule! But that doesn't mean it can't be a fun game. Quietly, Brandon Ingram is starting to look more and more like a guy who might one day justify his high draft pick, and the Lakers still play an up-tempo brand of basketball that looks hella fun when their shots are falling. They're likely to lose, but you knew that already.
G/O Media may get a commission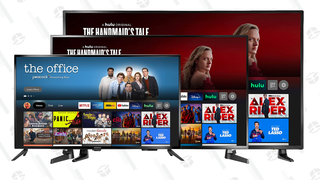 Up to 44% off
Prime Early Access - Insignia Fire TVs
4:30 p.m. — ESPN U — NCAA Men's Basketball: Baylor (1) @ Kansas State (25)
The Bears had some really good wins along the way to snagging their top ranking last week, only to get absolutely creamed by West Virginia on Tuesday. The closest thing Kansas State has to an impressive win is a narrow, last-second loss to Kansas last week, and after their loss to Texas Tech on Tuesday, their spot in the top-25 is very much in doubt. Both teams are looking for a statement win.
5 p.m. — NBA League Pass — NBA Basketball: Pelicans @ Bulls
For the moment, these two teams appear to be headed in opposite directions. The Bulls are dealing with injuries and illness, and have lost three straight, including a Thursday night drubbing at the hands of the terrible Knicks. The skid has dropped them a couple games below .500 and into the Eastern Conference's ninth seed. Meanwhile, the Pelicans have won six of their last 10 and two straight, and have generally been a respectable, competitive team with Jrue Holiday back in the fold. They're now solidly among the group of teams hanging around the firing line that is the West's eighth seed. Possibly Jimmy Butler will return for this game, which would then feature two of the NBA's top-15 (or so) talents.
6 p.m. — PAC-12 Network — NCAA Men's Basketball: UCLA (4) @ Utah
Three of Utah's four losses have come against ranked teams, but the fourth was to San Francisco, very much not a ranked team. Still, they played respectably against Xavier, Arizona, and Butler, and this could wind up being a relatively close one. And UCLA's freshman guard Lonzo Ball is really fun, especially for a guy with a jarringly busted-looking jumper.
6 p.m. — NBA TV — NBA Basketball: Spurs @ Suns
Your entire reason for watching this game will be to watch the Spurs be very good at both ends, because the Suns are bad. They are marginally better with T.J. Warren back in action, but they're still bad. If you can talk yourself into being excited about Devin Booker, go for it, but talk of him being a potential breakout player in his second year was massively premature. He still looks good in an NBA uniform, and his jumper is lovely, but he is mostly a lost teenager out there. There could be some intrigue in watching Phoenix's youngest guys contend with the whirring buzzsaw that is San Antonio's offense, I guess.
8 p.m. — NBA League Pass — NBA Basketball: Sixers @ Wizards
Joel Embiid, you guys. He is fucking fantastic.
Plenty of highlights of him just being a solid NBA big man in there—getting Kyle O'Quinn into the air on a pump-fake; jab-stepping his way into room for a soft jumper; um, making a free throw—but there's also him isolating Joakim Noah at the top of the key and using two fluid dribble moves and a goddamn euro step to get an and-one layup to drop in traffic. NBA bigs don't do that. OK, maybe Paul Millsap, a nominal big, will use a crossover and some nifty footwork to get to the cup, but Paul Millsap is a not-especially-tall small forward whose outrageously long arms and broad shoulders enable him to play as a power forward. Joel Embiid is seven feet tall. He is a rim protector. He is built like Hassan Whiteside. If he stays healthy, he is going to be way too much for your basic well-meaning Marcin Gortat-type, for a very long time. Oh, hey, look who the Sixers are playing!
9 p.m. — NBA League Pass — NBA Basketball: Magic @ Jazz
There is probably not a less relevant team in the NBA than the Orlando Magic. This is what happens when hoops fans spend years expecting some eventual sign that a team has rounded a corner—a draft pick busting out, or several players making clear year-to-year improvements, or a sustained period of legitimately exciting basketball—and it just never, never happens. There's almost nothing in Orlando you could point to, right now, and say, "well, at least they got that part right." They traded Victor Oladipo away in part because they felt he and Elfrid Payton were an awkward fit, only now Payton is a reserve with no actual standout skills on an NBA floor. They thought Mario Hezonja might replace Oladipo as their scoring wing of the future, but he cannot play. Aaron Gordon looked like a springy energy guy with loads of potential, but it turns out he might just be the kind of springy energy guy who tops out as a dunk contest runner-up. They made aggressive moves to get Serge Ibaka and Bismack Biyombo, but those guys have been terrible together. Head coach Frank Vogel seems completely stumped by his roster. The Magic look like they need a complete overhaul, only when was the last time the Magic weren't mid-complete overhaul?
At any rate, the Jazz are good television, especially with George Hill back and healthy. Watching them, you can almost pick out exactly who the Magic should be. Expect Utah to crank the hell out of Orlando.
10 p.m. — ESPN 2 — NCAA Men's Basketball: St. Mary's (21) @ Gonzaga (5)
The Zags are the last undefeated team in the nation. This is a good conference rivalry, and Gonzaga has a decent shot at sliding into the top four and putting themselves in line for a one seed in March if they can handle the two meetings with St. Mary's left on their schedule.
TV Reruns
4 p.m. — UP — America's Funniest Home Videos
I'm not going to pretend to know anything about UP, but they're showing a Saturday marathon of AFHV. If you happened upon it while channel surfing, you'd hang out long enough to see if a dad gets his groin devastated by an errant wiffle ball (the answer is yes).
5 p.m. — We TV — Law & Order
Man, this alone makes it so much easier to be a couch potato who ignores the NFL on Saturdays than it is on Sundays.
5 p.m. — Logo — Roseanne
Pretty much half of all of Logo's programming, at this point.
5 p.m. — TV Land — The Golden Girls
So it turns out TV Land runs regular Golden Girls marathons on both Saturday and Sunday.
Movies
4 p.m. — VH-1 — New Jack City
Judd Nelson had fully entered the I will not take this seriously for even one moment phase of his acting career, but Ice-T was game, Chris Rock made for a compelling crackhead, and Wesley Snipes played a surprisingly convincing villain. There are worse movies, for sure.
4 p.m. — Sony Movie Channel — Crouching Tiger, Hidden Dragon
Of course, if this is the English-dubbed version, you should run screaming. Otherwise, it's a nice move from a network that usually shows a bunch of junk.
5 p.m. — IFC — The Hunt for Red October
Once you realize this is a John McTiernan movie, all of its moves become instantly recognizable. That's not a bad thing! McTiernan's early action flicks were a blast, and his casual deployment of wrong-accented European actors as main characters is, in fact, a joy.
6 p.m. — CMT — Twister
It's another uneven Saturday for non-sports counterprogramming. At least CMT is giving us lovable junk.
6 p.m. — Sony Movie Channel — Donnie Brasco
A solid little run from Sony Movie Channel, which pivots immediately to something called Raw Deal and then something called Walking Tall: Lone Justice.
6:15 p.m. — Sundance — Alien
Man, have you ever looked at a movie's Parents Guide on IMDB? So great:
Around 5 uses of "fuck," 18 of "hell," 11 of "Goddamn," 8 uses each of "shit," "damn" and "oh God," 5 of "son of a bitch," 3 of "bitch" (2 are in the Director's Cut), 2 each of "Jesus," "for Christ's sake," "Jesus Christ," "oh my God" and "God," and 1 use each of "Jesus Christ," "bastard," "ass" and "for God's sake."
Don't worry, Sundance will protect you from "ass."
7 p.m. — Ovation — The Matrix Revolutions
Buhhhhhhhhhhhhhhh.
8:26 p.m. — Bravo — The Devil Wears Prada
I'm going to use this space to point out that Audience is showing Paul Haggis's horrible Crash at around this same time. And I'm going to use that as an excuse to say Going Clear is a really fucking amazing read, if you're looking for a book.
Cold front a-comin' through. Hang in there, hombres.