A man is suing former Tampa Bay Buccaneers Anthony Davis and Michael Bennett for beating him up in a drunken melee in an IHOP parking lot on Oct. 13.
From the lawsuit petition:
Petition claiming plaintiff was assaulted by defendants Davis and Bennett, who play for the Tampa Bay Buccaneers, while a patron at defendant IHOP. Specifically, Davis became drunk and belligerent, addressed two female patrons as "sluts" and "whores," and yelled "where's my motherfucking food?" Defendant Bennett then appeared in the parking lot and brandished a handgun to plaintiff and asked "is there a problem?"
Apparently Davis, an offensive tackle who now plays for the Rams and is 6-foot-4, 322 pounds, called Bennett as backup to take on the random breakfast stranger. Bennett is a running back who is now with the Chargers.
The plaintiff is also suing IHOP, claiming that none of their employees interceded during the altercation. What? The cook didn't just whip off his paper hat and yell "Grab your spatula, Dolores, we're gonna kick some NFL ass!"
G/O Media may get a commission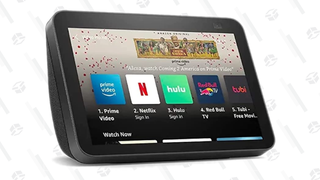 (Thanks to Enthused_But_Fired and his underscores of justice for this tip).

Man Says 2 NFL Players Beat Him Up [Courthouse News Service]