Welcome to the Deadspin 25, a college football poll that strives to be more democratic and less useless than every other preseason poll. Leading up to the college football season kickoff, we will give you previews of the 25 teams that you, the readers, voted to be most worthy of writing about. Now, No. 15 Colorado.
Before the 2016 season, Buffalo fans were restricted to finding consolation in bed at night, when their minds finally stopped buzzing about the lowly state of the Colorado program and drifted off to a space filled only with memories of Rick Neuheisel and Bill McCartney. After rolling through the '90s and combining for 19 wins between the 2001 and 2002 season, the Buffaloes posted only two winning records over the next 13 seasons, each campaign receding further and further into anonymity as the program grasped for any shitty bowl game it could get its hands on. Every summer, talk of this being their year would rise before being squashed by the actual games—every summer, that is, until 2016.

Going into last season, Colorado had a roster that would've made any coordinator thrilled to call his own, with a secondary and defensive line both boasting their own trios of NFL talent, and an offense that was mostly put together; all that was left to do was to stay healthy and finally creep up on the powers of the Pac-12.
Minus one blowout loss to Michigan, the Buffaloes started the season strong, downing what would be a godawful Oregon team on the road (it seemed like a big deal at the time), playing USC within four points, beating Stanford in Palo Alto by the odd score of 10-5, all leading to them closing the regular season on a six-game winning streak. The streak propelled them up the (inferior) AP poll and into the national spotlight—a program that had long eaten shit in the Pac-12 and was at least 14 years past being forgotten entirely. The Buffaloes won the Pac-12 South, edging out Rose Bowl champs USC and Kyle Whittingham's scrappy Utah squad; the postseason wasn't quite as sunny, with Colorado losing to the playoff-bound Washington Huskies in the conference title game and getting blown out by the Oklahoma State Mullets in a bowl game. This left Mike MacIntyre's squad with a 10-4 record, the first 10-win season for the Buffaloes since they joined the Pac-12.
In the background, affairs in Boulder were ... hectic. It started with a machete-wielding man breaking into Colorado's football offices in October (the man would be shot dead by police). Then, in November, an incredibly stupid drunken brawl, at a celebration for winning the Pac-12 South, ended with one Buffalo knocking out another, ultimately leading to a drug arrest for the player who got leveled. Not to be outdone by their players, the Colorado administration proceeded to step in a giant pile of shit, when the head coach, athletic director, and university chancellor improperly handled allegations of domestic violence against assistant Joe Tumpkin by his former girlfriend in December. The botched situation didn't fully come to light until the spring; the news story was followed by the Colorado president handing down a suspension to the chancellor and $100,000 fines for MacIntyre and athletic director Rick George. It wouldn't be an official return to Big Football without some sort of unsavory dealings, so welcome back, Colorado?
G/O Media may get a commission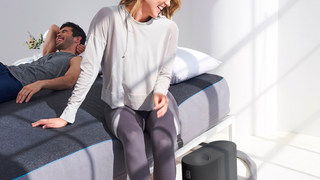 Eight Sleep Pod Cover
Looking ahead to this season's on-field product, the first and most notable absence doesn't come on the field but in the booth, where the Buffaloes will replace defensive coordinator Jim Leavitt, who left for the same gig at Oregon. Leavitt's ability to coach a college defense has never been questioned, though his behavior towards players should be. Losing one of the game's best defensive minds is going to hurt, especially considering the replacement, Kentucky's D.J. Eliot, wasn't exactly blowing anyone's mind with his middle-of-the-pack Wildcat defenses.
The 3-4 scheme that wrecked havoc on the Pac-12 last season will remain intact, meaning they simply have to do exactly what they did last year and they'll be a top-five defense again. The downside for this year's group is that the most entertaining part of that defense was ravaged by the NFL draft. A year after finishing 22nd in the nation with 15 picks, the Buffaloes secondary will sport quite a few new faces. Corner Chidobe Awuzie and safety Tedric Thompson are now both on NFL rosters, meaning that the onus for reproducing Thompson's seven interceptions will fall on the shoulders of the sole remaining starter from last season, corner Isaiah Oliver.
Oliver seems up to the task. While Awuzie and Thompson were breaking out last season, the junior put together an impressive stat line of his own: 56 total tackles, a forced fumble, 13 passes broken up and an interception. He's just one of those guys that could line up on either side of the ball, or really on any field at all, and dominate—that much was proved when he finished fourth in the decathlon at Pac-12 Championships this spring. In addition to his role in the secondary, he'll continue handling punt return duties, which, again, is another blessing for Colorado, as evidenced by his 68-yard scoring return to seal the win against UCLA. He'll be tested right out of the gates, as he'll be the one tasked with keeping tabs on dangerous Colorado State receiver Michael Gallup in the upcoming Rocky Mountain Showdown.
Up front, all three linemen from last year's bunch can also be found on NFL sidelines—defensive tackle Jordan Carrell and edge rusher Jimmie Gilbert are gone, as are their combined 16 sacks and Gilbert's six forced fumbles. It's not going to be an easy replacement, either, as the turnover, combined with a suspension for Frank Umu, means Leo Jackson will have to bring along junior college transfers Javier Edwards and Chris Mulumba. Behind them, the two inside linebacker slots will go to Rick Gamboa and Drew Lewis, while the outside spots are filled by Derek McCartney and Terran Hasselbach.
The offense will largely look the same. All three starting receivers—Devin Ross, Shay Fields, and Bryce Bobo—are back, as is stud running back Phillip Lindsay and the entire offensive line. The group wasn't even the best offense in its division, but unlike past years, it actually cracked the top 60 in scoring with 31.1 points per game.
The biggest change is that the offense now fully belongs to quarterback Steven Montez. As a redshirt freshman, Montez started three games, playing in 10 total; his first career start came against Oregon, and the El Paso native lit the Ducks up. Montez slung the ball for 333 yards and three scores (and two interceptions) and ran for another 135 yards and a touchdown. He followed that with a 19-of-27 performance against Oregon State, throwing for 293 yards and three TDs. USC, a team that actually went to a bowl game, proved Montez could bleed after the Trojans held him to a score and a pick to go along with 197 yards. Like 2016 starter Sefo Liufau, Montez is mobile—he rushed for 231 yards and a score last season—and he's got the arm to make accurate mid-range throws. He's long been hailed as the program's savior; this season, he'll take on both the pressure of being The Man and helping Colorado retain its spot atop the division. Fortunately for Montez, he has one of the nation's best RBs lining up behind him.
A Guy To Know
Senior Phillip Lindsay might not be the best running back in the nation, but you can tell him that.
The 5-foot-8 player is aptly nicknamed The Tasmanian Devil. He's a ferocious runner despite his small stature, with the ability to absorb blows from linebackers and then dust any poor sap in the secondary. Unlike a lot of smaller backs in the college game, there's something about his running style that emulates someone that would boast a stockier frame, broader shoulders, and probably a couple extra inches; instead, with all 190 pounds (that's got to be with pads), he plows through the arms of would-be tacklers before he shakes his way past the second man closing in. As the premier back last season, Lindsay exploded for 1,252 rushing yards and 15 touchdowns, all the while being good for another 493 yards and a TD as a receiver out of the backfield. This year, with his entire line back and the 2016 receiving corps intact, there's really no ceiling for Lindsay, and that includes a Heisman run.
Can They Make The Playoff?
I don't see the playoff in Colorado's future. This team is good, and if things were reversed, with the defense boasting the experience and offense filling the gaps, maybe they'd have a shot at the conference outright. But that's not the case. The defense will need time to grow and adjust, both to a new coach and the idea of being every-down players, and the offense, despite having Lindsay and Montez, is not a high-octane attack. With USC set to be a powerhouse this year, the Buffaloes can shoot for another Pac-12 South title and settle for a nine-win season and another year of setting a solid foundation.
Is The Coach A Dick?
Not one Power Five coach deserves any wiggle room here, let alone one that was complicit in bungling a case of abuse that was as ugly as Tumpkin's. MacIntyre said that the reason he promoted Tumpkin to interim defensive coordinator for their bowl loss (the defense allowed 38 points) was that "at the time of the decision, there was no police report or legal complaint." Conveniently, neither he nor George reported the abuse to the OIEC or police when the woman came to them in early December. It wasn't until she filed a complaint with police nine days prior to the game that the Buffaloes offered any sort of official response, despite the fact that the woman came forward nearly a month earlier. While the ensuing investigation categorized MacIntyre's actions as "mistakes" void of "bad intent," abuse and proper university protocol are items college head coaches have had years to learn how to handle. Ignorance doesn't exclude Mac from being a dick.
Schedule
Sept. 1: Colorado State
Sept. 9: Texas State
Sept. 16: Northern Colorado
Sept. 23: Washington
Sept. 30: @ UCLA
Oct. 7: Arizona
Oct. 14: @ Oregon State
Oct. 21: @ Washington State
Oct. 28: Cal
Nov. 4: USC
Nov. 25: @ Utah