Houston's NRG Stadium has turf unlike anywhere else in the NFL: it is natural grass, that, when not in use, is sliced up into 8'x 8' trays and taken out of the dome to get some sunlight. It has been by all accounts the NFL's worst playing surface, with the lawyer of one former players suing over a career-ending injury calling it "an abomination." Now, after more than a decade, they're finally getting rid of it.
In his remarks today, Smith maintained that the setup of the field is safe, but for whatever reason it is worse this year than in previous years.
"Our players have always enjoyed playing on natural grass here and I think they would prefer to play on natural grass," Smith said. "It's our responsibility to protect our players from any risk. We will install a quality field. We will play on that field for the remainder of the 2015 season. We hope to find a solution for the tray system to return to a natural grass moving forward. It wasn't up to historical standards. Our field here has tested very well in the past.
There was a rumor in the offseason that the team was making the move to artificial turf, but that was quickly shot down. The Texans have stood behind their grass through lots of criticism, but whatever minor changes they made weren't enough to keep Week 1 opponent the Chiefs from taking issue with the condition of the field.
Here's the grass installation in action:
The worst part of the tray system isn't the quality of the grass itself, but the seams between the squares. They are visible, and they are hungry for your ligaments.
G/O Media may get a commission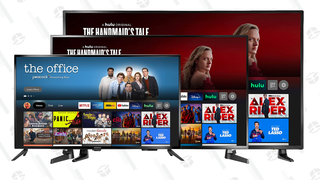 Up to 44% off
Prime Early Access - Insignia Fire TVs
In 2009, Wes Welker got a cleat caught in a seam and tore his ACL and MCL. "The turf down there is terrible," Bill Belichick said. "It'€™s terrible. It'€™s just inconsistent. It'€™s all the little trays of grass and some of them are soft and some of them are firm and they don'€™t all fit well together, those seams...I really think it'€™s one of the worst fields I'€™ve seen."
In 2011, rookie punter Brett Hartmann caught his foot in a seam and suffered a torn ACL and fractured fibula. Hartmann never played again, and sued the stadium's owners and operators for negligence. (That lawsuit is still ongoing. It was amended last year to include critical comments from Eagles players about the turf after a game in which two players went down with non-contact knee injuries.)
Jadeveon Clowney tore his meniscus in his very first NFL game in 2014. Teammate D.J. Swearinger said Clowney told him, "'Bro, I just jumped, came down and hit one of the holes on the field.'"
Now the Chiefs have complained.
NRG Stadium already uses artificial turf for college and high school games (those trays are stacked up somewhere out back), so it'll be ready to go for the next Texans home game, Sept. 27 against the Bucs.