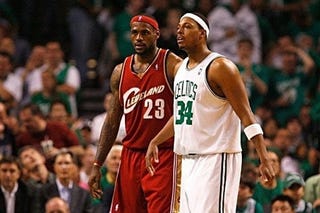 The NBA Closer is written by Matt McHale, who watched some legendary basketball yesterday. When he's not being really freaking impressed by Paul Pierce and LeBron James, he can be found being...really freaking impressed by Paul Pierce and Lebron James at Basketbawful. Enjoy!
Larry Paul versus Dominique LeBron. Look, I'm not even going to pretend to be unmoved here. Fans of the Boston Celtics and Cleveland Cavaliers had to endure one of the ugliest series in NBA history for six brutal games, but you know what? The final game made it all worthwhile. (Okay, mostly worthwhile.) As Game 7 showdowns go, this one ranks right up there with Larry Bird versus Dominique Wilkins in the 1988 Eastern Conference Semifinals, right down to a Celtic superstar with a wispy, porn star mustache and an opposing superstar who went down with his head held high.
LeBron (45 points, 14-for-29, 5 rebounds, 6 assists, 2 steals) bared his basketball soul for the world to see, but in the end — and you knew this was coming, right? — he and his team just couldn't handle The Truth. And like Shaquille O'Neal once said: "Paul Pierce is the motherfucking truth. Quote me on that and don't take nothing out."
Pierce finished with 41 points (13-for-23), 4 rebounds, 5 assists and 2 steals. He hit big shot after big shot. He guarded — and was guarded by — LeBron for most of the game. He, like LeBron, took a lot of uncalled contact but stayed aggressive and never quit. He dove for a loose ball and quickly called timeout to preserve a Boston possession in the fourth quarter. And he hit two free throws with 7.9 seconds left — the first of which hit the back rim, went straight up, and fell right down into the basket — to secure the game, which ended thusly: Boston 97, Cleveland 92.
Said Pierce: "The ghost of Red (Auerbach) just looking over us. I think he kind of tapped (the free throw) in the right direction. It sort of put a smile on my face." And 18,624 other faces as well.
While this duel might have lacked the you-hit-then-I-hit-then-you-hit quality of the Larry and 'Nique show, it was still an impossibly dramatic gunfight between two amazing players on as big a public stage as you can ask for. As LeBron put it: "We both tried to will our team to victory and, just like Dominique Wilkins, I ended up on the short end and the Celtics won again. I think the second round of the postseason, Game 7, these fans will finally have an opportunity to forget a little bit about Larry Bird and Dominique Wilkins did and remember what Paul and LeBron did."
Or, better yet, they'll get to remember both. And be a lot better for it.
OK. I'm done Bill Waltonizing now. Other than LeBron, the only other Cavalier who showed up to play was Delonte West (15 points, 5 assists). Guys like Zydrunas Ilgauskas (8 points, 2-for-8), Ben Wallace (3 points, 4 rebounds), Sasha Pavlovic (7 points, 3-for-8) and especially Wally Szczerbiak (zero points, 0-for-3, 4 fouls in 15 minutes) just stood around looking dumbstruck.
On the other end of the ball, Paul Pierce didn't get tons of backup, but he got a little more than LeBron. Kevin Garnett had 13 points and 13 rebounds, P.J. Brown had 10 points and 6 boards (not to mention a critical jumper and an even more critical offensive rebound/putback in the fourth quarter), and Eddie House came off the bench in the first half to jumpstart the Celtics out of a dangerously lethargic stretch.
One last note: Sometime during the game, Mark Jackson stated flatly that Paul Pierce had already earned the right to have his number retired and hung up in the rafters alongside Russell's, Cousy's, Havlicek's, Jones', Cowens' and Bird's. At the time, I thought he was vastly overstating things. Now? Not so much.
The Celtics will now move on to face the Pistons in the Eastern Conference Finals. Game 1 is in Boston on Tuesday.