For a few perilous moments, it seemed like a freak accident would undo Henry Cejudo before he even had a real chance to fight Demetrious Johnson. Cejudo misplaced his left foot in the opening seconds of his UFC flyweight title challenge, and he seemed unable to put any weight on it. The odds are against anyone trying to beat Johnson, which is something that no person has ever done at 125 pounds in 14 tries. And yet Cejudo charged forward anyway, setting out to end Mighty Mouse's historic reign while his foot wobbled ominously underneath him like a jellyfish.
Somehow, it worked. Cejudo survived the round, switched his stance to protect the foot, and then banged with Johnson for five rounds, taking the belt by split decision. The fight was a 25-minute masterpiece, definitively the best-ever UFC flyweight bout and one of the most thrilling technical fights the sport will see all year. Two judges gave Cejudo the fight by a score of 48-47, while the third had Johnson winning by that same margin. I thought Johnson's advantage on his feet was enough to overcome Cejudo's superior wrestling, especially since Cejudo just kind of laid on Johnson when he managed to drag him to the mat, but it really could have gone either way. A possible torn LCL and broken foot might have slowed Johnson down, but he fought through both injuries for at least 10 minutes. It was an astounding display of toughness on both sides.
There's something uniquely thrilling about watching Johnson in the octagon, because he's a near-flawless fighter in every single phase of MMA. The tiny genius can beat you with kicks and punches in the standup, and there doesn't seem to be any significant difference between his striking out of southpaw or orthodox stances. Johnson's wrestling is clean and creative, which you can ask Ray Borg's left arm about. He telegraphs exactly none of his attacks, and he chains actions together better than anyone I've ever seen fight.
Johnson might be at his best when he pours on pressure, simply because he is uniquely suited to punish any mistake that his opponent makes. The only times he has been in anything resembling trouble over his six-year flyweight title reign have been on the occasions when bigger opponents try to smother him on the ground, but even then Johnson is slippery enough in transitions that he rarely gets caught out of position.
To the extent such a thing can be said about anyone, Cejudo matched up decently with Johnson. Nobody was ever going to beat Johnson by punching his head off, and it always seemed like it would take a wrestler who could survive Johnson's pressure and crisp attacks to close the distance and get him down. Cejudo won the gold medal in freestyle wrestling at the Beijing Olympics, which meant that, for the first time in years, someone entered a fight with Demetrious Johnson with a pronounced advantage.
G/O Media may get a commission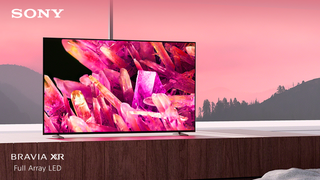 $400 off
Sony 55 Inch 4K Ultra HD TV X90K Series
Exploiting that advantage was another matter, of course. There's nothing easy against a canny all-arounder, and Cejudo got lit up at close range the first time he fought Johnson two years ago. There he was, in ideal position to get the sort of trip and throw-based takedowns he's an expert at, except Johnson managed to hold him in place and destroy him with knees and elbows.
Cejudo is a different fighter now, and he spoke before the fight about how he's taken things more seriously since his "rude awakening" in 2016. Recent wins over Wilson Reis and Sergio Pettis showed a quicker, more ruthless Cejudo. It took everything Cejudo had to wade through Johnson's vicious leg and body kicks, and even when he wrestled Johnson to the ground, he still had to deal with the champ's all-world scrambling ability.
Like I said, this fight kicked ass.
After his win, Cejudo seized his moment and immediately called out the winner of the forthcoming Dillashaw-Garbrandt bantamweight title fight. T.J. Dillashaw sounded pumped up about the potential fight when interviewed in the octagon, though he's since walked that back.
Which is good and just, since Demetrious Johnson deserves a shot to win his belt back. It's hard to overstate how dominant Mighty Mouse has been over the last six years. He's picked apart every sort of fighter the UFC can throw at him, all while dealing with management bullshit and the UFC's horrible and characteristic failure to market him. The company's best pound-for-pound fighter deserved better than low billing and an utter dearth of marketing push, yet Johnson has been a pro through it all.
Maybe his dominance got boring. Maybe revenge is easier to sell than an uninterrupted reign of terror. Or maybe Johnson has another long title run in him, and losing to Cejudo will give him the motivation to climb the mountain again. Either way, he's not going anywhere, and the UFC should give him an immediate rematch once he heals up. Who wouldn't want to see these two go at it again?