After the USMNT lost 2-0 to Colombia last Friday, Jürgen Klinsmann was as optimistic as any coach will ever be after a scoreless tournament-opening loss. He told reporters he was "absolutely okay" with how his team played, and even said, "There was no difference besides the two goals." While the expected goals map roughly agrees with Klinsmann's assessment, Colombia relaxed after scoring on the United States early, and they consistently managed to penetrate deeper into U.S. territory.

However, he was right that the team showed glimmers of competency, and tonight's 4-0 destruction of Costa Rica showed that Klinsi was right in feeling optimistic about his team's prospects. He rolled out the exact same starting lineup as the Colombia game, and the team put on the performance of the Copa America and whipped Costa Rica 4-0.
Costa Rica are a perfectly fine CONCACAF team, but they aren't Colombia, and the technical ability gap gave the USMNT the room to show themselves in a way they couldn't in the opener. Fullbacks Fabian Johnson and DeAndre Yedlin got forward a ton more than they did last week. Johnson is maybe the best U.S. field player, and Yedlin, while admittedly raw, is still fast as shit. His speedy work on the margins resulted in a penalty, which Clint Dempsey buried.
Costa Rica pressed the U.S. back further and further, but Klinsmann seems to have found the best backline for the team, and they withstood half an hour of pressure until they managed to spring a counterattack and Jermaine Jones (much better this eveing) buried a harder-than-it-had-to-be finish in the far corner.
Clint Dempsey, who set Jones up there, was the best player on the field during the first half, and he proved Klinsmann's trust in him as the central creative force worthwhile, as he linked Michael Bradley and the rest of the midfield up with Bobby Wood and Gyasi Zardes. Zardes still has a fairly leaden touch, and he blasted an easy one way over the bar. Wood wasn't all too comfortable when he was pushed outside to the wing, but when he inverted with Dempsey and get to post up, he played like Jozy Altidore did when he was scoring a ton of goals. His turn and finish while holding a defender back was very impressive, mature work.
After Graham Zusi added a goal off a steal later in the game, the USMNT left Soldier Field with an easy 4-0 win. Unless Paraguay beats Colombia tonight, the USMNT will control their own destiny heading into its final group game with Paraguay on Saturday. Costa Rica aren't a particularly impressive yardstick to mark the team's progress with given the rest of the Copa America field, but they are the third-best CONCACAF team and they got out of a World Cup group ahead of Italy and England two years ago.
G/O Media may get a commission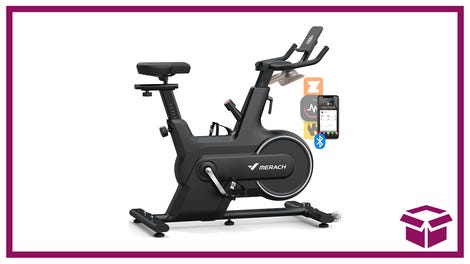 14% off + Coupon
Merach Indoor Cycling Bike
And the United States beat the pants off them. Jermaine Jones is a loose cannon, but he showed that his cavaliering tendencies can occasionally pay off. Michael Bradley was much more comfortable tonight as a deeper-lying midfielder. The attacking corps is a strangely-assembled one, but they scored four goddamn goals tonight and managed to generate chances by actually passing the ball to each other in the attacking third. They have looked pretty disjointed for most of the past year, so to see the team find themselves in the midst of their biggest non-World Cup tournament is quite encouraging.
Should they get past Paraguay, the U.S. could quite possibly have a shot at taking down a titan on home soil. They won't be favored or anything close to that, but for a tournament marred by low attendance, national anthem fuckups, and low scoring, even a spirited loss against someone like Argentina would make for a success.
That said, I hope they hold this form, bite off more than they can chew, and take down a team they have no logical place beating.