Every team has bad habits and bad patterns of play into which they frequently fall due to their specific makeup. The Golden State Warriors are hardly exempt from this; what makes them nearly unique is that their bad habits are the exact same thing that makes them great. Most of the time this is fine. On Thursday night it all backfired very badly.
Ohtani has the WBC, but will Mike Trout ever lead the Angels to a championship? | Agree to Disagree
Dumb Three-Pointers Early In The Shot Clock
It is hard to know what to call a bad three-pointer for Steph Curry and Klay Thompson, because they (especially Curry) shoot as well from very deep as some players do at the rim. But sometimes they're bad shots not because of where they're shot from, but when they're shot.
After the Cavaliers' lead ballooned to 22 near the end of the first quarter, Curry got hot and almost single-handedly dropped it to eight. And after a LeBron James miss, the Warriors had a real chance to get back into the game completely. Instead, Curry—who, to be fair, had made a pull-up 32-footer a minute before—clanged a 32-footer off the rim with most of the shot clock left. The Cavaliers regained control of the game.
A less consequential but just as dumb three occurred early in the third quarter, when Curry pushed the ball ahead to Thompson off a missed shot. The Warriors often generate three-pointers on fast breaks instead of layups, which is smart when they're open threes. But here Thompson, instead of continuing to the rim and challenging J.R. Smith, opted to veer into the corner and take a contested, double-clutch three over James. It didn't go in.
G/O Media may get a commission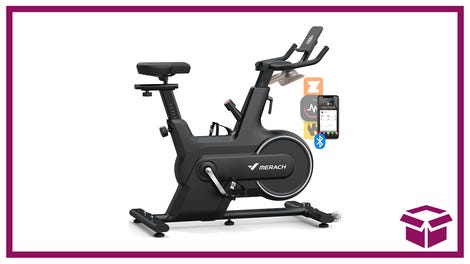 14% off + Coupon
Merach Indoor Cycling Bike
Plays Of Insanity
Turnovers have been a problem for the Warriors all season, as they frequently commit what Steve Kerr calls "plays of insanity." Sometimes this is simply laziness, but more often they come from attempts to make a highlight reel pass or push the pace to ridiculous speeds.
The Warriors only had 14 turnovers in Game 6—they averaged 15 a game in the regular season—but against a murderous James, that was far too many. Some turnovers—attempted strips, aggressive plays at the hoop that end with a charge, getting called for one or two of the hundred moving screens you set per game—are fine. But the Warriors turned the ball over at least three times attempting tricky passes to Festus Ezeli, the man with the worst hands on the team. They turned it over twice trying to draw fouls on jumpers instead of shooting a real shot. They drove into traffic and jumped with no idea where to pass. The absolute worst was Draymond Green picking Kyrie Irving's pocket down nine in the fourth and throwing a pass right into the waiting arms of J.R. Smith.
Gambling For The Ball
As a team the Warriors foul at an average rate, but some players foul more than others. Seemingly every other game one of the Warriors' centers, Andrew Bogut and Festus Ezeli, are having a four-fouls-in-seven-minutes meltdown. But much more consequently, the Warriors' best players frequently get into foul trouble, too. It's not uncommon for Curry to pick up two early, cheap fouls, or for Green to play the final six minutes of the game with five fouls.
Curry led the league in steals, which only happens by frequently trying to swipe the ball away. He usually wins those gambles, but on Thursday night he lost them. After he picks up a couple of fouls, though, it's usually fine for one of various reasons: the opponent doesn't have the personnel to attack him, the Warriors are winning so big it doesn't matter, the refs are letting them play, and so on.

With the Warriors losing big and most of his teammates playing as well as wet farts, Curry put the burden of generating turnovers onto himself. The Cavs attacked him constantly with Kyrie Irving or made him switch onto James in the pick-and-roll, and the refs were calling everything on everybody. So how did Curry respond?
By doing dumb, reckless shit. His coach can complain all he wants about the officiating, but even if his late strip of Irving was clean it involved a lot of body, and just before he picked up his sixth on something flop-ish from James, he went flying in for a steal with abandon. Curry did more than enough to warrant six fouls being called.
While the obvious effect of foul trouble was getting knocked out of the game, more consequential are the knock-on effects. Curry usually plays the entire first quarter, but after picking up his second foul with six minutes left in the quarter, Kerr felt he had to bench him, screwing up the team's usual pattern of rotations. The Cavaliers also scored a few late baskets because Curry's teammates got burned hedging off their man further than normal, knowing Curry couldn't really afford to play defense on a strong drive.
The Calm Before The Storm
Earlier in the playoffs, Hornets coach Steve Clifford hit back at reporters suggesting he needed to make adjustments after his team went down 0-2, ending a firing response by saying, "so it's not all these great ideas or things that have to change or that this plan is terribly wrong." After a blowout loss the Warriors would be silly to do absolutely nothing, but it's more about re-emphasizing the small things they did wrong—don't jump at James's pump fake, set stronger screens, put a body on Tristan Thompson—than making wholesale changes.
This puts Warriors fans in a peculiar spot. You can yell at your TV and ask why Curry is taking a crazy 32-footer at a crucial moment, but literally minutes earlier you were cheering because he made a crazy 32-footer. You can ask why Green is making boneheaded passes, but his speculative outlets have resulted in easy points all season. You can get frustrated at foul trouble, but numerous Warriors wins have been triggered by four steal performances.
Really, the only thing to do during Sunday's Game 7 is to hope that they do the exact same thing.