Played well, basketball is a spectacularly beautiful game. Despite having a 9-2 record, the Golden State Warriors offense has frequently been bogged down by careless turnovers. The team has a trigger-happy reputation, but it's actually their defense—tied for best in the league with the Spurs—that has won them most of their games.
When they are not sloppily giving the ball away—and they're slowly improving in this respect—the Warriors offense is developing into a well-oiled machine. They've always had the other-worldly shooting of Stephen Curry and Klay Thompson, but coach Steve Kerr has made some changes to the offense to get the most out of the rest of the players on the court.
One of the biggest adjustments he has made is to give Andrew Bogut, seen ball handling at the top of the key, more responsibility. Bogut is averaging just about the same number of minutes per game as he did last season, but his touches per game are up from to 53.8, from 40.7 (per NBA.com), and he's on pace to finish with the most assists per 36 minutes of his career. He's a naturally gifted ball handler—it is a bit hard to tell in this gif, but he actually throws the pass to Curry behind his back—and Kerr has wisely decided to have him initiate more of the offense.
Another improvement is more purposefully using the threat of Curry or Thompson shooting to get other players open. Bogut isn't just randomly wide open running down the lane, but because Curry and Thompson got him open. You can see Thompson setting a small screen on Trey Burke, freeing up Curry just enough to receive the pass from Bogut behind the three-point line. Derrick Favors is cognizant of Curry's threat, so he takes a step-and-a-half towards Curry. It is probably the smart play, but it is just enough of hesitation to open Bogut up. The only other man that could help out, Gordon Hayward, doesn't dare leave Thompson open for three to bump Bogut on his roll.
It still takes a nice one-handed pass by Curry and grab by Bogut to complete this beautiful alley-oop, but it was set up by a very smartly-designed play.
G/O Media may get a commission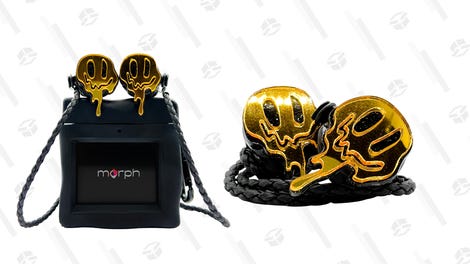 morph audio
Morph Earphones
Here's the full play: